31 Jan

For love of youth, Gill devotes life to expanding minds

By Stefanie Brazile

For nearly four decades, a Mayflower woman has devoted her life to helping minority youth reach their full potential and the investment has paid dividends.

In 1985, Berthenia Gill founded Youth Advocates and Resources Network, Inc. (YARN) in Mayflower because she had moved back to the community and saw many kids who needed to dream bigger. "Some of them had never been outside Faulkner County," Mrs. Gill said.

Three years earlier, she and her husband, U.S. Army Master Sergeant (Ret.) Alvin Gill, returned to her hometown. He was raised in Lollie Bottoms and she was raised by her grandmother who had a profound influence on her life as a school teacher, missionary and farmer.

"She could do them all well," Mrs. Gill said. "I've been to just about every church meeting, local, state and national, with her. I've also been to Africa, Jerusalem and on a mission trip to Mexico."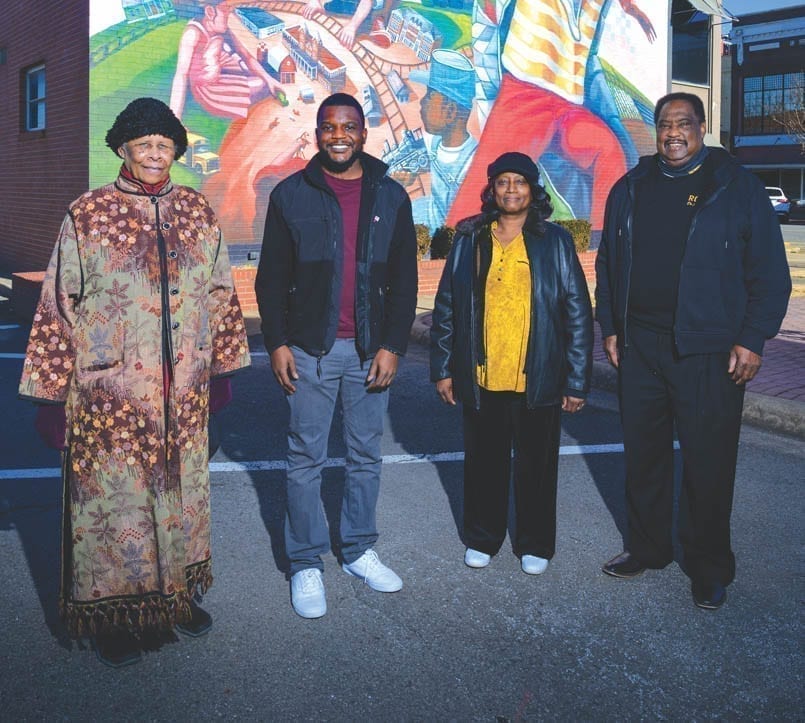 Growing up in the home of a community-minded woman inspired Mrs. Gill to mentor children and youth. "We began dreaming in 1982 and I talked to my pastor at Palarm Chapel Missionary Baptist Church, Rev. Dr. James Mackey."
The minister fully supported her vision and in March of '85, the church hosted a career fair that included firemen, FBI agents, county and state police officers, leaders from manufacturing companies, small businesses,Southwestern Bell, Entergy and Arkla Gas. More than 65 children and parents attended.
"After it was over, children and parents asked me to do it again," Mrs. Gill said. "They didn't have to beg me very long, because I saw that the need was great."
Career fairs and Black History Month educational series were only part of her concept. In 1994, she decided to expose her proteges to famous places beyond Faulkner County by planning a three-day bus trip. "We went to Washington D.C. and the White House, museums, the FBI building, the capitol and many senators' and representatives' offices, the `germ bank' in Maryland, Wellesley College and into Virginia."
The leader kept growing her nonprofit and formed a board of directors. Bruce Brown has been involved for 20 years and serves on the Board. "YARN has offered our children the opportunity to take part in many activities that they would otherwise not have," Brown said. "I think back to the first tour I went on. It was awesome to be able to go and share in the experience that lives on in my memory to this day and will never be forgotten."
On the trips, two kids (ages 12-21) are paired with an adult. Participants are required to pay a $50 non-refundable deposit to hold their place, but otherwise, the trips are paid for by grants, donations and event proceeds.
Valerie Camper was a YARN youth participant and continues her involvement. With 30 years of friendship under her belt, Camper speaks of Mrs. Gill as a humble leader with a gift for training kids. "As a youth, God used YARN in a mighty way to help provide another solid educational and spiritual foundation in my life," Camper said. "YARN has poured into kids for years and I thank God for being a fortunate recipient of its blessings."
Another youth participant who continues to be a supporter of the program is Foshanta Garr, a Senior Auditor for Windstream. "When you're going on the trips, you learn how to be away from your parents and how to behave in a respectful, well-mannered way," Garr said.
Students who get to travel are required to be involved in their community and church throughout the year.
"We went to the same church and she always had youth events and career programs going on. I learned about Black History month at church because I wasn't going to learn about it at school, and she made the trips educational for us."
The second trip Garr made changed the course of her life. "As a senior, I was trying to determine where to go to college. I had planned to go to UCLA, but after visiting Washington, D.C. with YARN, I chose Howard University because I fell in love with Howard and everything it had to offer."
After graduating Cum Laude, she lived and worked as an accountant in and around D.C. for 23 years before moving back to Mayflower in 2014. Through events coordinated by Mrs. Gill, Garr and her peers met President Bill Clinton and his family at least three times, along with Rodney Slater who was the nation's Secretary of Transportation under Clinton.
When you visit with Mrs. Gill, her gracious presence fills the room. She credits many other community members who aided the program, including Ann King, Maria Hoskins and Elaine Goode.
A recent "graduate" of the program is Patrick Randall, deputy court clerk of civil/small claims in Faulkner County District Court.
"Mrs. Gill has made a tremendous impact on my life," Randall said. "Her passion for wanting to see the best out of people is well known and she cares deeply for everyone she meets. I've been on numerous trips and seminars and have learned something every single time. My favorite trip was the one we took to Louisville, Ky. If it wasn't for YARN and Mrs. Gill playing a part in my upbringing, I would not be the successful young man that I am today."
Educational trips have been planned annually since 1994, except for two years which includes 2020. The trip for 42 children and adults has been put on hold until COVID-19 bans lift. Through the years, buses of youth from Mayflower, Morrilton, Menifee and Pulaski County have traveled to places like the Coca-Cola Bottling Company in Atlanta, Ga.; the Ark in Kentucky; Birmingham, Ala.; the museum in Macon, Ga., where submarines and war boats are displayed; to St. Jude and the MLK Museum in Memphis, Tenn.; Cape Canaveral and Disney World in Florida. At the National Baptist Congress of Education, some students had the chance to sing in a choir of 10,000 children.
"The kids have had tremendous opportunities," Mrs. Gill said. "Of all the trips, there were always one or two who were encouraged by what they saw."
And that's all the motivation she needs to continue investing time every day so kids can have a brighter future. The special lady finds her reward in seeing them prosper.