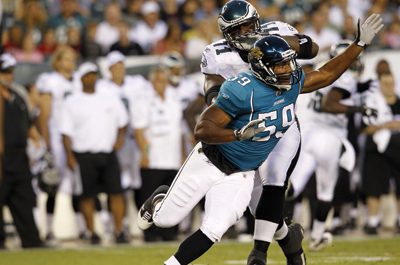 29 Sep 2010

'Football is your life' – Ex-Bear working his way up in the NFL

Last fall, 501 LIFE featured Hart on the cover of 501 Football 2009, and we have kept up with him during his journey to the NFL. As the Jaguars wrapped up training camp and prepared for their last pre-season games, 501 LIFE got a chance to catch up with the former Bear.

What's it like playing in the NFL?
It's definitely a privilege to be here, and it's such an honor. You're around the best of the best. It's definitely helping me grow up as a man – physically, spiritually and every which way.

First things first – it teaches you humility. The thing with the NFL is every day you have to be on your "A" game, no matter how you feel or what's going on in your personal life. The expectations are just so much higher, and you have to take care of your business. If I'm feeling bad or sad about something, regardless, I have to take care of my business.

What was it like playing in your first pre-season game?
It was a really awesome experience. It was tough for me not to break down because I've come so far. I had come from a junior college and then from a smaller school like UCA, and I still had an opportunity to play.
I felt like it was a typical first game. I did some good things. At the same time, I feel like there's a lot to improve on. Good or bad, you have to keep progressing. The moment you say you've arrived, that's when someone will take your job.

You played defensive end in college, but there was talk that you may be moving to linebacker in the NFL. Which position do the Jaguars have you training at?
I'm playing defensive end. I'm very fortunate to be in a scheme similar to the [Indianapolis] Colts. It's an attacking defense. We're not an average 4-3 team – we're more athletic and fast.
These offensive tackles you're going up against are probably like nothing you've ever seen before.
These folks are big, no doubt about it. It's not the size that really challenges me. They have so much better technique, and they're a lot smarter. It's become more of a mental game than a physical game.

What was it like on draft day?
I got drafted on the third day in the fifth round. When you finally get that call, the weight of the world is taken off of you. You may go here or there; you never know how it's going to fall. But once you get that call, it's great. For a team to think enough of you to draft you, you just feel so privileged.

The tag "undersized" seems to follow you around every place you've played. You seem to be getting that same tag by NFL analysts, too. How does that make you feel?
It's always been the same thing for me. Coming out of high school, people said I was too short. Out of junior college – too short. Out of UCA – too short. The only thing you can do is play ball and just let people keep doubting you. All I can do is keep working to become a productive player.

How are you handling an NFL playbook?
It's definitely a lot of stuff to learn. It's funny, not only do you have to learn the scheme and terminology, but how to translate it to play it on the field. You have different ways to take on blocks in different situations. It's not just the learning – it's then figuring out how to apply it on the field. I'm on special teams as well, and that adds more things to my plate.

How have your teammates treated you as a rookie?
It's tough man. After practice, you carry the helmets and shoulder pads. You're tired, and it's the last thing you want to do, but you just do it. The other day, I got taped to the goal post. I've had water thrown on me with baby powder. I got a rookie haircut, and it was just as bad or even worse than Tim Tebow's. It's all being a part of it and paying your dues.

So you didn't pull a Dez Bryant and refuse to carry the pads?
No, man. That's just disrespectful. Everyone has to do it. You pay your dues, and be respectful to your veterans.

How is it working with coaches at the pro level?
They demand so much more of you. It's unbelievable. My position coach, Joe Cullen, is the most intense guy I've ever met. He said if the defensive line has 50 sacks this season, he would die the next day a happy man. During meetings, he's always pouring down sweat, and the rooms we meet in are some of the coldest rooms I've ever been in. All the players respect him because he's that passionate every day.

What was it like working in your first training camp?
It's a grind. You wake up at 6 a.m. and get to the stadium by 6:30 a.m. Then you don't leave until 9:30 or 10 at night. You lose count of the days. I never knew what day it was. You're just grinding. Football is your life.

What are you focusing on with the team?
Just keep developing and improving. I'm working on my craft. My goal is to become a pro and become consistent. I'm working on being dominant on special teams, to show the coaches that whatever they need me to do, I'll do it.

How has the move to Jacksonville been?
It's like moving to college almost, going to a different city. You're not in the boat by yourself because there are other rookies to hang out with. You just find a good church and good people to be with. I've been getting connected with the city and finding different things to get involved in. You just plug yourself into the community. Jacksonville is a really nice city The beaches are really nice.

How much do you see yourself playing this year?
I think I have an opportunity to see some time on the line. The coaches have been subbing me in to rest some of the guys in front of me. It's an opportunity to get some reps. I've shown in practice that I can hold up on the run, too, on top of my ability to pass rush.
I'll have an opportunity to cover some kicks and punts and work in the return game on special teams. I just have to keep getting better.

What advice would you give to your old UCA teammates?
Cherish everything. Don't take anything for granted. Be the best person you can be. Keep God first, and everything else will be cool.