HAVEN Coffee helps girls in need
By Sonja J. Keith
Festive food and fellowship have been at the heart of an annual holiday event hosted by a group of caring women committed to extending a helping hand to girls in need.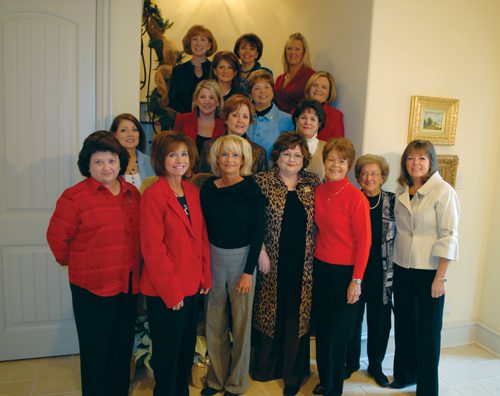 The Conway group has hosted the HAVEN Christmas Coffee each year to raise money to purchase gifts and support the girls served by the agency that works with abused and neglected children.
Last year's event (pictured) was held in the home of Johnny and Stacia Adams in Adamsbrooke.
"About 15 years ago, a group started doing this to provide extra Christmas gifts for girls at HAVEN (Help for Abuse Victims in Emergency Need)," said Laurie Smith, chairman of the HAVEN Coffee Committee. "It's a great way to share the holiday while also raising money for gifts. We have a lot of generous ladies."
The committee sends about 700 invitations to the event, and between 200 and 300 usually attend. "We're very thankful to the gracious hostesses who open their home and the guests who open their hearts to HAVEN."
Information about HAVEN is available by calling 501.336.8300 and donations can be mailed to HAVEN, 1701 Donaghey Ave., Conway 72032.
Some of the recipes prepared for the event:
Chocolate Pecan Cups
(from Debbie Weaver)
1 cup Karo dark corn syrup
3 eggs
1 cup sugar
1 tablespoon butter, melted
1 teaspoon vanilla
½ cup pecans, chopped
1 ½ cups Ghirardelli milk chocolate chips
Pie crust
Stir together the first five ingredients. Mix in pecans and chips.
Shape small circular crusts into mini muffin tins. Spoon mix into each.
Bake for 50 minutes at 350 degrees.
Serves 48.
Pattie Murphy's Cheese Ball
1 pound cream cheese (softened)
8 ounces crush pineapple (drained)
1 cup pecans (chopped)
¼ cup bell pepper (chopped)
2 tablespoons dried minced onion
1 ½ teaspoons seasoning salt
¼ cup sugar
Combine ingredients and mix well.
May be served with crackers as a softened spread or refrigerated and formed into a cheese ball.
Jan's Delicious Dark Chocolate Fudge
(From Jan Hicky)
3 cups semi-sweet chocolate chips
1 can Eagle Brand Sweetened Condensed Milk
Pinch of salt
½ to 1 cup chopped pecans (or walnuts)
1 ½ teaspoons vanilla extract
Over low heat, melt chips with condensed milk and salt. Remove from heat and stir in nuts and vanilla.
In an 8-inch square pan, spread mix over wax paper-lined pan. Chill until firm. Turn fudge onto a cutting board, peel off wax paper and cut into small squares.
Store loosely covered at room temperature.
Makes 2 pounds.
Pecan Tassies
(by Beckye Ezell)
Dough:
Soften one 3-ounce package cream cheese and ½ cup margarine.
Stir in 1 cup flour and blend together.
Cover and chill for one hour.
Shape into walnut-size balls and place in mini muffin tins. Flatten balls into bottom and around sizes of each cup.
Filling:
Beat together 1 egg, ¾ cup dark brown sugar and 1 tablespoon soft margarine. Stir in 1 teaspoon vanilla, a dash of salt and 2/3 cup chopped pecans. Beat until smooth. Spoon into muffin tins and bake at 325 degrees for about 20 minutes or until set.
Makes two dozen.
Bacon Tomato Cups
(From Rosanne Johnson)
8 slices bacon, fried crisp and chopped
1 medium tomato, chopped
1 small onion, chopped
3 ounces shredded Swiss cheese
½ cup mayonnaise
1 teaspoon dried chopped basil
1 can refrigerated, butter-flavored flaky biscuits
Preheat oven to 375 degrees. Mix bacon, tomato, onion, cheese, mayonnaise and basil. Separate each biscuit into three pieces. Lay each one over a mini muffin pan cup. Press into cup. Fill with bacon mixture. Bake 10-12 minutes until golden brown.
Miniature Cheesecakes
(From Jan Stone)
Vanilla wafers
2 (8 oz. each) pkg. cream cheese, softened
¾ cup sugar
2 eggs
1 tablespoon lemon juice
1 teaspoon vanilla
1 can pie filling (cherry, blueberry or peach)
Line mini cupcake pans with liners (will make 48 minis).
Thoroughly smash vanilla wafers to a fine powder and place ½ teaspoon of powder into bottom of liner.
Beat cream cheese and sugar; add eggs one at a time, beat; add lemon juice and vanilla, beat until fluffy.
Fill the liners equally with cheese mixture. Bake in preheated oven, 350 degrees, for 18 to 20 minutes, or until set. Cool, then chill in refrigerator.
Prior to serving, add a small amount of pie filling to the top.
Makes 48.
Poppy Seed Ham Rolls
2 sticks butter, melted
3 tablespoons poppy seeds
3 tablespoons dry mustard
1 tablespoon onion powder
1 tablespoon Worcestershire sauce
3 (10 oz.) packages of 24-count mini dinner rolls*
18 oz. thin, deli-sliced ham
9 oz. thin deli-sliced Swiss cheese
Combine butter and next four ingredients and refrigerate overnight. Without separating rolls, slice bread in half so that there is a top and a bottom. Place the bottom halves on cookie sheets. Melt butter mixture and brush on cut sides of bread with a pasty brush.
On bottom half of bread, layer half of ham, all of cheese and remaining ham. Replace top of bread.
Bake 15-20 minutes at 350 degrees. Divide rolls into pairs with a spatula and serve hot. These may be made in advance and frozen. Let thaw before baking.
Serves 12 as brunch, 36 as appetizers.
*Pepperidge Farm party rolls may be substituted.
Black Tie Cookies*
(From Nancy Moix)
2 1/4 cups all-purpose flour
1 cup butter
1/2 cup cocoa
3 eggs
1/2 teaspoon baking soda
2 teaspoons vanilla
¼ teaspoon salt
¾ cup sugar
1 cup brown sugar
6 oz. chocolate chips
6 oz. white chocolate chips
Preheat oven to 325 degrees.
In a medium bowl, combine flour, cocoa, baking soda and salt. Set aside.
In a separate mixing bowl, cream together the butter and sugars. Add eggs and vanilla and beat until creamy. Add flour mixture, mix well, then add chocolate chips and blend just until combined.
Drop by teaspoon or tablespoon (depending upon your choice on size of cookie) on to an ungreased cookie sheet, 2 inches apart. Bake 12-15 minutes. Cool for 2 minutes then move to a rack to complete cooling.
Makes about 4 dozen cookies.
*From "Keeping Good Company"
Oreo Cookie Fudge
(From Jan Hicky)
16 Oreo Sandwich Cookies
2 packages white chocolate chips
1 can sweetened condensed milk
1 teaspoon vanilla
2 tablespoons butter
8-inch square dish
Melt white chocolate chips, butter, vanilla and condensed milk over low heat.
Line sides and bottom of your pan with foil and spray the foil with non-stick cooking spray. Crush or crumble eight cookies and spread on bottom of pan. Pour melted mixture over crumbled cookies. Crush/crumble eight more Oreo cookies and sprinkle on top.
Place in refrigerator and chill until set. Store in refrigerator.
Cut into small squares as these are very rich.
Makes 2 pounds.
White Chocolate Cherry Chunkies*
(From Nancy Moix)
1 stick butter, softened
1 teaspoon baking soda
1 cup packed brown sugar
½ teaspoon salt
1 cup granulated sugar
2 tablespoons milk
2 large eggs
1 cup chopped nuts
1 teaspoon vanilla extract
½ cup candied cherries (chopped)
3 cups all-purpose flour
1 1/2 cups white chocolate chunks or chips
Preheat oven to 375 degrees.
In a medium bowl with electric mixer, cream butter and sugars together until light and fluffy. Add eggs and vanilla and beat until combined.
In separate bowl, sift together the flour, soda and salt. Set aside.
Add milk to the butter mixture and then add the flour mixture. Mix until just combined. Batter will be stiff.
In another bowl, combine nuts, cherries and white chocolate. Add to butter mixture, stirring only to blend. Drop by tablespoons onto a greased cookie sheet 2 inches apart. Bake for 11-13 minutes. Cool on wire rack.
*From Paula Deen.
Raspberry-Brie Tarts
(From Donna Hambuchen)
Prep time: 15 minutes
Start to finish: 30 minutes
Servings: 30 appetizers
2 packages (2.1 oz each) frozen mini fillo pastry shells (30 shells)
1 round (8 oz) Brie cheese
3 tablespoons raspberry spreadable fruit
Heat oven to 350 degrees.
Place pastry shells on ungreased large cookie sheet.
Cut cheese into ½-inch cubes. Place three cheese cubes into each fillo shell.
Bake 10-12 minutes or until cheese is melted and bubbly.
Remove pastry shells from oven. Spoon ¼ teaspoon of spreadable fruit over cheese in each shell.
Return to oven; bake 2-3 minutes longer or until spreadable fruit is melted. Serve warm. Instead of raspberry, use your favorite fruit spread; strawberry or apricot.
Notes: There is no need to thaw the frozen fillo shells. Simply arrange them on a cookie sheet, fill and bake.
The Brie is baked in the fillo shells first, without the fruit spread, because the cheese bubbles up as it melts. The fruit spread is spooned over the melted Brie so the fruit will stay inside the shells when they are heated a second time.