05 Mar

Following in his father's legal footsteps

By Dwain Hebda

When the Honorable Ed Clawson moved off the 20th Judicial District Division III Circuit judgeship in January, it marked the end of an era. Sort of.

The Conway native was stepping down from the bench, but it wasn't into retirement, nor was he leaving his circuit role bereft of the Clawson name. As Ed Clawson moved into the 2nd Division District Court judgeship, to which he was elected last March, his son Chuck stepped into the position his father had held with distinction for more than a quarter of a century.
"I was not ready to retire, but 25 years is a long time and I was ready for a change," Ed said of his decision to seek election to the district bench. "I felt pretty confident that Chuck would want to take a shot at this job, and we were both fortunate enough to run unopposed."
The position had interested the Honorable Charles "Chuck" Clawson III for years. "Being a circuit court judge had always been a long–term goal," he said. "In law school, I always wanted to be a trial attorney, and the more I did trials, the more I wanted to be presiding over them."
The unusual situation is just the latest chapter in one of the more unique legal family trees in the state. Both men graduated from Conway High School, but Ed completed his undergraduate work at Hendrix College while Chuck attended Arkansas State University in Jonesboro. Both would attend law school through the University of Arkansas at Little Rock, Ed during the day and Chuck at night while working a full–time corporate job.
Both got a taste of private practice before heading to the municipal courts. Ed was appointed to the circuit court seat in 1995, while Chuck spent most of his legal career as a deputy. But the allure of the bench was never far.
"As far as what drew me to the law, it was just the ability to help people," Chuck said. "Obviously, I had an extraordinary example in Dad."
Chuck isn't alone in his high regard for his father's accomplishments. Judges around the country who couldn't find Conway with a compass are familiar with him, thanks to the highly successful Faulkner County Drug Court he instituted in 2003.
Drug court gives certain narcotics offenders an alternative to jail and has been described as probation on steroids, demanding participants not only stay clean but get their lives on track through education, employment and accountability.
"Drug courts provide an opportunity for people who have a drug problem to get a chance to get a fresh start," Ed said. "People have to be screened and have to be committed to it. They can't just think they're going to come in and it'll be an easy way to avoid jail. The purpose of it was to give structure, to give them a sense of responsibility, to give them a sense of accomplishment."
The drug court is also budget–friendly, with 15 percent recidivism and an annual cost of only $5,000 per individual. Compare this to the Arkansas Department of Corrections' 40 to 50 percent recidivism rate and the $50,000 it takes annually to house someone in prison.
Since its founding, the program has graduated around 175 individuals. While not everyone is a success story, there are enough people who've made the most of the opportunity to cement Ed's faith in the program.
"I've said it a thousand times," he said. "Many of these folks have been kicked in the backside a lot, but they've never been patted on the back for something they've done right. To see somebody turn their life around, to make that decision to go to work, take care of their family, where they're paying taxes, they're productive, is something I'm very proud of."
The wildly successful drug court, just one part of Ed's looming reputation, could have been intimidating, deterring Chuck from following in his father's legal footsteps in the first place. Not so, he said.
"You're not going to come across anybody that's a better attorney or a better judge than my dad," Chuck said. "I wanted the responsibility to carry that on. I don't want anything my father's done — what he's built and worked on and dedicated his life and career to — to ever be tarnished in any way. I realize the expectations for me are high, but I accept that and I know what I am getting into as judge."
As a prosecutor, Chuck never argued a case before his father. Asked what advice he has for his son now that they are both judges, Ed is deferential.
"Well, first of all, I want to say that I think Chuck will make an outstanding circuit judge. We're a little past me giving him advice at this point," he said with a smile. "Some of the best advice I ever got was when I first got my appointment. A colleague told me, 'As long as you're sitting on the bench, don't ever forget what it feels like to stand in front of it.'
"You always have to bear in mind the people coming before you deserve your attention, they deserve your respect. You've just got to treat everybody just like you'd want to be treated, adjust your thinking to whatever the problem is and look for a solution. That's why you're there."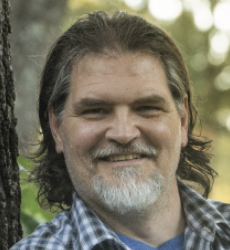 Latest posts by Dwain Hebda
(see all)