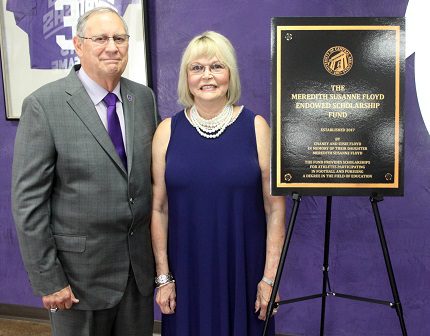 19 Dec 2017

Floyds establish scholarship in their daughter's memory

The family of the late Meredith Floyd has established a scholarship in her memory at their alma mater, the University of Central Arkansas – the Meredith Susanne Floyd Endowed Scholarship.


The scholarship will be presented annually to a UCA student-athlete participating in football and pursuing a degree in the field of education.


Her parents, Chaney and Susie Floyd, are both graduates of UCA and long-time supporters of the university. Chaney was a UCA football player from 1965-68 and received his bachelor's degree from the institution in 1970 and his master's of education in 1974. Susie received her bachelor's degree in education in 1971.

Meredith, who passed away in 2015 at the age of 30, was a 2009 UCA graduate with a degree in public relations. She worked as a student worker in the UCA Athletic Department.

"Meredith was a happy, joyful person who was loved by all who knew her, especially her parents who miss her every day,' said Chaney. "She loved UCA and the Bears and would be excited to know that an endowed scholarship is being awarded in her name, helping UCA football student-athletes achieve their educational degrees. Susie and I are honored to make this gift in memory of Meredith and impact the lives of UCA football student-athletes for years to come."


"We are thankful to Chaney and Susie for their significant gift to support our students now and forever," said Dr. Brad Teague, UCA's director of athletics. "The Floyds are UCA through and through. Their experience on our campus, with Chaney playing football and both majoring in the field of education, has influenced their lives and certainly influenced their support of our program."

Establishing an endowment is one of the many ways individuals can support UCA Athletics. For more information, please contact Matt Whiting, assistant athletic director for external relations at 501.852.7744.