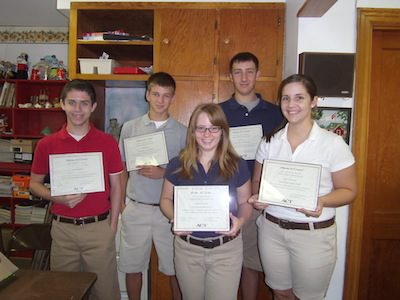 13 Sep

Five Sacred Heart students receive student achievement award

MORRILTON, Ark. – Five Sacred Heart Catholic School students received the "Arkansas Student Achievement Award" from the Arkansas ACT Council for their performance on the PLAN (Pre-ACT) Assessment.

These students are on target to meet or exceed ACT's College Readiness Benchmarks by graduation. ACT's College Readiness Benchmarks are empirically based and identify the level of achievement necessary in English, mathematics, reading and science to have a successful college freshmen experience.

The students receiving this recognition from the Arkansas ACT Council are Austin Andrews, Haley Hoelzeman, Adam Hoyt, Cassandra Hurley and Hamp Maus, all Sophomores during the 2010-11 school year.


"The Arkansas ACT Council recognizes those students who are making significant strides to prepare themselves for college by taking rigorous courses and meeting the PLAN (Pre-ACT) College Readiness Benchmarks," said Karen Pennell, ACT Assistant Vice President and Southwest Regional Manager. "We also want to recognize that student PLAN (Pre-ACT) achievement is the result of a strong commitment by Sacred Heart Catholic School teachers, staff, administrators and parents to increase college readiness for all students."


Sacred Heart Catholic School is a Catholic parochial school that has been in operation since 1879. The school is fully accredited by the Arkansas Non-Public School Accrediting Association, and all staff members hold teaching licenses from the Arkansas Department of Education. The teaching staff has a combined 330 years of teaching experience. The student body is approximately 75 percent Catholic and 25 percent non-Catholic. All students in grades 1-9 take the norm referenced Stanford 10 exam.