27 Feb

Fishin' for a Mission Plans for 2019 event announced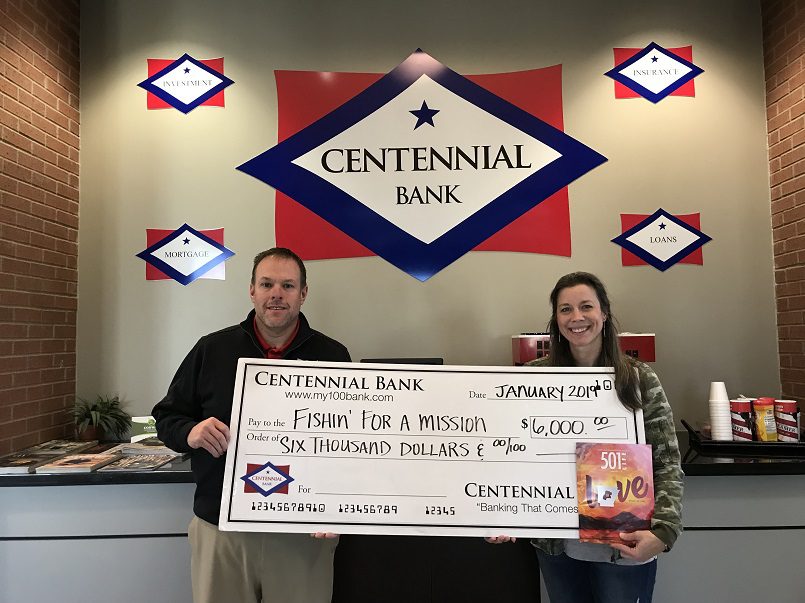 The Fifth Annual Fishin' for a Mission bass tournament will take place Saturday, April 27, at Lake Dardanelle State Park at Russellville.
Founded by Amanda and Brian Parsons of Conway, the event has raised more than $16,000 for charity.
This year's beneficiaries are the same as last year – Soul Food Café Mission in Conway and Community Connections in Russellville. Organizers also hope to donate proceeds to the Women's Shelter of Central Arkansas. "It benefits not just where we live, but also where we are hosting the tournament," said Amanda.
Centennial Bank is once again the presenting sponsor and has increased its contribution from $5,000 to $6,000. "We are a sponsor because of the money it raises for non-profits in our area. Our goal as a community bank is to give back," said Eric King, senior vice president of business development at Centennial. "We think it's a great cause."
Last year, 52 teams signed up for the tournament. "It was our biggest turnout to date," Amanda said, adding that organizers believe there will be more participants this year. 
The tournament features $5,000 in guaranteed cash prizes this year, with free food for participants and spectators at the weigh-in. In addition to the bass tournament, there will be a fishing derby on April 27 for any child with a disability. 
The entry fee is $110 per boat, with an increase to $125 after Saturday, April 20. Participants can register online at fish4amission.org/registration. fish4amission.org/entryform2018/. Late registration will be available during early check-in on Friday, April 26th from 4-7pm as well as Saturday, April 27th from 4:30-5:45am at $125 per team.
Amanda said new this year will be early check-in and registration the night before the tournament at the state park. "Anglers won't have to arrive so early on Saturday morning."
Sponsors are still being sought for this year's tournament. Those interested can email [email protected] To register or for more information on the event, visit fish4amission.org.
Amanda said the event is only possible through the hard work of board members and volunteers on event day. Looking back on the last four years since the event was created, Amanda is pleased with its success. "Brian and I didn't have a huge vision. We just had a simple idea to raise money for charity. I never dreamed it would be on the scale it is," she said. "I love the idea of how God can take an idea and when you give it to Him, what He can do."