29 Jun 2020

First Thursday events July 2 in Morrilton 

Main Street Morrilton's First Thursday Farmers' Market and downtown shopping event returns from 4 to 7 p.m. on July 2 with increasingly more normalcy in light of the COVID-19 pandemic. The market will return to its traditional walk-up format with social distancing protocols in place for the safety of all who attend.

Last month's drive-thru farmers' market proved to be a success with more than 115 families visiting the event – more patrons than any previous market. The planning committee recognized the struggle of visitors waiting in long lines at the start of the event. Regardless, shoppers had positive attitudes as they approached vendors selling fresh produce, baked goods and locally raised meats.

Restrictions have since lightened, and the committee feels confident that the market can be safely managed while allowing shoppers to walk up to booths rather than driving through.

July's market will also feature the return of craft vendors.

"We have continued to monitor the health situation, and with the support of our local officials, we are excited to allow shoppers to return to our market on foot while observing guidelines set forth by the health department and the CDC," said market manager Kara Jones.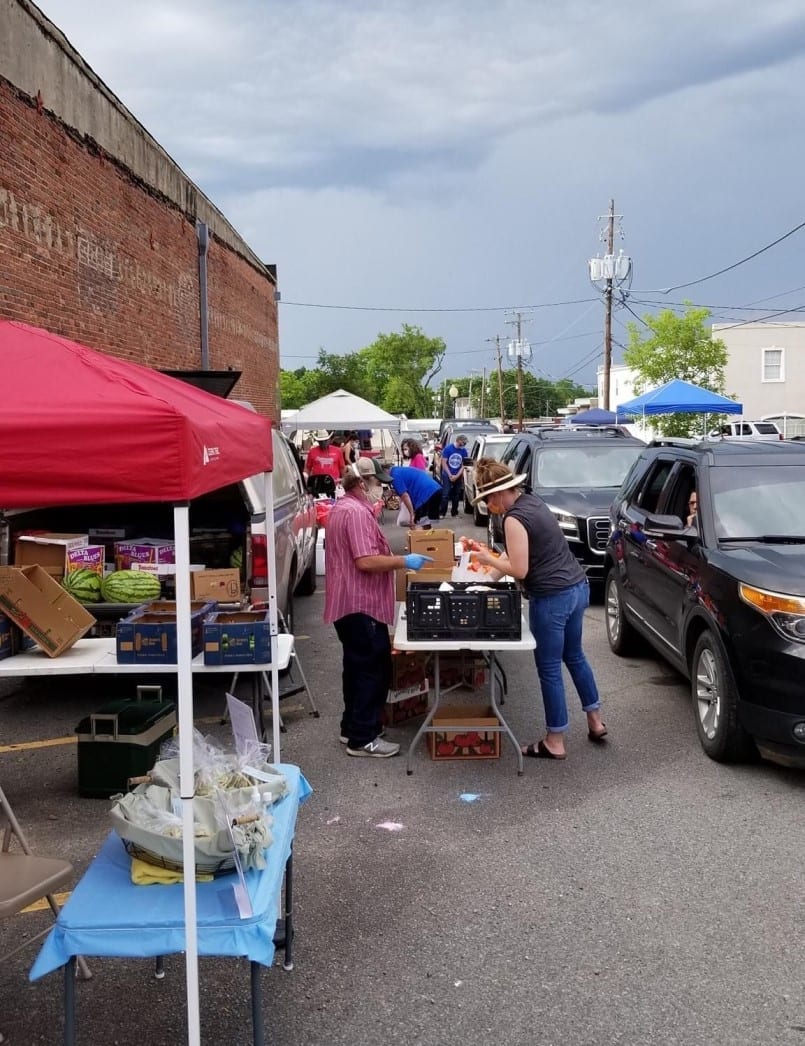 New this year is the market's status as a Supplemental Nutrition Assistance Program (SNAP) retailer. June was the first month market vendors collectively accepted SNAP, and the process ran smoothly. At this week's market, SNAP tokens will once again be available at the information booth where shoppers can ask any questions, obtain SNAP tokens by running their card, or run a debit or credit card for tokens to use same as cash as needed. SNAP funds can be used to purchase fruits, vegetables, dairy products, meats, seeds, baked goods to be taken home, juices containing 70 percent or more fruit or veggie juice, and plants intended for growing food.
The market committee encourages families receiving SNAP benefits through the South Conway County School District to use their funds locally to help support both the economy and market vendors. SNAP funds do not expire, and they can be used at future markets as well.
"The addition of SNAP to our market could not have come at a better time," said Jones. "We are proud to support the community through our SNAP-eligible market, and we hope the community in turn supports our vendors by shopping local."
Kordsmeier Music, a duo featuring Conway County natives Dylan and Hannah Kordsmeier, will return to the Pocket Park stage during the event. Volunteers will assist in ensuring visitors adhere to health guidelines, including sitting or standing six feet from other visitors (excluding one's own family members), crowd counting and providing hand sanitization. Market visitors are encouraged to wear a mask for added safety.
Main Street Morrilton President Morgan Zimmerman noted, "First Thursday events have given life to our downtown area after hours. We're eager to bring back live music, shopping opportunities and foot traffic to Downtown Morrilton with July's event."
Many downtown businesses will be open for extended hours as part of Main Street Morrilton's First Thursday events. Shops that plan to remain open late often offer deals and additional discounts for patrons. Check the Main Street Morrilton Facebook page for updates from participating downtown businesses as the event approaches. All markets and First Thursday events are rain-or-shine.
The vendor lineup for the July 2 farmers' market includes Motown Cooking Mama, Cedar Rock Acres, Jess Moore Leather, The Crazy Daisy, Big Cuppa, Blueflower Skye, Legacy Farms Ada Valley, Rialto Baking for the Arts, Panda Farm and Garden, Tierra Mia, Bake Me A Cake Bakery, Cara's Hometown Flowers and More, and Big D Beef. This lineup is subject to change. Leadership Conway County will also have a booth set up to assist people in completing their Census form.
First Thursday events are hosted by Main Street Morrilton, a 501c3 nonprofit organization dedicated to promoting Downtown Morrilton as the hub of community life, to instilling a spirit of community through various events, and to promoting historical awareness, preservation and renovation. Main Street Morrilton operates under the direction of Main Street Arkansas' Arkansas Downtown Network Program.
For more information, visit mainstreetmorrilton.org or follow Main Street Morrilton on Facebook.