18 Apr 2022

First Service named SBA Top Lender

Posted at 6:55 PMh

in

News

The Small Business Administration recently presented First Service Bank with the Arkansas Top Lender of the Year Award among institutions with assets under $500 million.

First Service Bank was among the dedicated lenders across the state that the Arkansas District SBA Office honored with awards that celebrated accomplishments for SBA guaranteed lending to businesses in fiscal year 2021.

"This is an outstanding accomplishment that speaks to the hard work and dedication of our team!" Said Tom Grumbles President and CEO.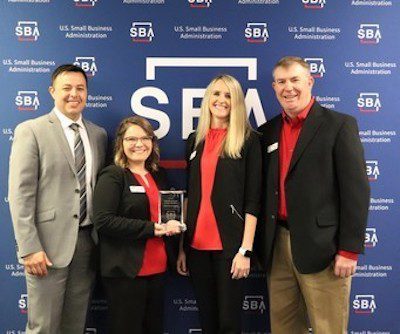 Total SBA lending under permanent product lines of 7a, 504 and Microloans increased in FY21 by 64%, reflecting lender uncertainty and reliance on SBA's guaranty for larger loans. This allowed lenders to deliver $208.9 million to small businesses in an uncertain economic climate.
First Service Bank was among the six lenders recognized by the SBA for their successes in administering these loans to small business owners across Arkansas. First Service made 13 7(a) loans totaling nearly $8 million.
The 7(a) Loan Program, SBA's most common loan program, includes financial help for small businesses with special requirements. It is the best option when real estate is part of a business purchase, but it can also be used for short and long-term working capital, to refinance current business debt and to purchase furniture, fixtures and supplies.
According to the SBA, critical components to the survival of Arkansas small businesses in FY20 were included in the CARES Act. The legislation funded loans for eligible businesses impacted by the COVID-19 pandemic, funding both the loans under the Paycheck Protection Program and COVID-19 Economic Injury Disaster Loan Program.
In 2021 Arkansas and national lenders continued their small business support through the second round of funding for the Paycheck Protection Program, making 61,701 PPP loans totaling more than $1.75 Billion in COVID relief funding.
"I want to thank our SBA Lenders for their commitment to our Arkansas small businesses and commend all seven awardees for their successes in FY21," said SBA Arkansas District Director Edward Haddock. "Conversations with representatives from these banks tout the triumphs and ease of processing PPP loans and forgiveness and the excitement to transition back into traditional lending now that these programs have expired. To date in FY22, banks are exceeding their SBA guaranteed lending goals, reflecting a more stable economy in Arkansas and increased confidence in SBA's programs as small businesses recover."
To learn more about the SBA funding programs, visit sba.gov. 
First Service Bank, with its headquarters in Faulkner County, has been in operation for more than 50 years and has locations in Clinton, Conway, Dermott, Flippin, Greenbrier, Little Rock, Mountain View, Shirley and Yellville. For more information, visit firstservicebank.com.