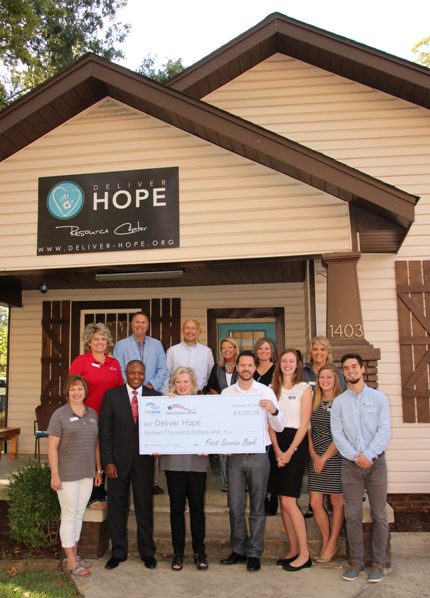 26 Sep

First Service, FHLB partner on $16,000 grant for Deliver Hope

First Service Bank and The Federal Home Loan Bank of Dallas (FHLB Dallas) recently awarded $16,000 to Deliver Hope through the Partnership Grant Program (PGP).


Representatives from FHLB Dallas, First Service Bank and Deliver Hope attended the check presentation held at the Deliver Hope office on Robinson Avenue in Conway. First Service provided $3,000 for the grant, with FHLB matching the remaining $13,000.


Bruce Hatton, vice president/AHP manager for FHLB Dallas, spoke at the presentation and explained the grant program. Presented annually, PGP grants are awarded to community-based organizations and can be used for research, organizational capacity-building, grant- and funding-application assistance or contractual services.


Lori Case Melton, First Service Conway Market President, and Daniel Tyler, founder/executive director of Deliver Hope, also spoke. "First Service Bank is proud to support the work of Deliver Hope through the PGP," said Melton. "We believe in the work Deliver Hope does to benefit the under-served youth of Faulkner County."


Deliver Hope, a local non-profit, was established in 2013. It provides ministry and self-improvement services to at-risk youth in Faulkner County through four programs: juvenile justice ministry, mentoring, Her Hope and Hope House.


Deliver Hope will use the funds for operating expenses to support Hope House, which provides services to youth between the ages of 18 and 21 who have aged out of foster care.


For more information on Deliver Hope, visit deliver-hope.org.