20 Oct 2019

FIRST SERVICE CUP: Greenbrier, Vilonia rivalry ignites again

by Levi Gilbert and Mark Oliver
Mike Kemp photos

Faulkner County's premiere football rivalry ignites again this November as Greenbrier and Vilonia vie for the First Service Cup. With Vilonia's competitive resurgence in year two under Todd Langrell, this year's showdown will be even more tense as playoff implications will likely be on the line in Week 10. 

Greenbrier's Ryan Barnard and Vilonia's Dylan Briggs understand the weight of the annual rivalry for both the 5A West conference and the Greenbrier and Vilonia communities.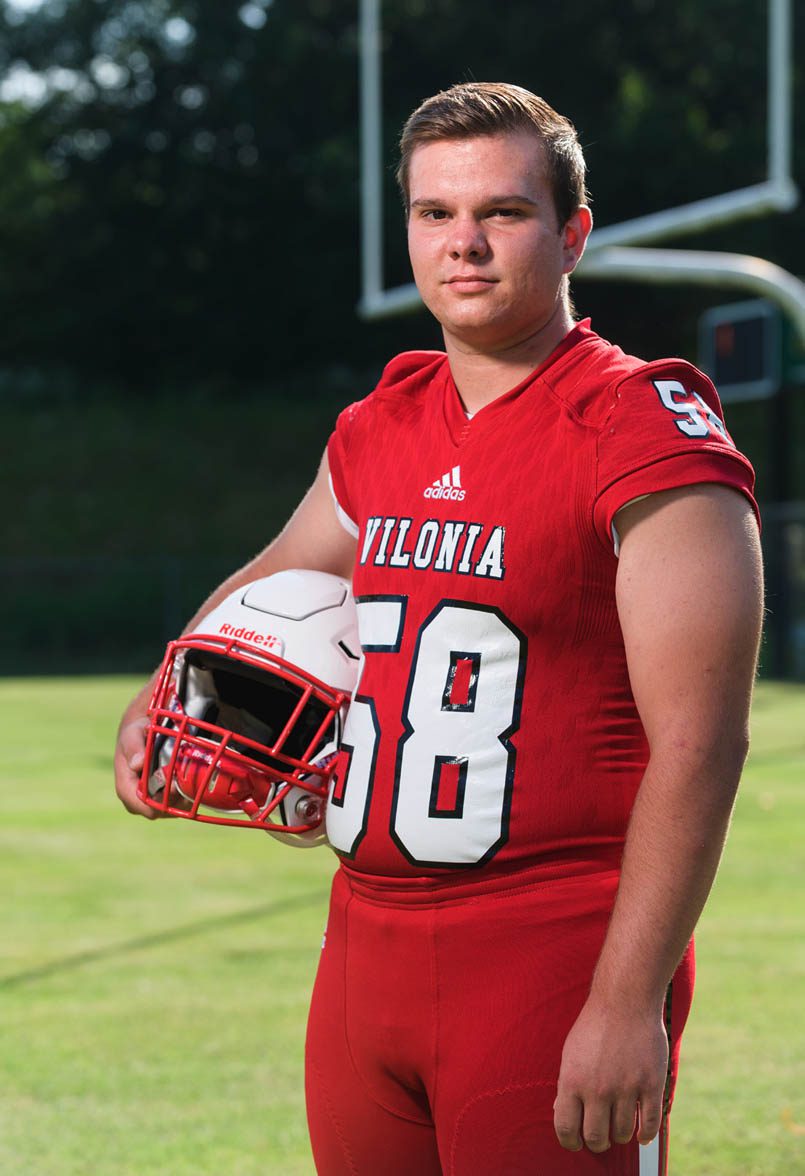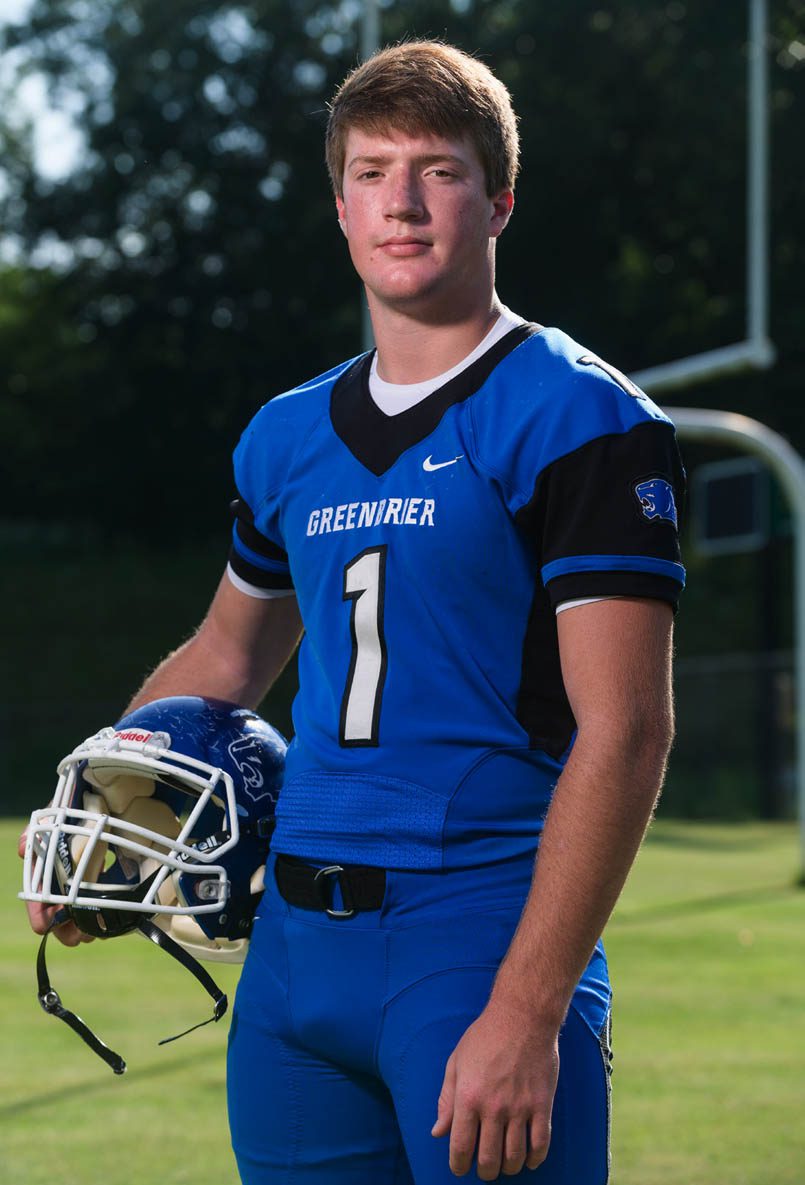 "The Vilonia game is one of the biggest games for us every season," said Barnard, a senior linebacker and receiver for Greenbrier. "It's the one game we always have circled. No matter how the season has gone and no matter where the game is being played, you can count on the stands being full and the game being great. Winning the First Service Cup means everything here in Greenbrier." 
"A lot of our players know their players," said Briggs, a senior offensive lineman for Vilonia. "It's bragging rights. A lot of people from our community put a lot of love and support into the football program and look forward to this game all year long."
Barnard and Briggs were both selected to this year's 501 Football Team — 27 players representing all 11 counties of the 501. The team, sponsored by Conway Regional Health System, First Security Bank and Conway Orthopaedics and Sports Medicine Center, boasts the best the 501 has to offer both on and off the field. The two seniors were nominated by their respective head coaches. 
"Dylan Briggs is the type of player that every coach wants to have," Vilonia Coach Todd Langrell wrote in his nomination. "He will get to practice early, stay late and is always on time to put in the work required to be the best he can be."
"Ryan Barnard is a smart, tough football player," Greenbrier Coach Randy Tribble wrote in his nomination. "He is a quiet leader, an outstanding Christian young man and is a leader for us on the field, offensively and defensively, as well as in the locker room."
Since 2001, Greenbrier leads the series, 10-8, and has won the last seven matchups. As of press time through Week 5, Vilonia (3-2, 2-0) is tied atop the 5A West, and Greenbrier (3-2, 1-1) sits just one game behind. 
According to Barnard, Greenbrier's chemistry has been the team's recipe for success this season.
"We have a lot of seniors this year and we all have great chemistry," Barnard said. "Most of us have been playing together since third grade, so we know each other and trust each other. During practice, we try to keep everything fun and enjoyable so that our underclassmen want to be there instead of making them feel like they have to be there. We're a great family."
It's been awhile since Vilonia took home the First Service Cup, but Briggs is confident that this year could be the year. 
"Like Coach Langrell says, we have the tools in the tool shed, meaning we have the athletes and the talent to win," Briggs said. "We just have to prepare and have good practices. Stacking good day after good day in practice. Going out at practice and working with a good attitude to prepare and to get better."
Vilonia plays host to Greenbrier for the First Service Cup at 7 p.m. Friday, Nov. 8. 
This year's First Service Cup game will have special meaning for Greenbrier senior Ryan Barnard and his family. 
In 2001, First Service Bank created the First Service Cup, a traveling trophy, to celebrate the annual football game between Greenbrier and Vilonia. First Service is headquartered in Greenbrier and is owned and operated by the Tom Grumbles Family. Ryan is a son of Kenneth and Rebecca (Grumbles) Barnard.
"It's a pretty exciting year to have a senior football player and to watch them have really great success in their football program," said Kenneth, who is the chief financial officer at First Service.
Kenneth said it has been enjoyable to watch his son learn and play the game, beginning in the third grade in the local peewee program, and "the passion he has shown for it" from the beginning through high school. "It's been exciting to watch for 10 years."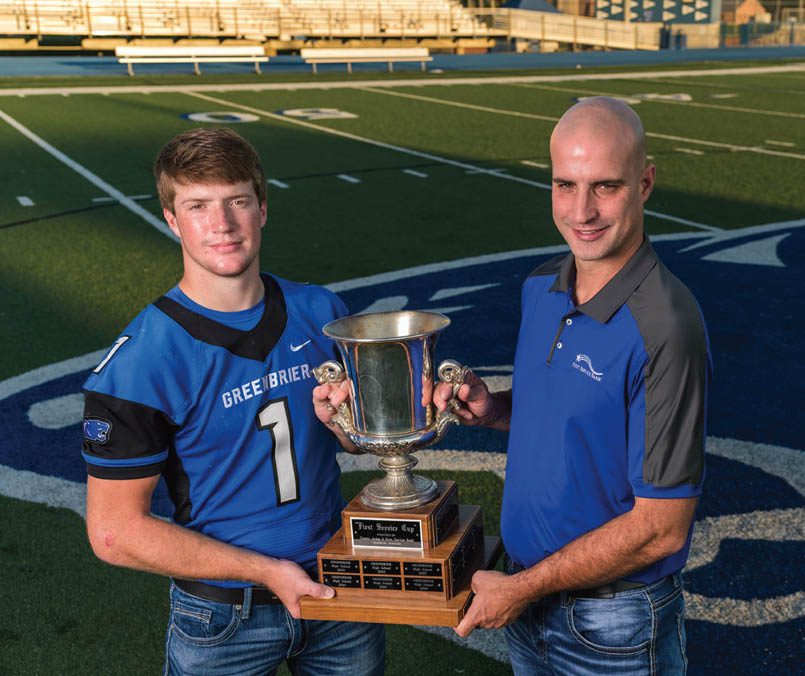 Ryan has played other sports, including baseball, basketball and soccer, but is now focused solely on football. "It's the one he is most passionate about."
Kenneth said the Greenbrier-Vilonia game is significant because of the cross-county rivalry between the two schools. "It's a big game every year," he said. "First Service Bank is honored to be a part of that tradition and to have a trophy that supports that tradition."
Kenneth said all of his three sons are aware of the importance of the rivalry between the two schools. "They learned at an early school age to become passionate about the rivalry between Vilonia and Greenbrier. It's such a big game every year. Whether it is seventh grade football or its senior high football, that seems to be a very important game that all the coaches and players on each side certainly circle, want to play and enjoy the competition and the tradition of the rivalry." 
As a senior, Ryan's family is happy about the season but they also know that soon he will hang up his Panther football jersey. 
"It's an exciting year for Ryan, and to know that he is crossing a milestone and moving on to the next phase in his life. We are excited about that, but it also brings up emotions knowing that he won't get to do that next year. He will always be a Greenbrier Panther alum, but next year he won't get to wear the Panther football uniform and dress out as a football player," Kenneth said. 
First Service Bank is proud to serve as the sponsor of the competition between the two towns, and that's not just from a personal perspective, Kenneth said. "We enjoy being part of our community and are honored to support it that way."