22 Mar 2021

First Security works to help region

The past year was challenging for everyone and we are still dealing with the effects of the pandemic in 2021. First Security Bank has implemented three programs to help their customers and the community during this unprecedented time.

Small Business Association awards efforts

The shut-down of small businesses in March 2020 to prevent the spread of COVID-19 created a ripple effect none of us could anticipate. In every community, friends and neighbors were suddenly faced with the potential loss of income. When Congress and the Treasury Department established the CARES Act, they created the opportunity for businesses to gain some relief thru the Small Business Administration's (SBA) newly enacted Paycheck Protection Program (PPP).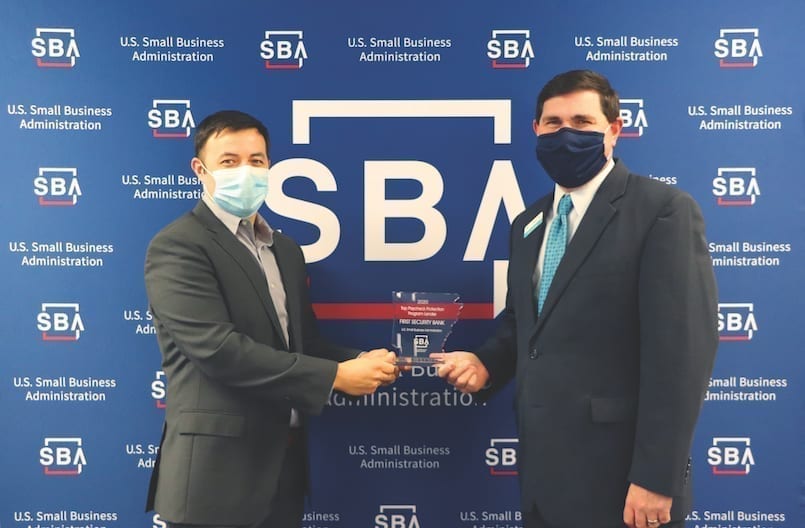 "Our success in helping so many of our customers get this much-needed assistance was the result of an overall team effort," said Scott Brady, senior vice president of marketing. "After many long days, and even longer nights, our customers were able to get the assistance they needed with our help."
PPP loans were designed to protect businesses and their employees from loss of income as a result of the pandemic. "It didn't take long to recognize the significance of the program to small businesses in Arkansas," Brady said. "This was a big deal. Even though we were not as familiar with the SBA lending programs, the First Security team jumped in to help our customers apply for these loans immediately."
The bank's efforts were recognized by the SBA as one of the top PPP lenders in Arkansas. While the staff had no idea the number was significant prior to receiving the award, it makes them very proud that First Security helped secure over 2,900 loans for customers, some as small as $1,000. "Helping them get through a difficult situation was our top priority," Brady added. "On behalf of all the lending staff at First Security Bank, we are humbled and appreciative to have such great relationships, and glad we could help our small business customers in Arkansas."
Change for Change program
First Security also joined forces with the Arkansas Food Bank to support their 'Change for Change' program. From January 9th thru Saturday, March 13, 'Change for Change' is collecting donations of spare change, or any dollar amount, to support the Arkansas Food Bank. Donations can be made at any First Security Bank in central Arkansas in the 'Change for Change' donation account or at the Arkansas Food Bank. Donations can also be made online at: http://weblink.donorperfect.com/ArkansasFoodbank/ChangeforChange2021
Anyone wanting to participate in the collection of spare change can help by picking up a donation can at a First Security in Pulaski or Saline County, or at the Arkansas Food Bank.
"What's Cookin' at First Security Volume 2"
The bank also partnered with the Arkansas Hunger Relief Alliance by offering "What's Cookin' at First Security Bank Volume 2." Employees submitted their favorite recipes to create a cookbook to help raise money for the hungry in the state. "With the last cookbook, we raised over $25,000 to support their mission," Brady said. "We look forward to providing another great donation through the help of our customers and friends who purchase one of these cookbooks." Cookbooks can be purchased for $20 at any First Security location.