28 Feb 2023

First Presbyterian Church receives designation from Interfaith Power and Light

Posted at 9:02 AMh

in

Faith

First Presbyterian Church in Conway is the first house of worship in Arkansas to be named a Certified Cool Congregation and is hosting a reception at 10 a.m. on Thursday, March 2, to celebrate.

The congregation received the designation from Interfaith Power and Light (IPL) at the 10% reduction level after reducing their carbon footprint by 36 tons per year with energy-efficiency upgrades to their facility.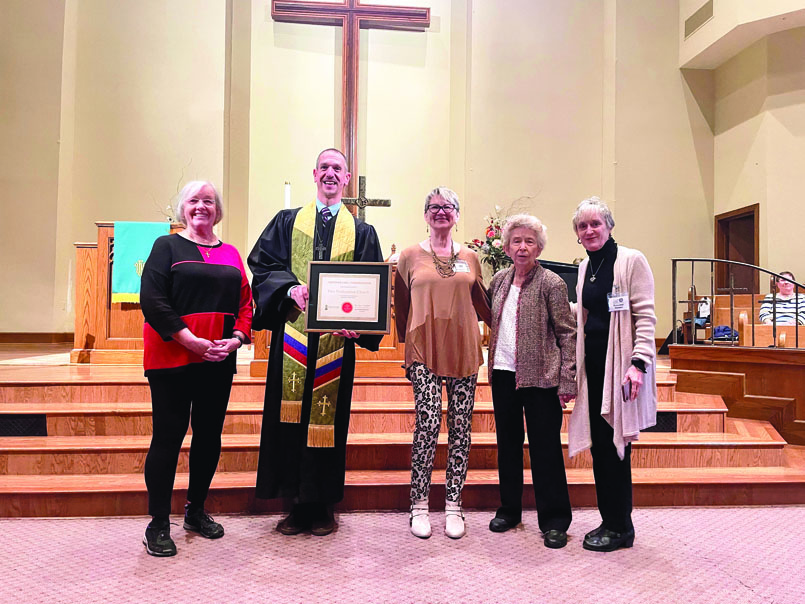 Additionally, First Presbyterian Church is a certified Earth Care Congregation through Presbyterian USA. They have been working to reduce their impact on the environment for many years, but applying for certification as an IPL Cool Congregation required them to report energy-use data. "We are delighted to be able to measure our progress in tons of carbon dioxide we have reduced," said member Scharmel Roussel. "We are more aware of our energy usage and are inspired to reduce it further."
"As an Earth Care congregation, First Presbyterian Church has a long-standing commitment to creation care," said Pastor Mike Ulasewich. "Our faith is in a loving God who cherishes all that God has made and we take joy and wonder in all creation. I am proud of our congregation's dedication of resources toward energy conservation. Becoming a certified Cool Congregation is a reflection of our love for God's natural world."
Conserving energy consumption at the heavily used 25,000-square-foot facility is challenging. The facility includes a preschool and a cradle care program for the infants and babies of teenage mothers at Conway High School next door. And the congregation serves large numbers of meals to those in need in the area.
The Green Team, Mission Committee and Property Committee worked together to accomplish their goals. For many years, the Property Committee made energy-efficiency improvements as repairs and replacements were needed.
Over the last three years, a new energy-saving water heater was installed, the HVAC was replaced with one with greater efficiency, a new furnace was installed and a lighting retrofit was completed. The cost of the upgrades was $15,000, and they are saving about $2,000 annually on their energy bills. They have plans to install motion detector lights in bathrooms and other improvements.
As part of their Earth Care designation through the Presbyterian Church, the congregation is committed to conservation, environmental justice, protecting fragile ecosystems, sustainability, reducing energy consumption, lowering utility bills and setting an example for members and the community. Nearly all of their worship services include an element of earth care, and many of their outdoor banners express their commitment to preserving the planet for future generations. The Green Team also addresses other areas of environmental impact: ensuring that church meals eliminate plastic, styrofoam and bottled water; working in a community garden that is open for anyone to pick vegetables; and facilitating recycling and hosting an EV Demo Day in October 2022.
"Like all congregations, ours must make choices about how to allocate resources like our time and money," Roussel said. "The Green Team appreciates this cherished recognition from Interfaith Power and Light for our efforts toward faithful, sustainable living."