08 Dec

First-half deficit too much for Bears

JONESBORO — A 30-point effort from junior Darious Hall was not enough for the University of Central Arkansas Bears to overcome a big first-half deficit Saturday as the Arkansas State Red Wolves prevailed 95-82 at First National Bank Arena.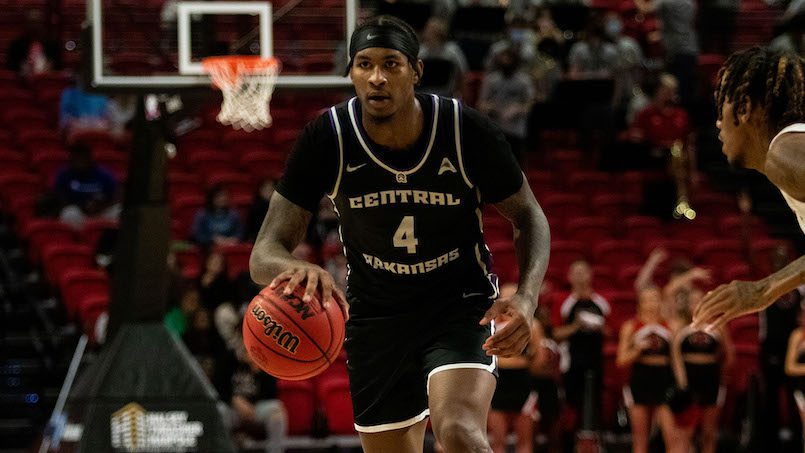 The Bears trailed by as much as 22 points late in the first half before getting within 16 at the break. UCA then opened the second half on a 9-4 run to cut the margin to 55-44. The Bears would get as close as eight points at 71-63 on Hall's layup with 7:36 to play, but could not get closer.

"The first half just wasn't very good," said UCA head coach Anthony Boone. "We just weren't executing the game plan, except for about the last three minutes when we were a lot better. And then on into the second half was pretty good. So, in a sense, we're gaining on the amount of time we're playing well. But it's still not enough to show in the results."

Hall, a guard/forward from Little Rock, tossed in a career-high 30 points and added 7 rebounds and 3 steals.

"I didn't realize how much he had scored until after the game was over and I saw the boxscore," Boone said. "He was pretty focused. He really was determined to help us win. It didn't work out and I hate that, but he was definitely on the whole game."

The first half was a constant parade to the free-throw line for the Red Wolves, who made 18 of 20 while UCA was just 5 of 6, with two of those attempts coming with .4 seconds left in the half. The Bears went to the locker room at halftime with three players with three fouls. 

UCA then came out and won the second half 47-44 when it made five of its seven three-pointers. Hall had 17 of his points after halftime, and sophomore guard Collin Cooper had all nine of his.

"The second half was much, much better," Boone said. "The guys were playing with a little more reckless abandon — and not that they weren't executing the game play, because they were doing that — but just playing with a lot more effort and maybe not thinking quite as much on the floor and just doing what they needed to do."

ASU (5-2) had four players in double figures, led by Desi Sills and Norchard Omier with 19 points each. Caleb Fields added 19 points and was 9 of 9 at the free-throw line. The Red Wolves made nine three-pointers, with four players making two apiece.

UCA will take break for final exams before hosting the Little Rock Trojans on Dec. 14 at the Farris Center.