20 Sep 2021

Filmland: Arkansas to offer unique online and in-person events for filmmakers and fans

Posted at 6:45 PMh

in

News

LITTLE ROCK — The Arkansas Cinema Society is thrilled to announce the lineup for Filmland: Arkansas 2021. This portion of the Filmland festival highlights the best short and feature filmmakers in the state and those connected to our state. This year will be no different as Filmland: Arkansas will feature films from 23 new and veteran Arkansas filmmakers.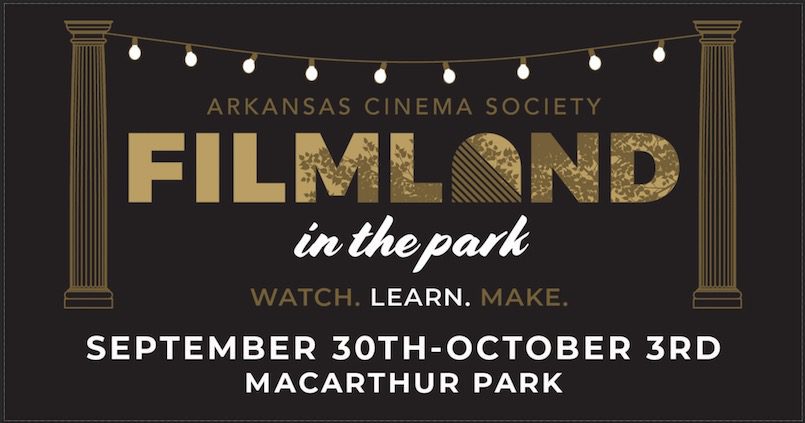 With a record number of submissions, the Programming Committee — Jack Lofton, Niketa Reed, Josh Miller, Antoinette Grajeda, Jonathan Crawford, Kelsey Ferguson and Gabe Gentry — have selected 5 features, 12 shorts and 7 student shorts.
"The quality of submissions gets better each year," said Lofton, head of the judging committee. "It's really exciting to see all the new talent and initiative taking place in Arkansas."
There is one thing that will be different. As part of the ongoing mission to help support filmmakers as they learn to make movies, leaders are introducing filmmaking workshops for all ages during the day at Filmland in the Park, Sept. 30 through Oct. 3 at MacArthur Park. The workshops will be led by acclaimed filmmakers Jeff Nichols, Graham Gordy, Christina McLarty Arquette and Mario Troncoso.
This year's Filmland: Arkansas line-up is:
Features
Rap Squad directed by Nathan Willis
88.3 FM & The Voice of the People directed by John Tarpley
Beautiful People directed by Shane White
A Place Called Home directed by Kiel Thorlton
The Lights are Closed and My Eyes are Dark directed by Noah Woods
Shorts
"I Have No Desire to Suffer, In Reality, Or In Retrospect" directed by Ebony Meyers
"A Violent Storm" directed by Timothy Barnett
"Shattered Dreams" directed by Thomas James Deeter
"Blood on the Risers" directed by Caleb Fanning
"Cortland" directed by Emma Thatcher
"Boss Babes" directed by Corey Clifford & Ryan Lagod
"Ms Blue" directed by Mary McDade Casteel
"The Wolf" directed by Timothy Barnett
"Harvey & Sunshine" directed by Damon McKinnis, Madeleine Noel Murden, Madison De La Garza
"Nighthawks" directed by Nolan Dean
"Patient Justice" directed by Lesa Wolfe Crowell
"Digital Peruggias" directed by Keith Andrew Hudson
Student Shorts
"Once Forgotten" directed by Obed Lamey
"GALENA." directed by Tanner Manasco
"Father" directed by Sophie Barnes
"Salas De Piel" directed by David C. Cruz
"Jelly" directed by Jack Barr
"Baking" directed by Daniel Beltram
"One of These Days" directed by Clayton Henderson
Audience Award Winners of the short film categories will screen before the films on Saturday and Sunday evening at Filmland in the Park on the 40 foot Drive-In screen. The winning feature of the Audience Award will screen in 2022 as part of our ongoing Homegrown Film Series. Filmland: Arkansas is non-competitive in nature. Streaming and voting begins Friday, Sept. 24 and voting ends Sept. 29. Visit filmland.org for more info.
Tickets for Filmland: Arkansas are on sale. Members receive free access to the full Filmland Digital Experience, 50% off drive-in tickets to Filmland in the Park, and advance notice when tickets go on sale for all events. Memberships are $50 on the ACS website.
Filmmaking Workshop Launch:
Filmmaking workshops, made possible by a generous donation from the Windgate Foundation, will be open to adults and children, and will be led by Jeff Nichols, Graham Gordy, Christina Arquette, Mario Troncoso, local filmmakers, and industry professionals. Topics will include directing, producing, screenwriting, and an inside look at life on a film set. The addition of the workshops and educational programming during Filmland is something ACS has been working toward as it carries out its three-pillar mission: WATCH, LEARN, MAKE.
True Detective Season 3 co-writer and Writers Guild award nominee Graham Gordy will be on-hand to teach workshops for youth and adults. Gordy is excited as always to connect with aspiring writers.
"We've really missed being able to do our in-classroom programs over the last few semesters because of Covid, and while nothing can make up for working with and teaching kids week after week, we're excited to do something special at this year's Filmland," said Gordy. "You can't teach someone to write a screenplay in a couple of hours, but we hope to give these middle school and high school students some building blocks and some inspiration to go write something great. I'm also excited because we're doing a session for adults who are aspiring screenwriters too."
Workshops will take place for aspiring filmmakers of all ages during the day at Filmland in the Park at MacArthur Park.
Tickets for filmmaking workshops will go on sale in the coming weeks. Space is limited and members receive a 50% discount on Filmmaking Workshops along with advance notice when tickets go on sale. Memberships are available now on the ACS website.
Check out our workshop lineup and stay tuned for more to be announced!
Building a Scene (and Hopefully, Eventually, a Screenplay): True Detective Season 3 co-writer Graham Gordy will break down the anatomy of a scene, helping you move from initial idea to the building blocks of a complete script by harnessing the power of detail. Followed by a Q+A.
Building a Scene (and Hopefully, Eventually, a Screenplay): Junior (Grades 6-8): During this engaging writing-for-film workshop for Middle School students, screenwriter Graham Gordy will walk them through how to develop a story idea and to write a scene.
Building a Scene (and Hopefully, Eventually, a Screenplay): Varsity (Grades 9-12): High School students will be led by screenwriter Graham Gordy through this exciting basics of screenwriting workshop.
Landing the Role: Get inside secrets from Casting Director, Yancey Prosser of The Agency Inc., on how to improve your audition for screen. During this unique workshop you can receive direct feedback or watch a casting director in action.
The Art of the Pitch: During this workshop, Emmy Award Winning Filmmaker Mario Troncoso will teach participants how to take their story idea and build a pitch deck to intrigue agents and production companies, followed by a Q+A.
About Filmland
Filmland 2021 will be a hybrid event with Filmland in the Park, a drive-in, taking place at MacArthur Park, Sept. 30 to Oct. 3. Food trucks will be available each night. For ticket information, visit arkansascinemasociety.org.
About Filmland Digital Experience
Filmland will also have a Digital Experience featuring Filmland: Arkansas and post-screening Q+As. You will have the ideal home viewing experience with native Apple TV, Roku, and Android TV apps as well as the option to screencast from computers and mobile devices. The Filmland Digital Experience is free with an ACS Membership. Individual tickets for the Filmland Digital Experience are available.
About the Arkansas Cinema SocietyACS is a non-profit committed to building a film community in Arkansas where film lovers can watch films, share ideas, connect with each other, and nurture the new and existing film talent within our state through increased exposure to filmmakers and their art. Those interested in supporting ACS can visit their website at www.arkansascinemasociety.org.