23 Feb 2020

Fighting with grit and grace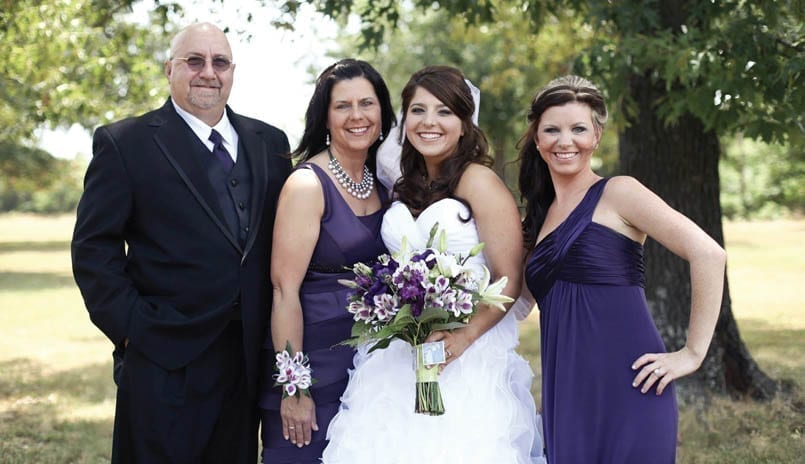 by Meagan Lowry
As a woman nearing 30, I often think about how much I still truly rely on my mom. Sure, not in the same ways I did as a child, but I still go to her for so many things. She's one of my first calls every morning, and one of the first people I go to when I need advice of any sort. 
As the years have passed since I graduated high school, I've watched as our relationship blossomed into friendship. As a mother now myself, when I look back on my childhood for things I want to emulate in my home, I always find myself wanting to be like my mom in a lot of ways. My mom always knew the importance of being my mom as I was growing up, and not trying to be my friend. She knew, even back then, the significance of her calling. And she always took being my mom seriously. I didn't know it at the time, but because of that seemingly small thing she shaped so much of who I would be as a mom and person.
A few weeks ago, I sat in a room with this woman I admire and heard the four hardest words I ever could. "You have breast cancer." And my world stopped. My mom and my friend were sick; this woman who could do it all. This woman who has and continues to play such a huge and important role in my life is now battling breast cancer. Even now as I write those words, it's hard to let them fully sink in.
My mom is without a doubt one of the strongest women I know. And since Dec. 12, 2019, I've watched her face cancer like she has every other trial in her life: with grit and grace. But I've also watched as the reality of this diagnosis settles in. I've watched as this woman who has so much life and love left to give has geared up to fight like she's never had to before. I've watched as my family rallies around her, myself included. It's been during these moments of doctor's visits and sitting by the phone waiting for the call to update us that I've realized how inadequate I feel. I am unprepared to walk through cancer with someone I love so much. I never expected this to be our story.
I know we can survive hard things, because we believe that God has gone before us in this. That while this diagnosis shocked and shook us to the core, it wasn't a surprise to Him.
Since being diagnosed with breast cancer, I've seen my mom as a real person for the first time in my life. I know that may seem odd but let me explain. When I was growing up I really thought my mom knew it all. There was nothing that surprised her, nothing that stumped her, nothing that threw her off her game. And so that's how I've always viewed her, as someone who had it all together. But what I've learned so far in my walk with my mom through cancer is that we don't know what's ahead. She can't rationalize this for us. Cancer doesn't care who you are. Cancer doesn't care how healthy you've been. Cancer doesn't care that you are a grammie and mom. Cancer doesn't care that she's the glue that holds our entire family together, but it should. If you've met my mama, then you'd know that cancer won't win. Cancer won't be what defines her life. She'll continue to fight long after cancer is ready to give up.
As we look radiation and chemo in the face, I'm learning that for a time she will need me in ways that I've always needed her. I can't tell you how much of a privilege it will be to serve her in any way I can. We're about to fight like a bunch of girls, and cancer just doesn't know how much of a mistake it made to mess with us.