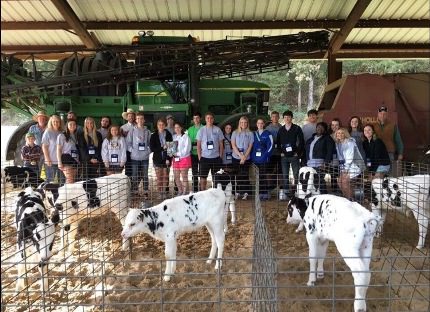 07 Nov 2016

FCYLI studies agriculture

Posted at 11:19 AMh

in

News

The Faulkner County Youth Leadership Institute recently held its "Agriculture and Environment" session.


The group's first stop was Simon Dairy Farm where Frederic and Matt Simon showed the students around the farm. Simon Dairy is a 1,000-acre lot that was purchased in the 1930s.

The farm milks about 200 cows each day.


Next the students visited the recycling center in Conway. Officials talked to the students about the center and the catchy phrase "Reduce, Reuse, and Recycle!" The recycling center gathers around 101 tons of recycle each week. They also taught the students that the goal of the center is to not make money, but extend the life of the landfill.


The students then took a trip to the animal shelter where they got to interact with the dogs and cats.


After lunch, the students traveled to the Lollie Bottoms near Mayflower to see the Schaefers and Collins Pumpkin Patch. Each student was able to pick their own pumpkin to take home and the boys and girls were challenged at the corn maze.


The students had a long day, but each enjoyed learning about the agriculture and environment in Faulkner County.