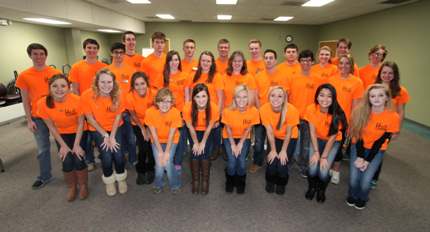 28 Apr 2014

FCYLI hosts graduation

Posted at 12:07 PMh

in

News

The Faulkner County Youth Leadership Institute graduated its 2013-2014 class on April 13 at Central Baptist College. Graduation marked the completion of the 19th year for the youth program.

The institute is designed to help address many of the challenges facing a growing area while exposing young people to opportunities for community involvement and improvement. It includes an overnight summer retreat and monthly leadership sessions that cover a variety of social, economic and political topics. Class members also plan and implement a community service project.


The youth program is designed to help develop leadership potential within 11th- and 12th-grade students.


Graduates of the 2013-2014 class include:

Conway Christian School – Megan Ledbetter and Ross Minner.
Conway High School – Morgan Bernard, Emily Bradley, Marianne Burnett, Mattison Cato, Matthew Cummins, Matthew Evans, Jessica Ferguson, Adam Freyaldenhoven, Lincoln Gimnich, Kristian Lenser, Samuel Lockhart, Nicolas Maynard, Rachel Morgan, Katherine Murphy, Hunter Scott, Rachel Skinner, Olivia Tzeng and Alexa Vetsch.
Mayflower High School – Ashley Raney.
St. Joseph High School – Drake Cooper, Elizabeth Hambuchen, Holly Rega, Sydney Spradlin, Taylor Womack and Abby Kordsmeier.
Vilonia High School – Alexander Palmer.