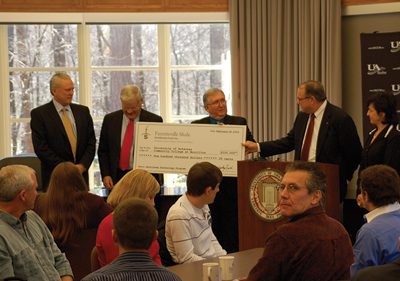 25 May 2010

Fayetteville Shale scholarship reception

Posted at 11:04 AMh

in

News

"Now more than ever, students need financial support to pursue secondary education," said Sam Mashburn, president of the Fayetteville Shale Scholarship Fund. "We are doing just that by helping students stay in school and learn about an industry that is still quite new in our state. The companies operating in our field continue to look for skilled workers. I'm proud to represent so many in our industry who support the scholarship fund and believe in creating a strong, local workforce through the university's petroleum technology program."

The petroleum technology program at UACCM is one of a kind in Arkansas, and it is paving the way for students to become a part of an industry that continues to be an economic leader in the state. Since the program began in 2006, enrollment has grown from 30 students to about 200. It is among a handful of two-year petroleum technology certification programs nationwide, and it includes studies in drilling, gathering and field operations. It is now the largest applied technology program on the UACCM campus

"The number of awards and the monetary amount contributed to our petroleum technology students are a testament to the time, energy and dedication given by the individuals who comprise the Fayetteville Shale Scholarship Fund," said Nathan Crook, UACCM chancellor.