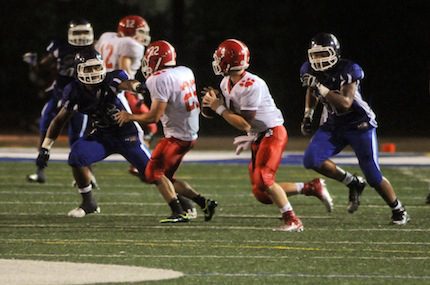 03 Sep 2013

Faulkner County Roundup – Week 1

High school football in Faulkner County is back, and the excitement level is high throughout every football school in the county.

All five schools — Conway, Conway Christian, Greenbrier, Mayflower and Vilonia — made the playoffs in 2012 and are poised to do the same this fall. And it all starts this Friday.

Conference: 7A/6A Central

Coach: Clint Ashcraft

'12 Record: 8-3 (5-2)

The Wampus Cats missed out on a third-straight conference title in 2012, but it was another broken streak last fall that more than made up for the conference title miss — Conway won a playoff game for the first time since 2009.

"We've had a very productive off-season," Coach Clint Ashcraft said. "Our seniors have done a great job of leading our younger guys. We have some positions to replace, and once we get those holes filled, we will have a solid football team in 2013."

The real strength for Conway this fall may just be on the defensive side of the ball. With seven starters returning, led by senior defensive end and 501 Football Team honoree Cortez Akins, the Wampus Cat defense will be formidable.

Conway opens its season playing host to rival Bryant.
Conference: 5-2A
Coach: Michael Carter
'12 Record: 8-4 (5-2)
The Eagles sure were fun to watch in 2012 as the team posted its best record since moving to AAA football in 2008. Even better, Conway Christian notched its first playoff win with a 40-32 victory over McCrory in the first round of the playoffs.
The Eagles graduated some huge numbers in May in quarterback Tanner Stevenson (501 Football Team 2011) and receiver Andrew Dather. Senior Chandler Ferrand moves to quarterback this fall after posting an all-conference season at receiver in 2012. Senior Ancil Lea will take over a full workload at running back, and junior Noah Bowman and senior Caleb Dather lead the offensive line.
Dather, who was named to this year's 501 Football Team, is a three-year starter at left tackle and also starts at defensive end.
The Eagles open their season Friday at Little Rock Episcopal.
Conference: 5A West
Coach: Randy Tribble
'12 Record: 11-1 (7-0)
The Panthers opened 2012 with 35-0 shutout of Beebe, and they never looked back. Greenbrier's explosive offense propelled the team to a perfect regular season finish, averaging 41 points per game.
But only two starters return to the Panthers' Spread offense, and just four are back on defense, presenting more than a few question marks for Coach Randy Tribble heading into the fall.
"We're a young and inexperienced team with a small senior class," Tribble said. "How fast can we grow up? There's too many question marks at this time."
Seniors Jake Buchanan (a 501 Football Team honoree) leads a talented Panther secondary from his corner spot.
The Panthers open up play Friday at Beebe, a team that is looking to put last season's unusual results (3-8 finish and a playoff miss) behind it
.
Conference: 2-3A
Coach: Jed Davis
'12 Record: 6-6 (4-3)
It could be argued that no offense in the state was as potent as Mayflower's in 2012. The Eagles set state records offensively, and in their six wins, they averaged 54 points per game.
The Eagles took fans on a roller coaster ride every game, almost scoring at will. The only problem was that they also were seemingly scored on at will, a problem that the Eagles aim to rectify this fall.
Junior Adam Dycus returns at quarterback after lighting up the field in 2012.
Four offensive lineman return from last year's squad: junior Justin Case and seniors Trey Bradley, Tristin Speed and captain (and 501 Football Team honoree) Jordan Graves.
"Jordan is our best offensive lineman," Coach Jed Davis said. "He won our award for best offensive linemen and was voted all-conference. He was also a captain as a junior.
"He is the leader of our defense [at linebacker] and makes our calls."
The highflying Eagles open up 2013 this Friday at Dumas.
Conference: 5A West
Coach: Jim Stanley
'12 Record: 6-5 (4-3)
The Eagles soared out of the gates, flying to a 5-0 record to start the 2012 season. Back-to-back tough losses at home against Morrilton and Alma cooled the hot start, and Vilonia ultimately tied for third in the 5A West.
Through the ebb and flow of 2012, the Eagles found their quarterback of the future in junior Jared Willis. The 501 Football Team honoree brought a dynamic attack to the Eagle offense a year ago.
"Jared started at quarterback for three games until an injury sidelined him in Week 10," Coach Jim Stanley said. "The three games Jared started, he set several passing records. He is the best quarterback I have ever coached, and I believe he will make a name for himself this year."
Stanley said one of the Eagles' main weaknesses heading into the fall is "inexperience on the defensive line."
Vilonia has several holes to fill on both sides of the ball, but a talented group of juniors and seniors could lead the Eagles to another trip to the playoffs.
The Eagles begin 2013 playing host to the always tough Sylvan Hills.
501 LIFE would like to wish all the 501 players, coaches, cheerleaders, band members, parents and fans all the best of luck this season! (If you're headed out to a game this week, take a copy of 501 Football or 501 LIFE, snap a pic from the game and send it to us at

[email protected]

.)