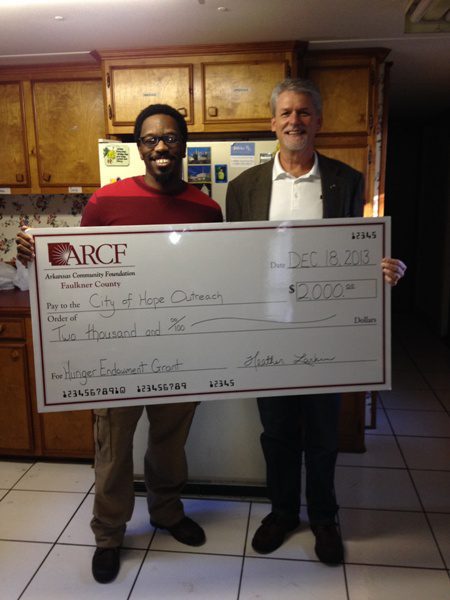 17 Jan 2014

Faulkner County Community Foundation awards fourth annual hunger grant

Posted at 3:32 PMh

in

News

The Faulkner County Community Foundation, an affiliate of Arkansas Community Foundation, has named City of Hope Outreach (CoHO) as its fourth annual hunger grant recipient.

Other recipients include Soul Food Café Mission (2011 and 2012) and Bethlehem House (2010).


"Five years ago, Faulkner County Community Foundation established a Hunger Endowment that would produce grants to hunger agencies in Faulkner County each year, forever," said Julie LaRue, executive director. "Since then, we have teamed up with 501 LIFE magazine and the public schools in Faulkner County in an annual campaign that has grown the endowment to over $50,000."


As the endowment grows, so grows the amount of the annual grant.


"We greatly appreciate our partnership with the Community Foundation and the grant from its hunger endowment," said Phillip Fletcher, director of CoHO. "This donation goes a long way towards meeting the nutritional needs of children and adults in the Brookside community. We look forward to continuing our work to improve lives in the City of Conway."


Anyone can contribute to the Faulkner County Hunger Endowment by contacting the Community Foundation at [email protected].


Arkansas Community Foundation is a nonprofit organization that fosters smart giving to improve communities. The Community Foundation offers tools to help Arkansans protect, grow and direct their charitable dollars as they learn more about community needs. By making grants and sharing knowledge, the Community Foundation support charitable programs that work for Arkansas and partners to create new initiatives that address the gaps. Since 1976, the Community Foundation has provided more than $108 million in grants and partnered with thousands of Arkansans to help them improve our neighborhoods, our towns and our entire state. Contributions to the Community Foundation, its funds and any of its 27 affiliates are fully tax deductible.