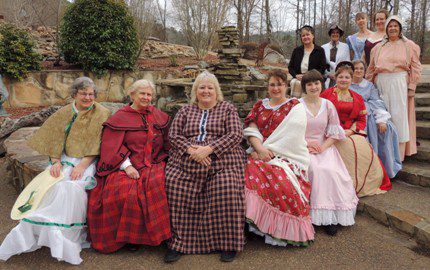 06 Apr 2015

Faulkner Academy of Arts to present 'April, 1865'

Posted at 11:56 AMh

in

News

Faulkner Academy of Arts, sponsor of Conway Women's Chorus and Conway Dinner Theater, will present a spring show commemorating the sesquicentennial of the Civil War.

The Civil War Ensemble of the Women's Chorus has participated in events since 2011, the 150th anniversary of the beginning of the War Between the States, in conjunction with the Arkansas Heritage Commission.


They are now preparing for the final presentation of the commemoration with a dinner theater show titled "April, 1865" that will include songs from the mid-1800s, stories, piano folk music and drama scenes from "Our American Cousins."


The theater is located at 2201 Washington Ave. in Conway.


The women's ensemble has made an effort to present songs and stories of the war from a woman's perspective. In period dress, they perform songs from the war years and relate, in first person, tales of women who actually lived during those years. These have included farm wives from Arkansas; a woman who, disguised as a man, raised troops and fought for the Confederacy; a nurse; a woman from Richmond, Va., who was a spy for the Union army; and a woman whose husband, a Baptist minister, spoke against secession in their Mississippi church.


During the past four years the group has performed for re-enactments at Jenkin's Ferry (Sheridan); Reed's Bridge (Jacksonville) and Prairie Grove Battlefield (Prairie Grove); for local civic groups including Newcomers Club, Bookcase for Every Child banquet, Faulkner County Historical Society and Conway Cradle Care; Civil War events including Civil War on the Sylamore, Ozark Folk Center (Mountain View), Civil War Roundtable (Little Rock), Civil War Symposium (Ash Flat) and Pea Ridge National Battlefield Park (Pea Ridge). They have performed at the Faulkner County Library, Good Samaritan Society (Hot Springs Village), Faulkner County Retired Teachers and the dedication of Civil War markers at the Faulkner County Museum and others.


To commemorate the end of the War, the group will join with Conway Dinner Theater and Piano 4-Te, an ensemble of advanced students from Faulkner Academy of Arts, in presenting a finale show.


The women's ensemble has prepared new music and will perform a Capella in sequences of songs of the War, music for entertainment (porch songs) and spirituals. The Dinner Theater group will present scenes from "Our American Cousins," the comedy that was performed at the Ford Theater in Washington, D.C., the night that President Abraham Lincoln was shot. Piano 4-Te will give a program of American folk songs.


There will be four performances of "April, 1865." The 7 p.m. Saturday shows on April 18 and 25 will be dinner theater productions that will include a Civil War meal of "northern" roast chicken and "southern" ham, hoppin' John for the po' folk, 49'ers sourdough bread and dessert, including Gen Ogelthorpe pound cake. At the 2 p.m. Sunday shows on April 19 and 26, a Civil War dessert plate will be served.


Joan Hanna is director of Faulkner Academy of Arts and the Conway Women's Chorus.


Tickets are available at faulkneracademyofarts.org. Dinner tickets are $20 each and matinee tickets are $8 each.