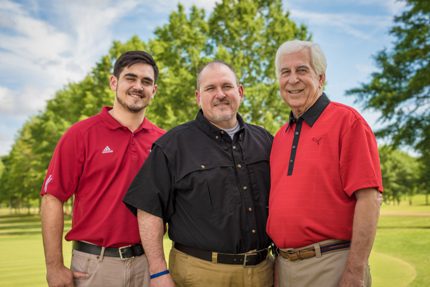 15 Jun 2015

Father's Day Tribute Program offers unique giving opportunity

Posted at 1:32 PMh

in

News

This Father's Day, get involved with the Unity Health Foundation's giving program and honor fathers, grandfathers and other men who have had a strong presence in your life, and in the lives of community members.

"We celebrate family through donations to the Foundation, especially around Mother's Day and Father's Day. Giving a tribute like this is a beautiful way to honor dads and carries a lot of meaning with it," said Foundation Executive Director Cassandra Feltrop. "The mission of the Foundation is to provide support for Unity Health through purchasing the latest equipment and special projects that allow the hospital to enhance patient care. This year, gifts given to the Foundation for Father's Day will benefit the New Life Center at Unity Health's White County Medical Center campus."


Feltrop said this is a Father's Day gift that will leave a legacy and hopes that in lieu of mugs or ties, people will consider giving a Father's Day gift that will last a lifetime by giving to the Foundation. Gifts can be made in honor or in loving memory of fathers, grandfathers or any other special men.


"My father worked for the majority of his career in the insurance industry and currently serves on the LTACH Board at the hospital," said Matt House, Unity Health Foundation Business and Industry Committee Chair and Senior Vice President at First Community Bank. "He enjoys giving back by serving the hospital in that capacity and the community as well. I'm extremely proud of my father and that is why I have chosen to honor him through the Unity Health Foundation. I was born at the hospital the same year it opened and it has always been a part of my health life. I've had a lifelong relationship with the hospital and the Father's Day Tribute is one way for me to honor my dad."


On Father's Day, the Foundation will publish an ad in local newspapers to acknowledge all gifts of $25 or more that were received in the Foundation Office by Friday, June 12. Secure online donations can also be made by visiting Unity-Health.org and clicking the "Donate Now" link. For more information about how to honor the special men in your life, please contact the Unity Health Foundation at 501.278.3191 or [email protected].