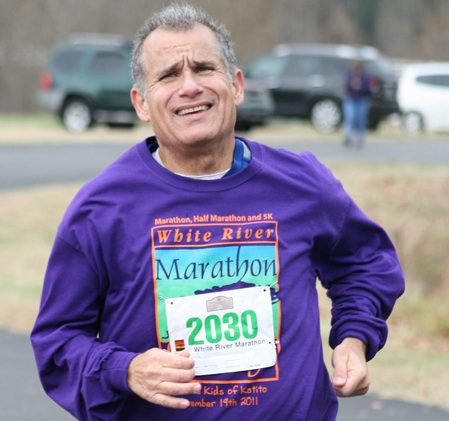 05 Feb 2012

'Fat to fit, to Boston'

Posted at 12:40 PMh

in

News

by Sonja J. Keith


2012 promises to be quite a year for "Biggest Loser" contestant Rick de Roque who has a chance to participate in the Boston Marathon but needs the help of others in the 501 to make that once-in-a-lifetime opportunity a reality.
As a former contestant on the NBC reality show "Biggest Loser," Rick can participate in the Boston Marathon through a partnership with the American Liver Foundation. He has to raise at least $4,000 for liver research by Thursday, March 15, to participate in the race Monday, April 16. (Donations can be made by going to liverteam.org and searching under participants for de Roque, Rick.)

"I would really appreciate anyone's donation or help," he said. "Having this chance to run the Boston Marathon is so important to me."

Describing his fitness journey as "fat to fit to Boston," Rick weighed 350 pounds and couldn't run 100 yards before he was selected for the "Biggest Loser." Now, he weighs 185 pounds and is training for the 26.2 mile-marathon.

Rick is coming off a year that proved to be challenging. "Losing the weight in six months is like a sprint. Maintaining it is like a marathon. It takes two different mindsets."'

The lights and cameras are gone, but Rick's struggle with diet and fitness remain. "There's not an end time."

With his normal life come normal stresses, with the temptation to fall into old habits. "That's when you have to focus on the things you learned."

Rick's resolve was tested last summer when he was unable to observe his diet and fitness routine because of stress, family commitments and travel. "It was tough. I gained a few pounds back," he said. "You start finding yourself in those old patterns."

Rick soon realized that he had to get back on track. "If I don't work out consistently five to six days a week, I know I will gain the weight back."

In August, Rick got back into his workout routine and began training for the White River Marathon in Mountain Home in November, which he ran with his wife, Laurie. He is again at his "Biggest Loser" finale weight.

"The biggest thing is to keep the weight off. It's not easy. Weight loss is very difficult."

A self-proclaimed "food addict," Rick knows there is no "cure" for his food obsession. "I have to stay vigilant."

Rick recognizes it is important not to beat yourself up if you fall short on diet and exercise – just regroup and re-focus.
"I know what I've got to do," he said. "You're not going to be perfect. If you expect to be, you're going to be disappointed every time. You try to be as good as you can be.

"Life gets in the way. Just regroup and know you can do this. Just get it done."

Rick's training program for the marathon includes running seven miles in the morning and seven miles in the evening. "I would never have thought I could do that unless I was on the show." Just as in diet and fitness, Rick also knows there is a mental aspect to running a marathon. When muscles have stopped, willpower is all that is left.

"It was something we were determined to do, and we did it," Rick said of the White River Marathon. "Every muscle in my lower body was sore. There was nothing left."

Rick's goal for his first marathon was to not walk at all. "For someone who a year and a half ago couldn't jog 100 yards to run 26.2 miles, it was an incredible feat." In Boston, he wants to run the entire course under five hours.

The reality show helped bring about a lot of changes for Rick. Before the show, he had high blood pressure, high cholesterol and diabetes. Today, he is not on any medications and has lowered his risk for heart attacks and stroke.

While on "Biggest Loser," Rick learned that individuals can work harder than they think they can. "I think everybody can push harder."

The show and his weight loss have provided other opportunities for Rick to enjoy activities that were not possible, including snow skiing, which he had not done in 34 years; horseback riding; and ice skating. He recalled a recent ski trip and a run down a black diamond course as one of the most difficult courses. He spent 10 minutes at the top of the run, soaking it in and contemplating the rush of adrenaline as he made his way downhill. "I wanted to push myself. That feeling I had I hadn't had in years. The rush – I don't know the last time I felt
like that."

Rick compares his lifestyle and the activities he enjoyed before and after the weight loss. "When I was heavy, I lived in a black and white television world. Since my weight loss, it's been HD . . . I'm able to participate in life more."

"Biggest Loser" gave Rick an opportunity to get his life back. "It's just a TV show, and it represented six months of my life, but I hope to have 35 more years of my life left."

White River was his first marathon, and he's hopeful that the Boston Marathon will be his second. He describes it as "the pinnacle" of marathons, but it represents more for Rick. Weighing 420 pounds at one time, he said, "I just can't pass up that opportunity."

At 55, Rick points out that under normal circumstances it would be difficult for him to qualify for the Boston Marathon with his current run time. "To run the Boston Marathon is a really big deal," he said. "It's a once-in-a-lifetime opportunity."