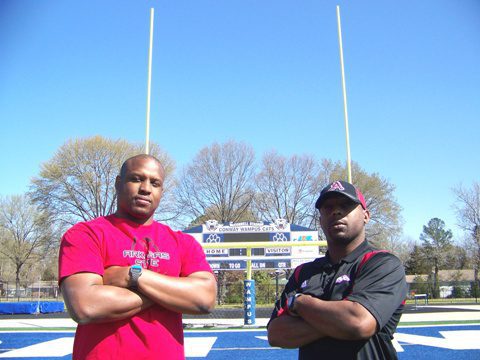 03 Apr 2013

FAST combine April 13

An ASU linebacker and one of the Arkansas Razorbacks most famous wide receivers are teaming up.

JJ Meadors is best known for a game-winning catch that helped the Razorbacks beat Alabama at Tuscaloosa and win the SEC in 1995. Devrett Wade splattered his share of wide receivers back when ASU was still called the Indians. But, they never got to match up in college.


It took a charitable cause for Wade and Meadors to line up against each other in a football game in Jonesboro recently. No, the Arkansas General Assembly was not involved.


Wade and Meadors were representing their alma maters in a game of flag football for charity.


On Saturday, April 13, they will team up to host a combine at Conway High to help high school players with aspirations of playing college football.


The combine will be hosted from 9 a.m. to 2 p.m. by FAST Sports Performance, a part of Conway Regional Therapy Services, and Salt County Sports Performance.


Wade, a certified personal trainer and performance enhancement specialist, directs FAST Sports Performance.


The FAST sports performance combine is more than the standard combine. In addition to rating the players on their standing broad jump, pro-agility, 165/185/225 bench press and laser-timed 20 and 40-yard dash times, the former collegiate stars will talk to them about ways they can maximize their college scholarship potential.


Wade and Meadors first met as assistant coaches at Arkansas Baptist College where they realized they have a shared passion for helping high school athletes avoid mistakes that can cost them their eligibility for scholarships. The combine will include a brief ACT prep course, coaching on the importance of working in the classroom and a discussion about the pitfalls of social media.
"I came here to help Devs out," said Meadors. "He is very involved in the community, doing what he can to help. I want to be a part of that. We are both real passionate about helping the kids."

Wade had to take the junior college route to ASU. "I wish I had this when I was playing high school ball," he said. "They will be getting some advice from guys who have been in their shoes. We want to help them avoid some mistakes."

Though several college coaches have requested the players' times, the combine is not necessarily for D-1, can't-miss athletes. "We are also looking for the guys who are average athletes and who want to play college ball," said Wade. "We want to help them understand that it is not the coach's job to get them recruited. They are going to have to work hard and do the right things."

In addition to Wade and Meadors, the combine will include Tyrell Johnson, a Red Wolf who now plays cornerback for the Detroit Lions, and a host of other former college and NFL players. Luke Mathison of ArkansasVarsity.com will be present to post statistics on top performers for state and regional recognition.

Cost is $35 per athlete and teams with 10 or more athletes will be given a discounted rate of $25 per player. For details contact Wade at 501.269.4041 or devr[email protected]. Registration forms can be found at conwayregional.org/FAST.