16 Jun 2021

Farris Center Court at UCA named for Pippen

CONWAY – An emotional Scottie Pippen, flanked by University of Central Arkansas administrators and the governor of Arkansas, had his name and signature unveiled on the court at the Farris Center on Monday morning prior to the start of the 2021 Scottie Pippen Basketball Camp.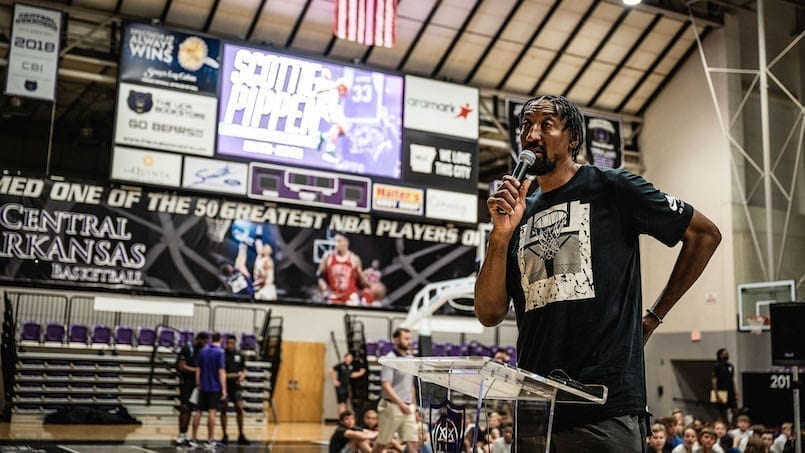 Pippen, who came to UCA in 1983 as a walk-on student manager from tiny Hamburg (Ashley County), left as a two-time NAIA All-American and a lottery pick (No. 5 overall) in the 1987 NBA Draft. He went on to play 17 years in the NBA, winning six championships alongside Michael Jordan with the Chicago Bulls, one of the most prominent dynasties in professional sports. He also won two gold medals as part of the USA Dream Team and had his No. 33 jersey retired by both the Bears and the Bulls.
"It's been a tough couple of weeks for me," said Pippen, who lost both his oldest son, Antron, and his college coach, Don Dyer, recently. "It's not just about the floor, but it's about some people that I've lost along the way. So it's tough. But it means a lot. The hard work that I put in over the years, my dedication to the game. And this just gives me an opportunity to leave a legacy behind.
"It's a great feeling. It's nothing that I set out to do. You dream of playing the game and being the best at it. To be able to have other people look upon your game, what you've done over your career, is special, to be honored this way. And I'm just truly grateful for it. It's a great honor. I came here and I worked very hard, spent a lot of time in this gym and in the weight room. I think it's deserving. I put in the work. I wanted to be remembered when I left here and this is a great way of being honored for it.'
Pippen saw his name displayed Monday on the court on which he starred from 1983-87, in front of the 180 campers and their families, along with Arkansas Governor Asa Hutchinson, UCA president Houston Davis, UCA director of Athletics Brad Teague, and UCA head men's basketball coach Anthony Boone. The moment was not lost on one of the 50 greatest players to ever play in the NBA and UCA's most famous alumnus.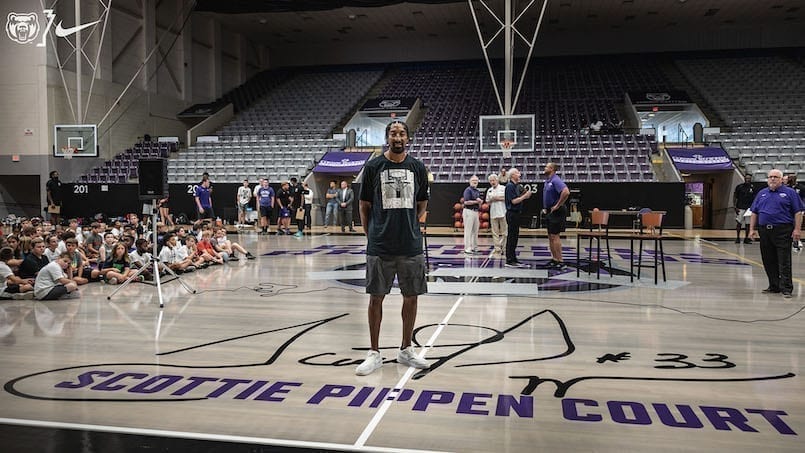 "I want to thank my high school coach Donald Wayne, who gave me the opportunity to meet Coach Dyer, to meet Coach (Arch) Jones, to be part of the University of Central Arkansas," Pippen said. "It was a dream for me to play in the NBA, to have an opportunity to play college ball. This university gave me the opportunity, and I took advantage of it
"And every day, I'm thankful for that opportunity. The opportunity to have a lot of great teammates, to meet a lot of great people. The University of Central Arkansas has been a guide in my life. This is my family."