21 Jul 2021

Father/son team make sport of collecting old tractors

By Judy Riley

For anyone who ever lived on or near a farm, a visit to the Carpenters is a walk back in time.
The family farm is located on Highway 381 south of Lonoke. Beside two modern and well-manicured homes are a couple of farm shops surrounded by a sea of green, John Deere green, that is. The father and son team of Doyne and Todd have collected old tractors all their adult lives. What began as a necessity, repairing old tractors to use, became a fascination and a quest. Some might call it an obsession. They admit to possessing more than 100 old tractors, but add that many of them are used for parts, at least that is what their wives understand.
Doyne's grandfather bought the land in the early part of the last century. His reasoning for buying the original 170 acres was that it grew large trees. According to Doyne, "My grandfather thought if the land was fertile enough to grow trees, it would surely grow cotton." But that began the painstaking task of removing the trees that thrived in the bottom land. The family continued farming for five generations of Carpenters. Like most farmers in central Arkansas, they originally grew cotton. And Doyne proudly pointed out the John Deere 730 that was attached to the family's first one-row cotton picker. Through the years, the family increased the farm to 900 acres and grew rice, soybeans, corn and wheat. They updated their farming equipment, but somehow it just did not seem right to part with the old.
The first tractor Doyne purchased was a 4010 John Deere, which he still has, of course. The oldest tractor in the collection is a John Deere 1930 Model D. But the Carpenters' most prized possessions are 530 lp's, which in tractor circles is known as one of the rarest and most expensive models. There were only 417 of those models ever made and the Carpenters have five! Looking through three barns and a couple of side sheds full of tractors, one notices they are all green. When asked why only John Deere, Doyne said, "I bought an International once, didn't like it and that was the last one I ever bought."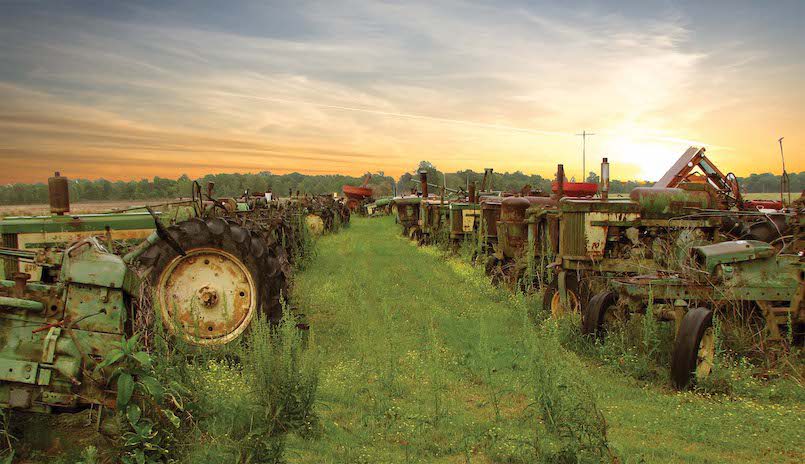 The Carpenters have a standard for tractors they work on. Their measure of success is when the tractors will start and run and perform as they were originally meant to, a process that often takes months. The practical side of them wants the tractors, old as they are, to have utility. Furthermore, they have a standard when dealing with other collectors. According to longtime friend, former tractor collector and U of A Extension weed scientist Dr. Ford Baldwin, "the father-son duo are the most honest, positive and humble people you'd ever meet. They collect just because they love old tractors and are not about to take advantage of anyone." The Carpenters belong to a network of tractor collectors who share information about the secrets, the difficulties, and the "Aha" moments of restoring old tractors. The Carpenters credit much of their success to fellow farmer and retired John Deere mechanic Jack Duck.
When asked if their wives support their habit, Doyne recalled his wife's comment when he came home with yet another old tractor. Judy said, "Doyne, one of these days you are going to come home with one too many of those." Apparently that day has never arrived. When asked by their wives who owns which tractor, both father and son admit, "That one belongs to Dad," or, "That one belongs to Todd." They each blame the other for their fascination with collecting tractors.
The Carpenters are a remarkable family with a remarkable hobby. In the end, they simply love to preserve the equipment that forged Arkansas' modern farming history.