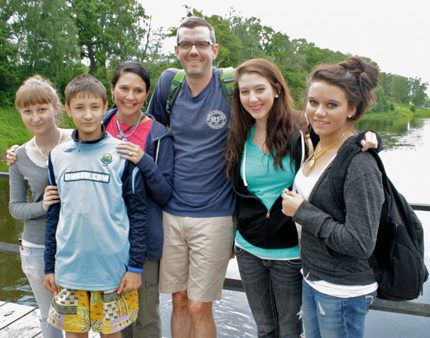 21 Sep 2013

Family moves to Russia to care for orphans

Posted at 6:45 PM

in

Faith

by Paige Turner

With the school year under way and a change in the weather quickly approaching, there is a feeling of change in the air. For the Harrington family in Conway, the change includes culture shock, a new mission and relocation to Kaliningrad, Russia.

The Harringtons have committed to a two-year stay in Russia to do volunteer work for Change30, an organization focused on helping the orphans of Russia transition from their life in government custody to full adulthood upon their release. The name of the organization is based on a statistic that the average life expectancy of a Russian orphan is 30.

Lauren Harrington says the family move was inspired by her visit to Russia almost three years ago on a mission trip. "I had always wanted to do a mission trip, and I thought I would always complete one in Africa," she said. "I actually heard about Change30 through some posts on Facebook, and I instantly became interested in the organization. I reached out to Jackie Hall (co-founder of Change30) and began planning to visit Russia."

Lauren says something pulled at her heart and compelled her to visit Russia with the Halls and other Change30 volunteers. Upon her first visit to Russia, Lauren came back from the trip "broken" by the way the Russian orphans were treated and the lack of resources they had upon leaving government orphanages.

"Their stories were just heartbreaking," Lauren said. "The things they had to experience brought me home broken. And from that moment on, I knew something had changed in me."

Lauren became even more passionate about Change30 and its purpose and visited Russia again that Christmas. During her second visit, she grew closer to two orphans, Vlad and Alla.

The family traveled to Russia in the summer of 2012 and decided to pursue making Vlad and Alla part of their family. "We came together as a family, and God placed the passion for Russia and Change30 in all of our hearts," said Tim. "We could only legally adopt Vlad. We hoped to bring Alla here on a student visa because she was older than 16, which is when an orphan in Russia is no longer adoptable."

After a few months, the process came to an abrupt stop when a ban on Americans adopting Russian children was put in place. Tim says the rejection was difficult, but the experience made them more determined as a family to help the orphans involved with Change30.

"Once we knew the adoption wasn't going to happen for us, our thought process changed," Tim said. "That incident and my recently losing my job really pushed us to consider moving to Russia to really work with these kids and Change30."

Tim says that the family has become more passionate about the trip and Change30 than ever before, and they are ready to move and begin working with the numerous orphans and orphan graduates of Russia that so desperately need help. The family plans to move in early September and will stay in Kaliningrad for two years.

During the first few months in Russia, the family will work in all aspects of Change30's programming and will then find an area of the organization they will focus on during the remainder of their stay. Lauren says this move to Russia was a calling that she could not ignore.

"It's more than just wanting to do this — we have to do this," Lauren said. "It's the passion for this change that has been driving us and pushing us to this purpose. It was undeniable that this was what we are supposed to be doing."

To get ready for their transcontinental move, the family sold their home, vehicles and many of their belongings. They also found homes for their dogs. "Gracie and Claire will be a part of the day-to-day work of Change30 while Claire is homeschooled and Gracie takes online classes through Central Baptist College," Tim said.

While in Russia, Tim and Lauren hope to be parents to Alla and Vlad and perhaps bring them back to the United States as legal adults when the family returns.

So why would a family do all this?

"We want to change the perception of Russian orphans," Lauren said. "We want Russians to see that these orphans really are people, not just wild beasts with no future. We're hoping to end that cycle and prepare them for adulthood. And we want to love on them as much as possible."

For more information on the Harringtons and their move to Russia, visit their blog at theharrington6.com. To make a donation to this particular mission, visit theharrington6.com/donate. For more information on the Change30 organization, visit change30.org.