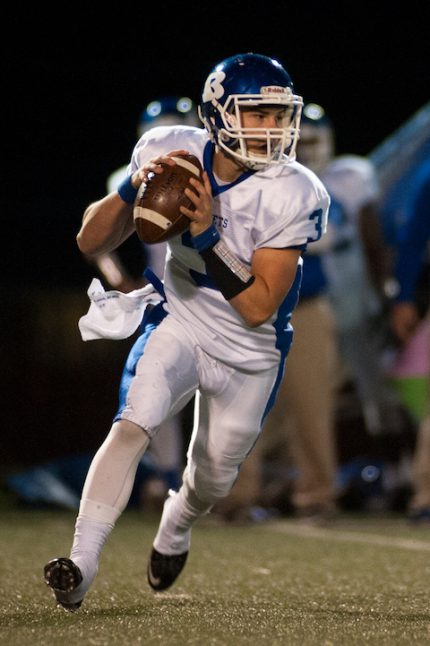 18 Nov 2015

'Family, friends and football'

by Levi Gilbert


Gunnar Burks couldn't have asked for a better regular season to end his high school career. The senior quarterback led the Bryant Hornets to a 9-1 finish, good enough to take home the 7A Central crown.


And the 7A Central title bears even more weight this year, as it gives Bryant the overall top seed in the entire 7A playoffs.


"It's amazing," Burks said of winning the 7A Central. "Especially after all the injuries that have happened to our players this season, it's just the definition of hard work paying off."


Burks was selected to this year's 501 Football Team — 27 players representing all 11 counties of the 501. The team boasts the best the 501 has to offer both on and off the field. Burks was nominated by his head coach, Paul Calley.


"Gunnar is a fierce competitor that always gives 100 percent," Calley wrote in his nomination. "His ability to push teammates and make them better and his willingness to compliment them on a job well done make him a great teammate. Off the field, he leads by example through work ethic and determination."


Burks' final run as Bryant's quarterback has been filled with memories he will carry with him the rest of his life, and it all started with a Salt Bowl win over rival Benton, 37-13. But that wasn't all.


"Phillip Isom-Green's kickoff return to beat Russellville and the game-winning pass to Aaron Orender to beat Alma are some of my favorite memories from this season," Burks said.

Burks led the Hornets into Conway in Week 10, stealing a win on the road to seal the 7A Central title. The win also earned the Hornets a first-round bye.

"During the bye week, we [focused] on getting healthy," Burks said. "We let the bruises get healed and worked on fundamentals."

The Hornets will look to Burks to lead the way as Fayetteville comes to town this Friday. Fayetteville made it all the way to the 7A championship game last fall and will prove a tough test for the Hornets at home.

As important of a leader as Burks has been on the field for Bryant, he's provided equally important leadership off the field.

"He is very active in his church and volunteering to coach youth basketball," Calley said. "He loves winning, but that doesn't diminish his respect for opponents. He always carries himself with class. He has the respect of all his classmates because of his kind, courteous and caring personality."

When he's not suiting up for Bryant, Burks can be found near the people he loves.

"Other than sports, I love to spend time with my family and friends," Burks said. "Family, friends and football are what I love."