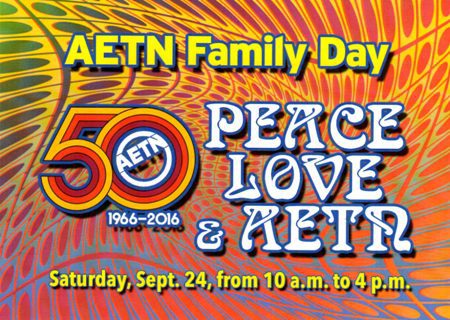 12 Sep 2016

Family Day 2016 set Sept. 24

Posted at 11:05 AMh

in

News

The Arkansas Educational Television Network has announced Family Day 2016 – a free public event to encourage community spirit through family-friendly fun and entertainment, educational activities and community service drives.


The event will be held 10 a.m. to 4 p.m. Saturday, Sept. 24, at the statewide network headquarters, 350 South Donaghey Ave., Conway.


AETN is proud to be celebrating 50 years of public media in Arkansas and will mark the occasion with the theme "Peace, Love & AETN," traveling back in time to the 1960s when AETN first went on the air.


"AETN began broadcasting on Dec. 4, 1966, as Arkansas's first educational television station licensed to Little Rock," said AETN Executive Director Allen Weatherly. "In the 50 years since, we have grown to cover the entire state, expanded our educational services to rival any in the nation, convened conversations about pressing issues and produced countless hours of original programming for and about Arkansans.


"We are thrilled to continue our extensive work in Arkansas and celebrate this milestone with our popular Family Day. We look forward to lots of fun, food and fellowship at our headquarters in Conway, and we are excited about many more years of serving this great state."


Special guests for the day include Walkaround Cookie Monster and Walkaround Elmo of "Sesame Street." Children are invited to meet and take photos with the characters.


In an effort to give back to the community, AETN holds community service drives during Family Day to collect items for local charities. Donations are not required to participate in Family Day activities, and all collected items will be distributed to neighbors in need free of charge.


Drives at this year's event include:


• "Mister Rogers' Neighborhood" Sweater Drive. Attendees are encouraged to donate new or gently worn sweaters for families in need as cooler weather approaches.


• Project Homeless Connect. Attendees are encouraged to donate first aid kits, cotton swabs and baby wipes to benefit the Community Action Program of Central Arkansas.


• Books for Christmas. Attendees are encouraged to donate new or gently read books for CAPCA's Christmas food boxes.


Additionally, AETN has planned free activities and entertainment for the entire family:


• Brock Entertainment will provide a soundtrack from the 1960s to today for a festive block party atmosphere.


• Children are encouraged to dress as their favorite PBS KIDS characters or in 1960s attire. Each child in costume will receive a prize from the AETN booth.


• Adults are invited to dress as their favorite PBS personality from the past 50 years or in 1960s attire.


• Kids will have the opportunity to have photos made with other PBS KIDS characters, including Daniel Tiger, Curious George, The Cat in the Hat and Clifford the Big Red Dog.


• Demonstrations with the AETN production truck and a meet-and-greet with "Exploring Arkansas" host Chuck Dovish.


• Inflatable bounce houses, a super slide, bungee run and obstacle course.


• Health and wellness screenings, fun physical fitness activities and giveaways with Conway Regional Medical Center, Beard Chiropractic and others.


• Screenings from the AETN Video Vault, featuring episodes from the past 50 years and sneak peeks of upcoming programs.


• Demonstrations of AETN's online resources, including ArkansasIDEAS, AETN PBS LearningMedia and PBS apps for mobile devices.


• Arts and crafts.


• Story time.


• Tours of AETN's facilities.


• Face painting.


• Emergency vehicles.


• Sidewalk chalk art time.


• Popcorn, cookies and drinks.


Local food trucks will be on hand for additional food and snacks.


Additional information and the most current schedule of activities are available at aetn.org/familyday. Promotional support for AETN Family Day2016 is provided in part by Conway Macaroni Kid.