30 Nov 2021

Family and consumer science program helps limited resource families with nutrition

By Judy Riley

When Keith Statham-Cleek applied for a job 17 years ago, he never thought about being the first male ever hired in this field in Arkansas. What he did know was that he was trained in Family and Consumer Science (FCS), ready to go to work, and felt it was his calling. FCS is the study of nutrition, resource management, and health. Every county in Arkansas has a County Extension Office with an FCS trained person.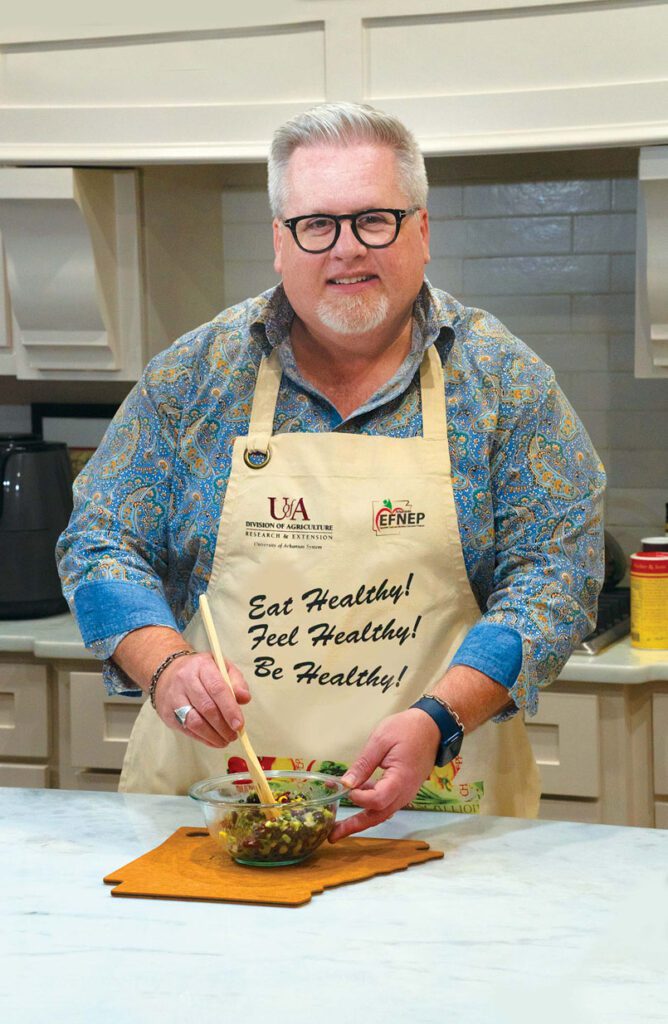 Cleek was no stranger to the organization. His mother served as an educator in the Expanded Food and Nutrition Program (EFNEP) in Pulaski County's Extension Office for 20 years. And today that mission of helping limited-resource families with nutrition has brought him full circle. He now directs the statewide program to which his mother devoted her career.
The winding road for Cleek began in the Rose City area of North Little Rock, where he graduated high school. Next stop was the University of Arkansas-Little Rock, where he majored in journalism, and then to the U of A where he majored in fashion design. And then, Cleek's education took a detour. He started his own business in Hot Springs Village and produced primitive wooden home decor. He was even featured on the cover of Country Sampler magazine and sold his works internationally. But that detour brought him to the University of Central Arkansas, where he found his passion. He obtained a degree in health and applied sciences with an emphasis in FCS.
Cleek blazed a trail for the once female-dominated FCS field. And success became his tag line. His first job was in Phillips County, where he partnered with various other agencies to bring the latest research-based information on nutrition and healthy living to local residents. He moved from that job to a district position in the Delta and ultimately to EFNEP manager for the U of A Division of Agriculture. In this role, he gives leadership to 18 county programs, which includes 18 county agents. Nutrition information, a food experience that demonstrates cooking skills, and a physical activity are components of each lesson.
He is quick to credit his success to the many mentors in his life. "My Extension family embraced me and supported me along the way," Cleek said. "My immediate family inspired me by saying success is measured in what you give back, not necessarily in monetary things."
As he was leaving for college, he remembers his late father telling him that it did not matter what you did in life as long as you did your best and were happy. His mother taught him that if you put good into the world, it will come back to you. And that is just what Cleek is doing, helping others. He says his greatest accomplishments have involved teaching and mentoring others and seeing them grow and succeed.
To learn more about the Expanded Food and Nutrition Program, as well as other health and nutrition programs, visit uaex.edu and click on "Life Skills and Wellness."