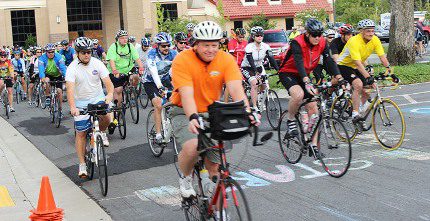 01 Aug 2012

Fall Classic Bicycle Tour on Sept. 15

The Conway Interfaith Clinic and Conway Advocates for Bicycling will present the Conway Fall Classic Bicycle Tour on Saturday, Sept. 15.

Longer rides, ranging from 28 miles to 62 miles (a metric century), will leave from Conway's First United Methodist Church at 8 a.m. A 7-mile community ride will begin at 9 a.m.


This annual event, now in its fourth year, draws more than 200 participants and volunteers in support of these important, local non-profit organizations.
Sponsors are currently being sought for the event.


The Conway Interfaith Clinic began in 2001 out of the concern of a small group from the First United Methodist Church in Conway over the healthcare situation in Faulkner County. This group grew by including interested citizens from other denominations and formed a working group to explore the creation of a health clinic. The mission is to provide unmet, healthcare services for the uninsured of our area.


Conway Advocates for Bicycling (CAB) was established in 2009 to work in partnership with all friends of bicycling to promote bicycling in Conway and in surrounding communities in Faulkner County. CAB has worked with the City of Conway to help Conway become an official Bicycle-Friendly Community (one of only three in Arkansas) as designated by the League of American Bicyclists.


CAB's mission is to encourage the development and use of bicycle facilities (bike paths, routes, lanes, trails, etc.); provide educational information for both cyclists and motorists and to defend the rights of bicyclists; provide bicycle safety training; and sponsor activities that provide more opportunities for Conway citizens to enjoy bicycling.


For more information, visit cycleconway.com.