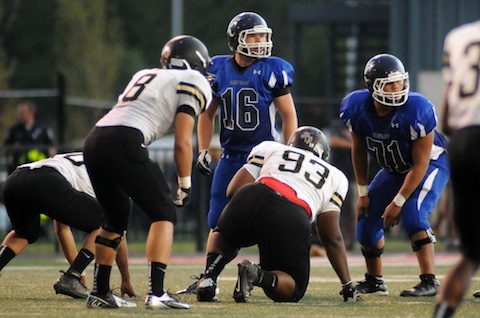 22 Sep 2012

Faith and football: Wampus Cat named to 501 Football Team

by Levi Gilbert

Slater Smith will not be defeated.

The Conway senior sustained a broken femur that kept him off the field for the majority of the 2011 season, but his spirit was never broken.

"Slater was still out there every day pushing and motivating his teammates," Conway Coach Clint Ashcraft said.

Smith returns to the field this fall with a new perspective on the game.

"It was rough not being able to play last year," Smith said. "But it was also a really humbling experience to be out there on the sideline and getting the opportunity to support my teammates by encouraging them and helping them with what I was seeing.

"There are things that you notice from the sideline that you may not necessarily see when you're out there dying on the field, playing with everything you have. I was able to focus a lot more on the little things when my perspective was to help the people that are on the field."

Smith was selected to the 2012 501 Football Team — 20 players representing all 11 counties in the 501. The team boasts the best the 501 has to offer both on and off the field.

"Slater is a tremendous leader," Ashcraft said. "He never gets rattled and plays all out every play. He inspires and motivates his teammates. He holds them accountable on the field and in the classroom. He's trustworthy and dependable."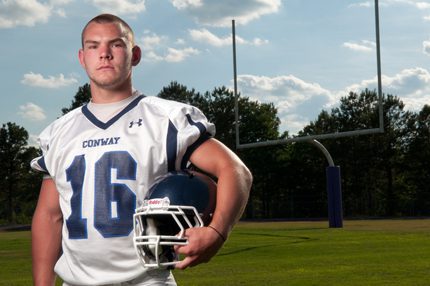 Ashcraft said Smith ranks in the top of his class at Conway High, and he expects Smith to be an all-conference performer this year and one of the Wampus Cats' leaders on and off the field.
Smith's primary goals are simple: win conference and win state. One of his ancillary goals has already been achieved — seeking revenge against arch nemesis Bryant. The Hornets beat the Wampus Cats in Conway in 2011.
"We've had a beef with them for the past two years," Smith said. "There's been some trash talking and stuff. I try to stay out of that and just be focused to play."
Smith and the Wampus Cats got their revenge this year, beating the Hornets in week one in Bryant, 21-3, in a game that was called early in the fourth quarter due to severe weather.
Smith provides multiple services for the Wampus Cats; he can play multiple positions — tight end, H-back and outside linebacker. But it's his off-the-field contributions that are just as important to the Wampus Cats.
"Everyone on our team admires and respects Slater for his leadership, example, faith and hard work," Ashcraft said. "He's one of the best young men I have ever had the pleasure of coaching."
Smith is involved at First United Methodist Church in Conway and in K-Life where he occasionally plays drums on the worship team. His faith is intertwined in all that he does, including football. Smith finds motivation from a similar football man of faith.
"Tim Tebow is a huge inspiration to me," Smith said. "It may be band wagon for me to say that, but I love his faith. I love how he's open and ready to give glory to God, no matter what the situation. That's really inspiring. It's something I strive to do.
"No matter the situation, give Him all the glory and just praise Him in everything."