29 Jun

Fairfield Bay plans holiday activities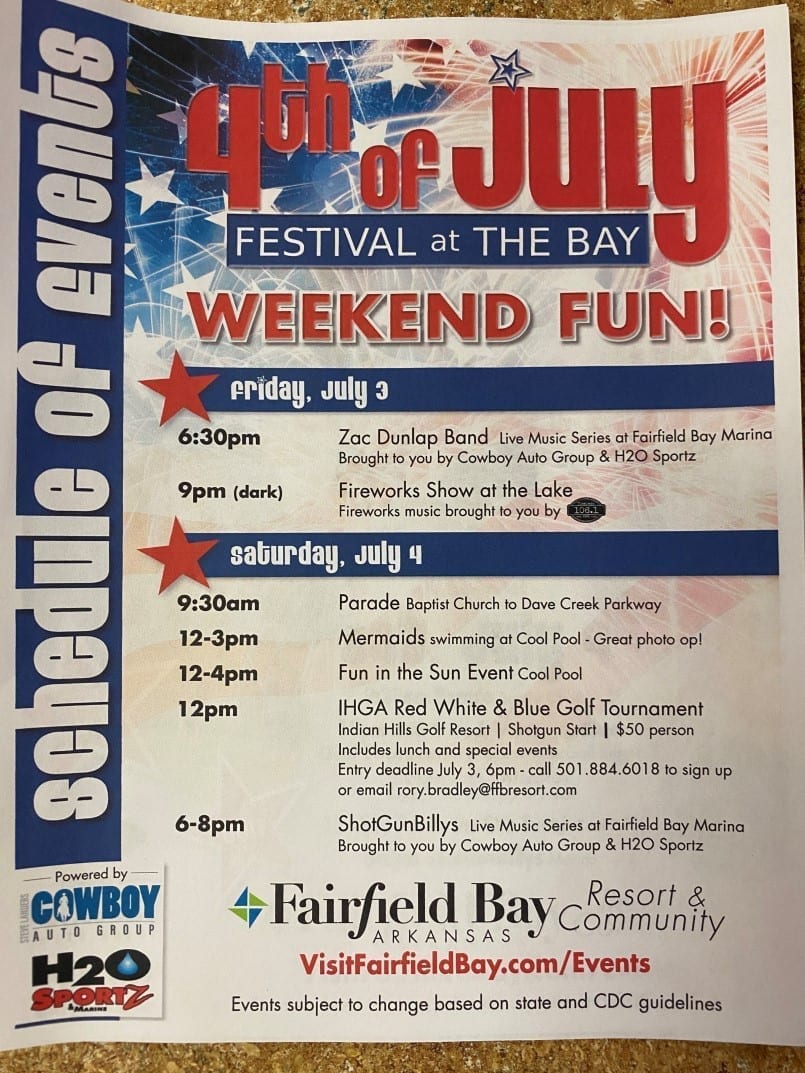 Fairfield Bay will mark the Fourth of July with music, food, games, a parade and fireworks.
The Bay is an ideal place to spend the weekend celebrating our nation's freedoms, surrounded by the beauty of the Ozarks.
"2020 has been such a challenge. It's going to be great to get out and celebrate with our friends and families," said Fairfield Bay Marina Manager John Conry. "We have an amazing weekend planned for everyone, and we can't wait to hear the music, laughter, and enjoy great times again!"
Light up the sky
The fireworks show will start just about dark on Friday, July 3, and Greers Ferry Lake makes the perfect backdrop. View them from your boat or from the marina dock.
Be sure to get there early, as the Zac Dunlap Band will play from 6 to 8 p.m.
There's gotta be a parade
Saturday morning kicks off with a traditional Fourth of July parade through downtown. The fun starts at 9:30 a.m. There will be fire trucks, floats, shiny cars and lots of smiles as the parade weaves its way through the town center.
Red, white, blue – FORE!
Grab your clubs and come tee off in the traditional Red, White & Blue Golf Tournament at the beautiful Indian Hills Golf Resort. Play starts with a noon shotgun start, and entry fee is $50 per person. The entry fee includes lunch and some pretty special events.
The deadline to enter is 6 p.m. July 3.
For more information, contact the Indian Hills Pro Shop at 501.884.6018 or [email protected].
Fun in the sun
Grab the kiddos and sunglasses and head over to the Cool Pool for an afternoon of ultimate pool party fun from noon to 4 p.m., with food, music, games and water play.
And who knows how to enjoy water fun better than mermaids? From noon to 3 p.m., you can snap a picture and play some games with some of the most fun mermaids on all of Greers Ferry Lake. Be sure and grab a photo with Melody, the newest resident Bay Mermaid.
The music never stops
If an evening of listening to great music is more your thing, grab your dance partner and head down to the marina and enjoy the Memphis-inspired Southern rock sounds of the Shot Gun Billys from 6 to 8 p.m. Listen from either the dock or from a boat.
Although organizers are excited to host a great July 4th celebration, guest safety is the top concern, and as such, last-minute scheduling changes may occur. All state and CDC guidelines for cleanliness and social distancing will be observed and enforced during this challenging time. Food service and guest facilities will be cleaned and sanitized often.
For more information including specific safety guidelines concerning masks, social distancing and venue capacity, please contact the Fairfield Bay Recreation office (501.884.6008 ), Indian Hills Pro Shop (501.884.6018 ) or the Fairfield Bay Marina (501.884.6030).