10 Jul 2019

Fairfield Bay offers 'Adventure Stops'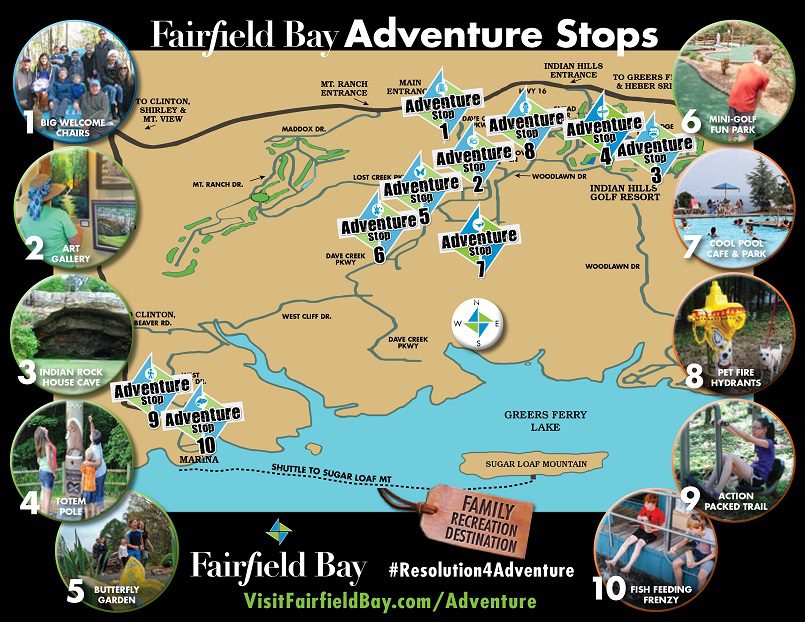 The Fairfield Bay community lives for adventure with a variety of authentic experiences available for residents as well as visitors.
To help individuals and families get started on a #Resolution4Adventure, Fairfield Bay is showcasing 10 favorite places throughout the Bay where you can find authentic, original experiences you can't find anywhere else! Some are perfect for a 5 minute quick "welcome" pic while some adventures will take you down a trail of history to the largest Indian Rock House Cave in the state. 
Called "nature's own playground," Fairfield Bay truly offers an adventure for every person and all ages. 
At each Adventure Stop learn something new while checking off another box on the downloadable kids guide at https://visitfairfieldbay.com/adventure/. You can check off all 10 Adventure Stops in one day or come back throughout the year. One thing's for certain, you will find unexpected memories along the way. Be sure to grab a photo and don't forget to tag #Resolution4Adventure on social media to join in on the fun! 
10 NEW ADVENTURE STOPS 
1. Big welcome chairs
2. Art gallery
3. Indian Rock House Cave
4. Totem pole
5. Butterfly garden
6. Mini-Golf Fun Park
7. Cool Pool Cafe & Park
8. Pet fire hydrants
9. Action pack trail
10. Fish Feeding Frenzy
"The new addition of the fun Adventure Stops really add to the true uniqueness of Fairfield Bay," said Fairfield Bay Community Club General Manager Rocky Nickles. "We want everyone who comes to our beautiful community to experience a few of the original things that set us apart, and this is it." 
And if you're looking for more adventure ideas, here are a few features that Fairfield Bay has to offer:
Sugar Loaf Mountain Island – Arkansas' only mountain island trail

 

90 miles of ATV/UTV trails and a 20-acre fun park
10 hiking trails for all levels of hiking enthusiasts (some with waterfalls)
Golf, golf and more golf! (two championship courses, mini-golf, disc and foot golf)
Tennis and Pickleball
5 fun parks
Kayaks, fishing pontoons, jet skis, ski boats, paddle boats and more for rent
10 Signature Events all year long
All the adventure your heart desires can be found at Fairfield Bay – in the heart of Arkansas.  Bring the whole family and get ready to make some memories all year long!
ABOUT FAIRFIELD BAY
Nestled in the Ozark Mountains and situated on the banks of the beautiful 40,000-acre Greers Ferry Lake, Fairfield Bay is a popular family recreation destination. The town has received many accolades over the years, and was recently awarded "Arkansas Trendsetter City" for Tourism & Public Safety (2018). 
Located just 75 miles north of Little Rock, Fairfield Bay showcases stunning mountain scenery, outdoor activities, interest groups and friendly people who create a safe environment for an outstanding value. The mild climate makes Fairfield Bay the ideal location for lasting year-round memories. 
For more information, call 501.884.4202 or go to VisitFairfieldBay.com.