12 Jun 2019

Fairfield Bay Marina to host 'Surf the Bay' water festival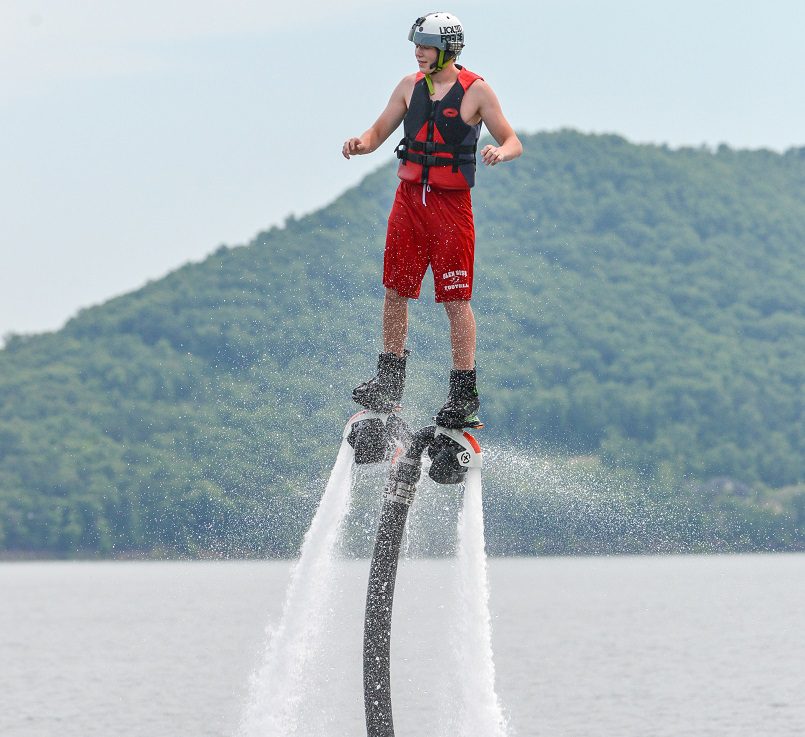 The Fairfield Bay Marina will host its annual "Surf the Bay Water Sport Festival" on Saturday, June 15. The summer celebration showcases adventure sports with wake surfing, fly boarding, wake boarding and tubing.
In addition, there will be family-fun "ride the wave" water slides, new water toys to try, exciting watersports, vendors and family fun.
"Surf the Bay" will be held 9 a.m. to 9 p.m. Free and open to the public, this water and music festival welcomes visitors of all ages to grab a board, jump a wave or float up. Join the crowds in watching the professionals showcase their craft or sign up and participate in some of the most popular and unique adventure sports in the country: wake surfing and fly boarding.
Or, get the kids out tubing for some family fun. If the waves get too extreme, take a shuttle out to Sugar Loaf Mountain Island and hike your way up to breathtaking panoramic views.
"This year's 'Surf the Bay' will be the biggest one yet," said Fairfield Bay Marina Manager John Conry. "This year, crowds will have the opportunity to enjoy our new floating dock where Zac and Hannah Dunlap of The Zac Dunlap Band will rock that stage, powered right here in Fairfield Bay by Cowboy Auto Group."
WAKE SURFING
Futrell Marine, Lacy's Narrows Marine Store and Arkansas Marine will be on hand to show off a few of the fastest, most exciting watercraft on the lake. These boats will be set up to let participants experience the thrill of wake surfing and wake boarding as well as skiing and kids' tubing. It's the only way to catch big waves in a fresh water lake. Fun big waves, no rope and no hard falls! This fun family sport is getting everyone from ages 8 to 80 in the water with its three to four feet swells. Watch the pros or join in.
FLY BOARDING
Come out and watch as iFlyH2O demonstrates the newest and most exciting extreme water activity. "Surf the Bay" was the first place ever to showcase fly boarding over freshwater.
"Come out, and strap yourself to a jetpack, and 'fly' above the water like an action hero from a movie," said Rich Mcgahan from iFlyH2O. "It's truly like nothing you've ever experienced – and one you won't ever forget. It's probably the most fun you can have on the water! And it is easier than you may think. Most people pick it up rather quickly. Our certified instructors will be at 'Surf the Bay' to teach those interested."
ENTERTAINMENT
The popular Jettway Performance Kids will warm up the crowds at 6 p.m., with Zac and Hannah Dunlap taking the stage from 7 to 9 p.m.
The Dunlap band was awarded the coveted 2018 Arkansas Country Music Awards "Entertainer of the Year" and swept the awards with Song of the Year, Vocal Group of the Year and Music Video of the Year.
"Surf the Bay has grown yearly," said Rocky Nickles, general manager of the Fairfield Bay Community Club. "Fairfield Bay is the best place to come and enjoy Greers Ferry Lake. Families come from across the state to see what we're all about here, and we're super excited to have events like these to showcase the lake and all we have to offer.
"I can't think of a better way to spend a sunny weekend."
For additional information, call 501.884.6030 or go to VisitFairfieldBay.com/surf.