19 Jul 2021

Fairfield bay hosts free concert

Fairfield Bay will host Rock the Bay, a classic rock and rock funk concert event from 7 p.m. to 9 p.m. on Aug. 14, at the Fairfield Bay Conference Center. The free concert will be performed by Ozark-based Tom Bryant and the Tom Bryant Band.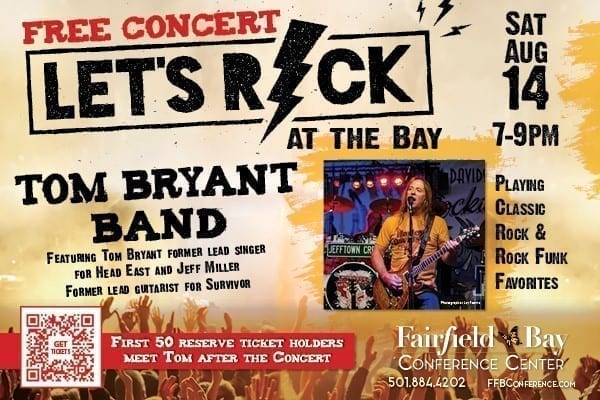 Friends and state neighbors of Fairfield Bay are invited to celebrate the near end of summer in the Bay. Rock the Bay is an opportunity to enjoy all the Bay has to offer during the day and finish in the evening with a free classic rock show, and weekend stay in the adjacent Cobblestone Inn & Suites.
Seating is limited and concert goers must register online to reserve seating. Plus, the first 50 reserved ticket holders will have the opportunity to meet Tom Bryant after the concert. Reserve your seat at the concert by registering at ffbconference.com or call 501-884-4202.
Musician Tom Bryant
Arkansas resident and friend to the Bay, Tom Bryant is a vocalist, song writer and music producer. Bryant is well recognized for his songwriting success, but also as former lead vocalist for Head East, a popular classic rock band in the 80's and 90's. He has also shared the stage with bands like Journey, Foreigner, Ted Nugent, Kansas, Bad Company and more.
"Fairfield Bay's Conference Center is a great space for hundreds to see this incredibly talented Ozarks-based musician," said Syrena Price, Advertising & Promotions Commissioner for Fairfield Bay. "In one location, visitors can stay at the Inn, eat at Bayside restaurant inside the hotel and enjoy a restive massage, manicure or pedicure at the Spa Serenity.
The event is a showcase for the diversity of Fairfield Bay and the classic rock sound is a great background to celebrate the near end of summer in the Bay."