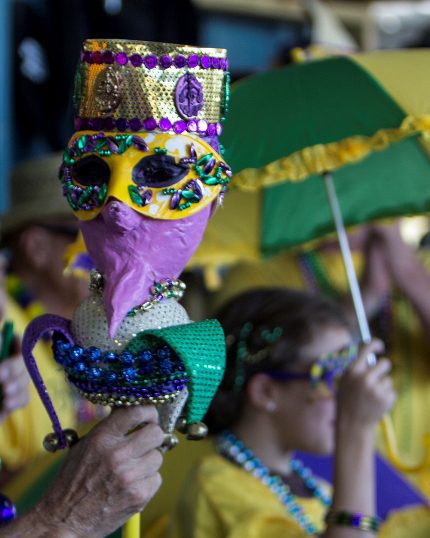 05 Aug 2016

Fairfield Bay hosts Fourth Annual "Boati Gras"

Posted at 12:12 PMh

in

News

The Krewe of Jesters will host the annual "Boati Gras" on Saturday, Aug. 6, on Greers Ferry Lake.


What do you get when you combine a lake community that loves light-hearted fun with a Krewe of Jesters? Boati Gras of course!


Entering its fourth year, this colorful "party on the water" festival is everything its name suggests. Since Mardi Gras means Fat Tuesday, Boati Gras means Fat Boat, with a whole lot of fun happening aboard.


"In February, it's way too cold to spend much time out on the water," said Liz "Lil Sista" Beach, co-founder of Boati Gras. "We chose August when the weather and water are much more inviting to friends and frolic. Yes, I said frolic! The whole point of Boati Gras is to get outside in the water, have some fun and not take ourselves too seriously."


Held annually on the first Saturday in August at the Port of Fairfield Bay, Boati Gras 2016 will kick off at 5 p.m. with an evening full of color, festive crowds and flamboyant floats – set to be the grandest yet! Quite a jovial site to behold with music, merriment, jambalaya and a boat parade! There will also be costumes, rubber ducks and beads.

Commemorate the day with free photo booth pics and enjoy the live music and entertainment. Stay and dance to the popular Crescent City Combo band playing on the dock after the parade.


"Boati Gras is just pure fun," said Liz. "We want folks to come play, to dress up, to act silly, to put aside all that serious stuff that life throws at you every day and just come relax and have fun!"


To be in the parade, all participants have to do is decorate their boat in any way and show up at the Marina at 5 p.m. Decorate your boat in festive Mardi-Gras style regalia – purple, green, and gold (or not) and line up at 6 p.m. beyond the breakwater to join the parade. No boat? No problem! Stay on shore or at the dock to catch a few beads!


The free event offers great fun for the entire family.


Schedule of events


4 to 5 p.m. – Gathering at the dock (Fairfield Bay Marina)


5 p.m. – Fun, Fol-de-Rol & Fleet regalia with the Town Crier (Doug Landry) and the 2016 King of Krewe Jesters (Dan Feuer) and his loyal subjects


• Second-line band escorts the royal personage and entertains the loyal subjects


• Introduction of His Royal Highness and Court


• A few words of Wit & Wisdom from His Royal Jesterness


• His Most High Jesterness leads the crowd in a line-dance


• The Blessing of the Fleet, by Pastor Ken Reece


• The Cleansing of the Fleet, by Fire Chief Leo Brandmeyer


6 p.m. – On with the parade


• The Boati Gras Boat Parade begins where beads, rubber ducks and candy come ashore. Merriment ensues!


• FREE photo booth to capture the moments and color of the day, courtesy of Dock of the Bay (Lacey Mitchell) and Liz Beach.


• Jambalya and Mardi Gras fare by the Kirk of the Hills Presbyterian Men's Club.


Following the Parade –


• Awards of all types – fit for any King (or Queen). Sixteen categories in all, including Best Jester, Best Costume, Best Crowd Response, Best Krewe Spirit, Best All Around Boat, Lagniappe, Piquante, Un Bijon and so many more!


• 7-9 p.m. – Live Boati Gras music and the evening's entertainment by the popular Crescent City Combo


For more information, contact Roxie Bradley at [email protected].