30 Jun 2021

Face Jug collection comes with a pretty interesting history

By Donna Lampkin Stephens

For Steve Lance of Conway, perhaps it's the faces. Besides his day job as a lecturer and writing instructor at the University of Central Arkansas, he's had a "side hustle" at Jenifer's Antiques for 18 years and he's assembled an unusual collection.

But it's the faces – old photographs and face jugs – that dominate his collections, particularly the face jugs.

"Face jugs have an ancient tradition, going back to the Fertile Crescent," Lance said. "In this country, it is pretty well accepted that the artform was introduced through the African slave culture in the South."
Bryan Massey, chair of the UCA Department of Art and Design, provided more context.
"Face jugs are a form of folk art passed down from generation to generation of enslaved Africans as a form of expression guiding their loved ones to what they believed was safe passage from mortality to immortality," Massey said. "As an African American artist/sculptor, I can appreciate the unlearned, unskilled ancient work by the enslaved Africans in this country as well as the modern-day artists continuing to carry on this tradition."
Lance first discovered the genre during his doctoral studies at the University of Tennessee in Knoxville in the mid-1990s.
"There was a big flea market, and twice a year they had a super sale where dealers would come over and bring their stuff," he recalled. "I thought, 'I like that.' We couldn't afford to buy one then, but when eBay came along, I saw I could get really good ones there. And if I waited, I could usually get one for a good price."
He said the tourist and collector trade was responsible for keeping the art alive.
"It is going stronger than ever, and jugs by the most revered potters are continually coming up for auction on eBay and elsewhere," Lance said. "In my experience, the demand for certain potters guarantees that pieces of their work are always coming to light. And the prices have continued to climb. It isn't at all uncommon for a jug by the late Lanier Meaders to go for more than $1,000."
A recent eBay search yielded more than 1,100 face jugs for sale or auction.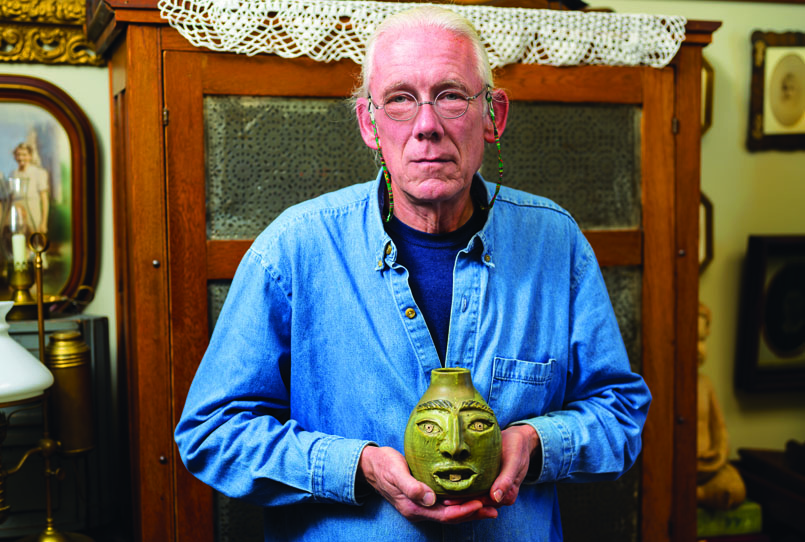 The auction site crockerfarm.com shows auction highlights that include world auction records for an American face vessel ($177,000) and American face jug ($100,300).
Lance is proud of the collection he's assembled and has only sold one.
"When it got here, I didn't like it, although I liked the potter," he said. "I don't think I could sell them around here. I'm afraid if I put them in the booth [at Jenifer's Antiques] they might get damaged. But I never regretted buying that jug by that potter."
He hasn't stored any of his treasures at his house in Old Conway either.
"They scared the kids when they were little," he said with a chuckle, referring to his son and daughter. "Dee [his wife] didn't like them at first, but she likes them now.
"And now the kids have decided they would like to keep them. You know, it takes time to build a good collection. I was buying three or four a year at one time, but I haven't bought any since Rachel started college."
But he's getting the itch to start again.
"There are a couple I'd like to replace," he said. "I don't know if I'll sell them. The kids may eventually want to divide them up. I'll buy some I think they would like."
Lance has been a collector since he was 15.
"Stuff," he said. "Primitives, old stuff. I started going around to shops in Mountain View and Searcy and Batesville. Mama and I would stop at shops along the way when we were going to see my grandparents. She thought it was funny. She never thought I'd be very serious about it."
The collecting bug has infected another generation of his family. "The kids and I go a lot of places," Lance said. "They both like thrifting and old stuff."
He said his side business informs his teaching. His booth at the antique store encourages him to be creative. He was inspired to pursue other interests by his mentor at UT, the late Robert Drake, a Southern memoirist and writer. Drake said: "The worst thing I can say about someone is he is nothing apart from his job."
Lance said he never wanted to make the side hustle his full-time gig.
"It's too much work," he said. "But I like it. It gets me out. We make a little money on the side, some [items sell for] more than others. I do a lot of small things, and I do some really nice things.
"I've learned a lot running a small business," he said. "Certainly, I think it's added a lot more diversity to my teaching. Emotionally, it fulfills an artistic outlet. I paint furniture, I frame prints. I think it helps make me feel a little more complete."
He remembers another piece of advice from an old friend in Mountain View who told him, "Never buy anything you're not willing to keep if it doesn't sell."
And he admits to having regrets about many things he's sold.
"I wished I hadn't sold them," he said. "But it's easier to let go once you start. And you'll always find something to replace it. I tell all my friends an antique dealer is nothing but a hoarder with a tax number."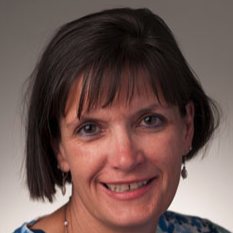 Latest posts by Donna Stephens
(see all)