22 Nov

'Exploring Arkansas from Above' premieres Monday on AR PBS

Chuck Dovish showcases The Natural State from a bird's-eye view in the all-new special "Exploring Arkansas From Above," premiering at 7 p.m., Monday, Nov. 29, on Arkansas PBS and livestreaming at myarpbs.org/watchlive. Additionally, the special will premiere on YouTube at 10 a.m. on Tuesday, Nov. 30 as a GivingTuesday fundraiser. It will be available, along with other Arkansas PBS original films, through Dec. 31.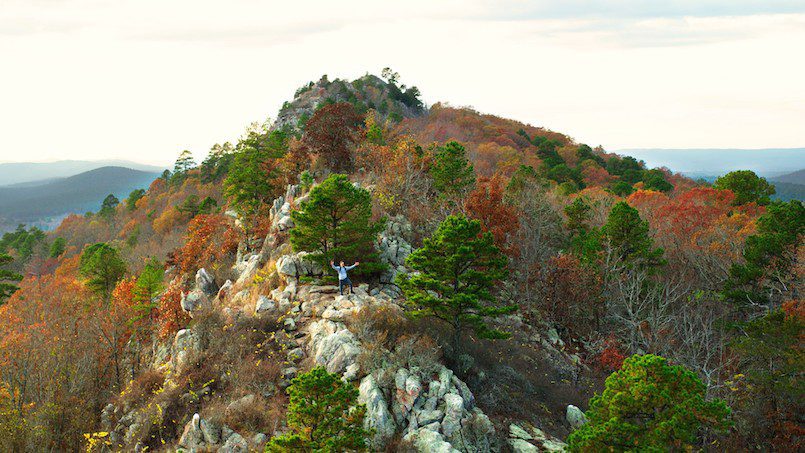 Utilizing a state-of-the-art cinematic drone, the special highlights the state's unique rock formations, iconic landmarks, stunning waterfalls (frozen and unfrozen), magnificent waterways and popular scenic byways through all four seasons.
Among the areas featured in the film will be:
Sugarloaf Mountain on Greers Ferry Lake.
Kings River Overlook in the Madison County Wildlife Management Area.
Hickory Nut Mountain Vista on Lake Ouachita.
DeGray Lake Resort State Park.
Mississippi River Park in Helena.
Seven Devils Swamp near Monticello.
Bayou DeView near Brinkley.
Boxley Valley and the Boxley Valley Church near Ponca.
Lakeport Plantation near Lake Village.
Rattlesnake Ridge Natural Area near Little Rock.
Talimena National Scenic Byway near Mena.
Pig Trail Scenic Byway.
Lake Winona in the Ouachita National Forest.
Mount Magazine.
The Arkansas & Missouri Scenic Railroad in Springdale.
War Eagle Mill near Rogers.
Ole Main at the University of Arkansas in Fayetteville.
Artist Point near Mountainburg.
Eureka Springs and the Crescent Hotel.
Bridal Veil Falls in Heber Springs.
Magness Lake near Heber Springs.
"Little Sugarloaf" along the Little Red River.
Pinnacle Mountain.
The Trail of Holiday Lights, featuring Fayetteville and Batesville.
Wye Mountain.
Garvan Woodland Gardens.
The Old Mill in North Little Rock.
Buffalo National River.
Mulberry River.
Cedar Falls at Petit Jean Mountain State Park.
Fairfield Bay falls.
Pedestal Rocks Scenic Area and Kings Bluff Falls.
Arkansas Sphynx northeast of Clarksville.
Back Country Flying at Byrd's Adventure Center near Ozark.
Mount Nebo.
Also featured are photographers Tim Ernst and Jeff Rose and drone operators Brian Emfinger, Brent Walker and Benjamin Oliver.
During the premiere broadcast, Dovish will be live in studio sharing his experiences from filming this latest travelogue. Viewers will have the opportunity to make a donation during the program to receive "Exploring Arkansas From Above" T-shirts, unique notecards, DVD and photographic prints from the show. All items will also be available at myarpbs.org/EAFromAbove.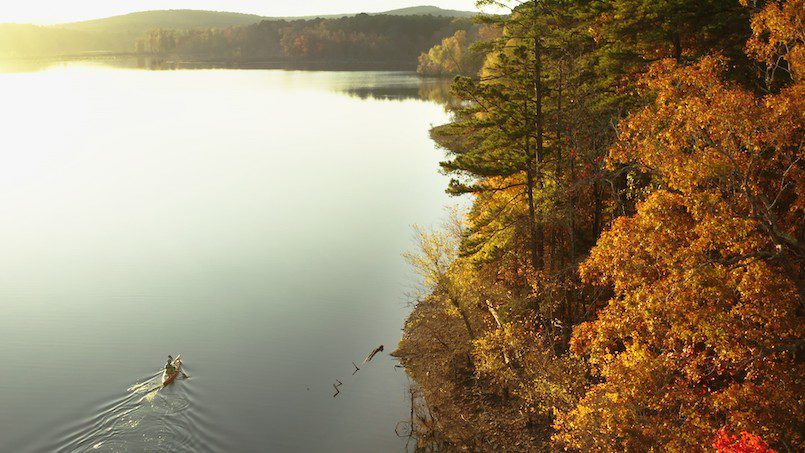 The YouTube event beginning Nov. 30 will include other films such as "Arkansas Dairy Bars: Neat Eats & Cool Treats," "Urban Forge: Ozark Artistry," digital shorts and more. Anyone subscribing to Arkansas PBS on YouTube at myarpbs.org/youtubesubscribe will be notified as videos are added throughout the month.
"Exploring Arkansas From Above" will also air at 4 p.m., Thursday, Dec. 2, and at 10:30 a.m. and 9:30 p.m., Saturday, Dec. 4. An extended version will air at 2:30 p.m., Wednesday, Dec. 8.
About "Exploring Arkansas"
"Exploring Arkansas" is a one-of-a-kind program that showcases what Arkansas is all about and focuses on the extreme adventures available in The Natural State. Each episode includes high adventure and outdoor recreation, featuring some of the most breathtaking and spectacular sights in Arkansas. Chuck Dovish has been on the road in The Natural State for more than 40 years. He began "Exploring Arkansas" for Arkansas PBS in 2005. Episodes and additional information are available at myarkansaspbs.org/exploringarkansas.