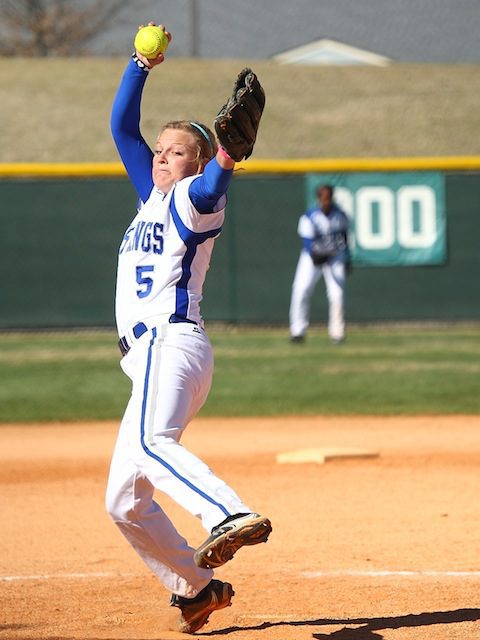 17 Apr

Expectations remain high for CBC softball

by Mark Oliver

If one were to describe Central Baptist College's 2012 softball season in one word, he or she may choose the word "typical."


Typical success for CBC, that is.


In their first season as a member of the Midlands Collegiate Athletic Conference, the Mustangs (34-4, 6-1 MCAC) are off to a great start this year, currently ranked No. 4 in the latest NAIA national poll.

Earlier this season, the team competed in the NFCA NAIA Leadoff Classic held in Panama City Beach, Fla. Sixteen of the top rated teams in the NAIA were invited to play, and the Mustangs took the tournament with a perfect 6-0 record. 


"It is always good when your team plays well," said fifth-year coach Jason Anderson. "We had very high expectations going into this season with four returning All Americans, and they all have stepped up and continue to play at a very high level."

After winning the NCCAA national championship in 2010 and finishing with a No. 5 NAIA ranking and a 57-7 record in a record-breaking 2011, there seems to be no limit to what the Mustangs are capable of doing in 2012. 

"Our team goals are very simple," Anderson said. "We plan to win the national championship. We began this season with that goal in mind, and we have a team that can get it done when we all show up and focus. It starts with us winning the MCAC Conference Championship and we move on from there to the NAIA National Tournament."

As of press time, Senior Erica Gunter leads the NAIA in batting average at .544 and has hit 11 home runs and 47 RBI this season. Reigning NAIA and NCCAA National Player of the Year, junior Christen Kirchner, is second in the nation in batting average at .523, with 11 home runs and 51 RBI. Junior Kiara Bonner is batting .460 with 11 home runs and 30 RBI.

Senior pitcher Jessica Bock leads the team with a 16-2 record and a 0.83 ERA with 138 strikeouts. Bock threw a no-hitter against the College of Saint Mary on Saturday in an 8-0 Mustangs win. Sophomore Jessica Sheldon boasts a 14-0 record with a 1.52 ERA.