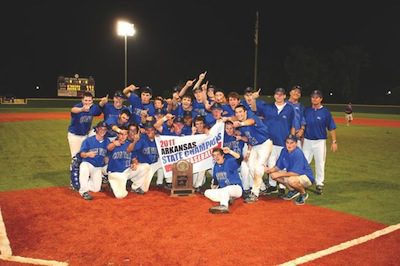 22 Jun 2011

'Everything clicked' – Baseball championship back in Conway after 22 years

by Donna Lampkin Stephens

Twenty-two years after his first one, Noel Boucher is savoring every bit of this Conway High School state baseball championship.

Boucher, 53, is the father of the Wampus Cat program, having started it in 1985. In 27 seasons, the Cats have tallied a record of 543-202. Conway ascended to the state championship in the fifth year of the program, 1989, and came close several times, reaching the title game four times in the interim (1993, '94, '99 and 2007).

But the Wampus Cats didn't win again until 2011 — a 12-3 win over Bryant, the defending state champion.
What effect have the intervening 22 years had on the coach?
"For me personally, I appreciate it much more this time," Boucher said. "In '89, we'd only been a program five years. I think a lot of things got by me. I figured we'd just try to win some more. And then we'd get in the finals and something would happen, and so (now) I appreciate it a lot.
"I'm really going to make sure that every e-mail, every text message, every card, I'm answering. I'm going to make sure everybody has a say-so in the (championship) rings. Before, I was ready to move on. Now it's different. Maturity, I guess."
Before the season began, Boucher told an old reporter friend — who covered the '89 state championship for the late Arkansas Gazette — that this team could be a contender.
"It's February, and you just hate to go, 'Hey, we're going to win it,' but I feel pretty good about who we have," he said then.
His gut feeling proved to be prophetic.
The Wampus Cats played well when they needed to and peaked at the right time after starting 0-2 in the 7A-Central, losing a doubleheader at Little Rock Catholic.
"We were dead last in the conference," Boucher remembered. "But on the bus on the way home, you could tell that it hurt them. Other groups, within five miles down the road, they're laughing and carrying on, but these guys, it bothered them.
"That's when I had a pretty good idea we were going to be OK. I had a feeling that they were going to take that as a wakeup call and start working more toward what we needed to do, and we did. We peaked at the right time."
He said that doubleheader loss proved to be the team's mental turning point.
"As we played more and gained more confidence and tweaked some things along the way, the kids really wanted to listen to what we were saying," Boucher said, referring to himself and assistant Barry Lueders, who has been with him since the second year of the program. "I'm not a genius or anything like that, but it's not my first rodeo, either."
One tactic was more individual work than they'd used with any previous team. In practices that reached 2 1/2 hours, Boucher and Lueders would often have no team plans.
"We'd say, 'You go work on what you need to work on,'" Boucher said. "But at the end of the day, in staff meetings, we'd evaluate, and it was working, so we stayed with it. It worked out pretty well."
Conway entered the state tournament as the No. 2 seed from the 7A-Central. After a first-round bye, the Wampus Cats knocked off conference foe North Little Rock (seeded sixth) in the quarterfinals, 12-3; Rogers Heritage, No. 1 from the West, in the semifinals, 9-0; and Bryant, the top seed from the Central, for the championship, 12-3.
That's outscoring their state tournament foes by 33-6.
"One of the biggest things was we made one error through the whole tournament," Boucher said. "Really, everything clicked. I thought one of the biggest games was against Heritage where Matt Lefler goes out and in seven innings shuts out Heritage with less than 70 pitches. It was a tremendous effort.
"And all through the tournament, we got the hit at the right time. Tyler Langley hit real well. Cole Anderson bats in the 9-hole, and he got two or three hits every game. (Shortstop) Aaron (Boucher, the youngest of his three sons) played a total game in the last game, but he really played good defense.
"Our pitching was really good. Connor McClain threw the first game against North Little Rock and was OK, but his effort in the championship game was excellent. So it was just a lot of guys, like Reid Blaylock, who plays first base when Connor pitches and did an outstanding job. He picked everything. He was always in the right place.
"Everybody did at the right time what they needed to."
McClain earned MVP honors for the state tournament.
The team and individual experiences were a dream come true, he said.
"It's what I've wanted ever since I started playing," said McClain, who will play for the University of Central Arkansas next year. "Ever since I started pitching, Coach Lueders told me, 'If you work hard, you'll end up pitching in the state finals.' It was a perfect end to the season. Everything came together. It was amazing. There are no words for it."
His older brother, Landon, played in the 2007 championship game against Fayetteville.
McClain was joined on the all-state tournament team by Anderson and Lefler. McClain and Aaron Boucher were named all-state.
Aaron Boucher, who will play for Northeast Texas Community College next year, agreed with his father that the Catholic series changed the team's focus.
"After that series it kind of hit everybody that, 'Oh goodness, people can hang with us,' so we started playing," he said.
Anderson went out on top. His baseball is over; he'll attend the University of Arkansas in the fall.
"This was one you'll take any way you can get it, but it was about as good as anybody could imagine," he said. "I'm done with baseball now, and it's bittersweet, but it's nice to have some free time."
The championship game was at UCA, where Boucher played and started his coaching career. Championship weekend was moved to Conway from the usual site at the University of Arkansas's Baum Stadium because of a conflict with the Razorbacks' schedule.
"(Athletic director Steve Daniels) kept saying, 'We can get there, right?' " Boucher recalled. "I said, 'I don't know.' This was February, but I told him we'd give it all we've got."
The Wampus Cat parents and boosters worked as hosts for all the championship games and drew broad praise.
"I've gotten e-mails from umpires, even people who lost their championship games, about how it was a great place and thanks for all your parents' work," Boucher said. "UCA handled the press box and gave us the field, but we did the rest. That made it even better."
When the Wampus Cats arrived for the championship, they lined up outside the right-field wall waiting for the previous game to finish before walking to the dugout. En route to the dugout, "it was like an alumni reunion," Boucher said. "Everywhere I looked, there was an ex-player, an ex-player, a family from 10 years ago, a player from '92.
"It was a good perspective. There have been a lot of people involved in this. It was really great."
The standing room-only crowd neared 3,000.
Ten seniors finished their Wampus Cat careers.
"That's a bunch," Boucher said five days after the championship game. "We've got a lot to replace, but we'll start on that next week."
That process started with the Wampus Cats' Summer Select program, which keeps the high school team together for summer ball.
For the championship game, Aaron Boucher's older brothers, Jacob and Adam, were also back to cheer on Dad, little brother and the rest of the Wampus Cats. Like him, they were all-staters, but he's the only one of the three to be a state champion.
"None of my brothers did it, so that was my No. 1 goal going into the season, just to win a state championship," Aaron Boucher said. "Not necessarily to rub it in my brothers' face, but you know how it is."
Little brother did get the last laugh.
"It was great," Aaron said. "I can't describe it. I loved being there, seeing all the fans supporting us. It was awesome."
"It was great," Noel Boucher repeated.
After 22 years, that's an understatement.