29 Sep 2020

Enjoying tasty fall nibbles

Fall is such a cozy time of year. We focus our attention to the indoors with textured throws and rich velvet pillows on the sofas. Our candles go from cucumber and lavender to more heady scents such as pumpkin, spices, vanillas and others that bring fall to mind. We bring out the pumpkins, gourds and berry stems along with heavier fabrics in deep fall tones and those ever-loved plaids.

Fall is the perfect time to mix in vases, candlesticks, bookends and other accessories in copper and bronze hues that really warm up a space.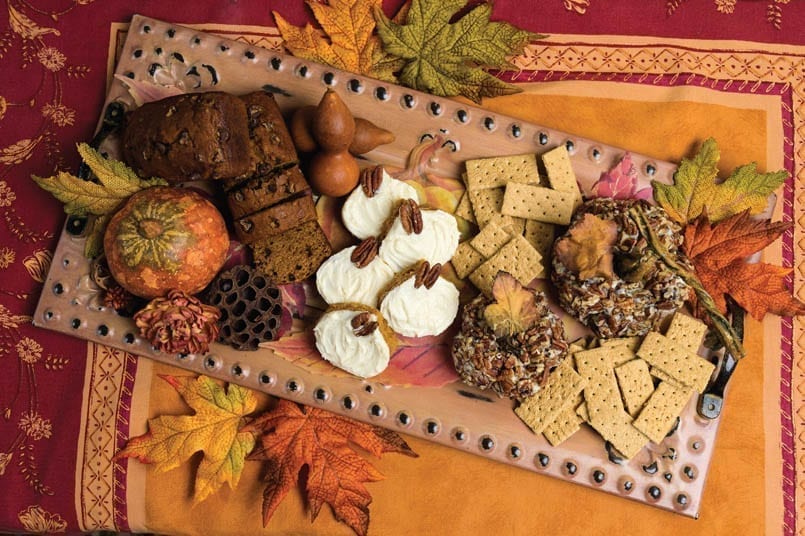 A simple way to add a touch of fall to your dining table, buffet, kitchen island or coffee table is with a dough bowl. Many of you may have a dough bowl you have inherited from your mom or grandmother. If not, they are easy to find in a variety of sizes at home goods and antique stores. It only takes three easy steps to go from an empty dough bowl to a gorgeous arrangement!
Fill your dough bowl half full with dry beans. This ensures that nothing gets lost in the bottom of the bowl and gives you a level surface to work with.
This is where you add your leaves, berry stems and any stems you might want to hang down over the side of the bowl. Tuck the stems in the beans to anchor them and keep them stable.
Add the pumpkins, gourds, or any other natural elements you are using such as pinecones or acorns, and tuck ribbon in if you like.
And there you have it! A fall delight to enjoy all season long.
I used artificial pumpkins and gourds in my dough bowl because real ones were not available at the time of the photo shoot. Real ones are just as easy to use and even more beautiful!
After decking the halls with berries, pinecones, pumpkins and gourds, you may find yourself thinking about what delicious little fall nibbles you would like to serve to friends and family. I have gathered a few of MY favorite fall nibbles to share with you today.
The first is a delicious, creamy chocolate chip cheeseball. I have shaped it like a pumpkin and used a stem that I removed from an artificial pumpkin. I paired the cheese ball with graham cracker sticks which is the perfect duo. You could also serve it with butter cookies or pretzels if you like.
Chocolate Chip Cheeseball
1 8-ounce package of cream cheese, softened
3/4 cup confectioner's sugar
1/2 cup butter, softened
2 tablespoons brown sugar
1 tablespoon vanilla extract
3/4 cup miniature chocolate chip morsels
3/4 cup finely chopped pecans, divided
Graham crackers, butter cookies or pretzels
Toast pecan pieces at 350 degrees for four minutes. Set aside.
In a bowl, combine cream cheese, confectioner's sugar, butter, brown sugar and vanilla extract. Beat with an electric mixer until smooth. Add chocolate morsels and 1/2 cup of the pecans. Refrigerate until firm, approximately 2 hours. Remove from the refrigerator and shape as desired. Roll in remaining pecan pieces. Enjoy!
This next recipe is one of my very favorite fall breads. It's perfect to serve as a breakfast bread with a cup of coffee on a cool, fall morning and also makes a wonderful appetizer on your fall board. You'll love the cinnamon, nutmeg and cloves paired with the chocolate chips in the delicious, moist bread. It's even better on day two! Be sure to try this one!
Chocolate Chip Pumpkin Bread
1 3/4 cups all purpose flour
1 teaspoon baking soda
2 teaspoons ground cinnamon
1/4 teaspoon ground nutmeg
1/4 teaspoon ground cloves
3/4 teaspoon salt
2 large eggs
3/4 cups granulated sugar
1/2 cup packed light brown sugar
1 1/2 cups pumpkin puree
1/2 cup oil
1/4 cup fresh squeezed orange juice
2/3 cups semi-sweet chocolate chips
Adjust oven rack to lower third position and preheat oven to 350 degrees. Spray one 9 x 5 loaf pan OR a linking loaf pan that holds four 4 x 6 loaves with nonstick cooking spray for baking. Set aside.
In a large bowl, whisk flour, baking soda, cinnamon, nutmeg, cloves and salt together until combined. In a medium bowl, whisk the eggs, granulated sugar and brown sugar together until combined. Whisk in the pumpkin puree, oil, and orange juice. Pour the wet ingredients into the dry ingredients and gently mix together using a rubber spatula. There will be a few lumps. Do not overmix. Gently fold in chocolate chips. Pour batter into the pan.
If using the 9 x 5 pan, bake 60-65 minutes. For the linking loaf pan, bake approximately 38 minutes. Loosely cover bread with foil halfway through if the top starts to brown too quickly. The bread is done when a toothpick inserted in the center comes out clean. Start testing 9 x 5 loaf at the 50-minute mark as all ovens vary.
Allow bread to cool completely in the pan on a wire rack before removing and slicing. An added bonus: Baking this bread makes your home smell heavenly!
If you're not a fan of pumpkin, please don't let that stop you from trying this recipe. I get more requests for these pumpkin bars than anything else! So tender and moist. The cream cheese frosting sprinkled with toasted pecans just kicks it over the top! Canned pumpkin is a seasonal item at most grocery stores and therefore may be hard to come by. When I find it, I buy multiple cans because it has a long shelf life.
Pumpkin Bars
4 large eggs
1 2/3 cups granulated sugar
1 cup vegetable oil
1 15-ounce can pumpkin
2 cups sifted all purpose flour
2 teaspoon baking powder
2 teaspoons ground cinnamon
1 teaspoon salt
1 teaspoon baking soda
Icing:
1 3-ounce package cream cheese
1/2 cup (1 stick) butter, softened
2 cups SIFTED confectioner's sugar
1 teaspoon vanilla extract
Preheat oven to 350 degrees. Using an electric mixer at medium speed, combine the eggs, sugar, oil, and pumpkin until light and fluffy. In a separate bowl, stir together the flour, baking powder, cinnamon, salt and baking soda. Add the dry ingredients to the pumpkin mixture until thoroughly combined and the batter is smooth. Spread the batter in an UNGREASED 9 x 13 baking pan. Bake for 30-40 minutes. When a toothpick inserted in the center comes out clean, it is done. It is important that you let the bars cool completely before icing and sprinkling on the toasted pecans.
NOTE: I prefer my bars to be thinner and bake mine in a 17 x 12 pan. I double the frosting recipe for this size pan.
Icing:
Combine the softened cream cheese and softened butter in a medium bowl with an electric mixer until smooth. Add the confectioner's sugar and mix at low speed until combined. Stir in the vanilla and mix again. Spread on cooled pumpkin bars. You can sprinkle with pecan pieces that have been toasted for four minutes at 350 degrees if desired. Enjoy!
I hope this inspires you to light your fall candles, do a little fall decorating and create your own grazing board full of delicious fall nibbles! Happy fall from my family to yours! Follow me on Instagram
@juliannessoutherntable for more cooking and decorating inspiration.