May 14, 2019

Enjoying summer: Ester has a heart for people, grilling

by Kiera Oluokun

There are few things that say summer like the sizzling sounds of a backyard grill and smoke wafting in the air. Cookouts are a summer staple. Outside of enjoying the precise searing of the myriad of tasty meats and veggies, there is also a communal aspect to grilling that yields memories from the time spent with friends and family enjoying warm evenings. No matter the occasion, firing up the grill announces the arrival of summer!

For most, throwing a couple of hot dogs and hamburgers on the grill suffices for a summer cookout. For others, grilling is an art. The right grill, the right temperature, the right amount of char and following a specific and detailed process all factor into the art of grilling. Over the years, grilling has evolved into much more than your traditional hot dog, hamburger spread. 

Tim Ester enjoys perfecting his grilling craft while doing what he loves.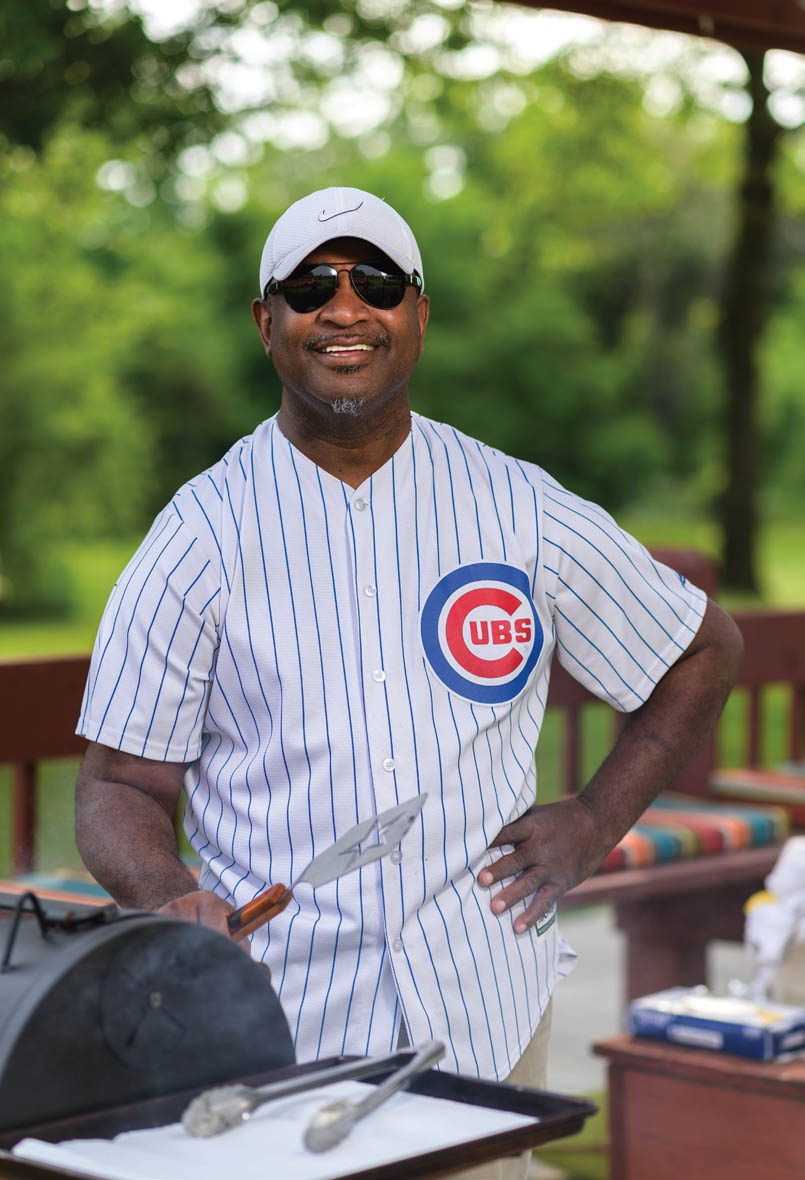 Tim, who retired in 2014 as general manager at Stoby's Restaurant in Conway, has always enjoyed cooking. Although he does not consider himself a "grill master," he has loved cooking since he was 16-years-old, when he became a cook by default.
Tim was a dishwasher at his first job at Bowen's Restaurant in Conway when his manager asked if he would pick up a cooking shift on a Saturday night. Tim told his boss that he already had plans with tickets to see Charlie Wilson and the Gap Band. Tim finished his dishwashing shift and headed home, but mulled over his boss's offer and changed his mind. He thought that cooking would be a promotion compared to washing dishes. He called his boss and told him that he was going to forego his Gap Band tickets to come in and cook — and the rest is history.
When asked where his love for grilling originated, Tim said it gives him the opportunity to spend time outdoors while enjoying friends and family — something he likes to do often. "There is an art to grilling," said Tim. "Everyone likes to think that they are a grill master, however, that is not why I love grilling. It's not a competition to me. Grilling gives me the opportunity to do what I love while enjoying the people around me, but I definitely do not consider myself a grill master."
While Tim enjoys cooking year round, the summer time gives Tim the best opportunity to do what he loves — grilling. "Summer is my favorite time of the yearbecause it presents more opportunities to do activities outdoors. I absolutely hate cold weather and I would take 100-degree weather over 20-degree weather any day."
Summer is often the busiest times of the year for Tim and his grilling. With reunions, graduations and frequent friends and family gatherings, Tim keeps a pretty demanding schedule. He does not consider cooking for family gatherings actual "work" because he is enjoying what he does.
Hosting and entertaining are important to Tim and his wife, Gena. Throughout the year, they host several gatherings at their home for friends and family. Tim and Gena, who have been married for 30 years, refer to hosting as a "tag team" effort. Tim cooks the food, and Gena entertains the company. "We both know how to stay in our own lane and it works."
When Tim is not grilling for events at home, you can catch him tailgating at University of Central Arkansas football games and Arkansas Razorback games at War Memorial Stadium. When UCA started closing Bruce Street for football games, Tim said that he was one of the first to get a spot to host his tailgate parties. "Fall, football and fellowship," are what Tim enjoys most about tailgating season.
When the Razorbacks play at War Memorial, he and a couple of his friends set up a tailgating spot to enjoy the game. Tim cooks everything from fried fish to chicken and waffles. "I love the football season, and I love tailgating even more."
Tim has a heart for cooking and a heart for people. "To me, food tastes better when people know that it came from the heart and you enjoy what you do."
That is exactly what Tim says that he tries to do each and every time he has the opportunity to cook for others — do it from the heart. "It is not about being the best because everyone thinks that they are the best when it comes to cooking. It is about doing what you love for the people that you love the most."
Grilled Salmon
1 pound salmon fillet cut into smaller fillets
1 tablespoon avocado oil
1 tablespoon Herbs de Provence or Italian seasoning
1/4 teaspoon sea salt to taste
1 large lemon sliced into rounds
Preheat grill to medium-high and brush off any leftover food particles using a wire brush. Place the salmon fillets on one large sheet of foil (or multiple sheets of foil for easier grilling). Drizzle with avocado oil and use your hands to coat the flesh of the salmon in oil. Sprinkle with Herbs de Provence (or Italian seasoning) and sea salt. Place lemon slices on top of the salmon fillets and wrap in foil to create a foil packet. Place foil packet on the grill and cover the grill. Cook for 10 to 15 minutes, or until salmon is cooked through (or reaches desired doneness). Cook times will vary depending on the thickness of the salmon. Use tongs or a metal spatula to remove foil packet from the grill and set it on a plate or cutting board. Allow it to cool enough to handle, then unwrap the foil. Serve salmon with choice of side dishes.