27 Oct 2021

engageD IN THE End zone

DeAirus Whitney and Macie Fritts met during high school in Searcy and have been sweethearts since. She expected they would marry after he graduated with his master's, but a lucky turn of fate has wedding bells ringing sooner than planned.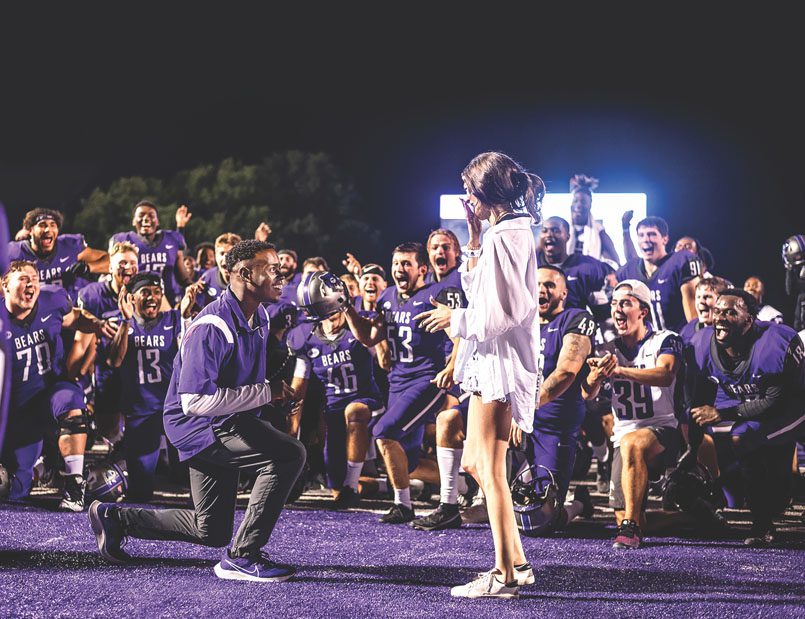 Both graduated from the University of Central Arkansas, and then Whitney got into graduate school and became a graduate assistant for the UCA football team. At that point, Fritts assumed a proposal was a sure, yet distant, dream.
Fate stepped in when DeAirus stumbled upon a Sissy's Log Cabin contest ad on the UCA athletics website. He remembers thinking, "You miss 100 percent of the shots you don't take, so I just signed up. I've won like one other raffle before but didn't really think much of it." A few months passed and he had forgotten all about the contest when he got the call from Sissy's that he had won an amount of money towards a ring and that he needed to claim the prize soon.
DeAirus didn't hesitate. He engaged his friends to help him with the on-field logistics. Then, he made a plan to get Macie's mom to town before the big event. Finally, he arranged for Macie and her mom to sit on the sidelines in the Sissy's Log Cabin sponsor tent. After that, he said, "All that was left was for us to get the win." And they did get the win. The UCA Bears beat the University of Arkansas Pine Bluff, and as Coach Brown wrapped up the post-game talk, he tossed it to DeAirus for the big ask. The yes was followed by a surprise fireworks display.
Even with all of the behind-the-scenes planning, Macie said, "It was a complete shock." DeAirus said he'd never even walked into a jewelry store before now, but he had an idea of what she was looking for based on pictures she had shared with him. He said, "I told the guys at Sissy's what I wanted and they really helped." Macie added, "It was definitely everything that I could have asked for … so I guess he was paying attention to the things I sent him."
The couple plans to wed in July 2022 at Legacy Acres in Conway. Macie said, "We plan on going back to Sissy's to get our wedding bands. They are really good people and know who we are every time we go in the store."