20 Aug 2020

Editor's Note: Great advice – 'Pray about everything'

Over the last 13 years, it has been such fun to meet and interview interesting individuals for features in 501 LIFE.

Some of the tales were inspirational as folks shared their toughest challenges and heartache with readers and how they made it through. What an honor to tell their stories.

This month's cover story with Sissy Jones ranks among the most enjoyable interviews I have had while serving as the editor of this publication. Granted, Sissy is not from the 501 and does not live in Central Arkansas but she is a statewide fixture who has touched many lives since she opened her store in a log cabin 50 years ago. Today, her stores number five and include two in the 501.

As with most interviews, I researched and prepared for our visit, but I wasn't sure what to expect from the Arkansas icon whose catch phrase is "Life's too short for ordinary jewelry." After 501 LIFE photographer Mike Kemp captured her photo in the beautiful showroom of the store, I sat down with Sissy and her daughter-in-law Sharri for an interview that lasted nearly an hour and a half. Truth be told, I could've listened to Sissy's stories about her life and her business all afternoon.

Sissy's warm smile and personality showed through as she started telling her story by explaining how her name is Marguerite but that was too hard for her sister to say. Originally called Tissy, her name became Sissy and that is how she is referred to by everyone, even her grandchildren.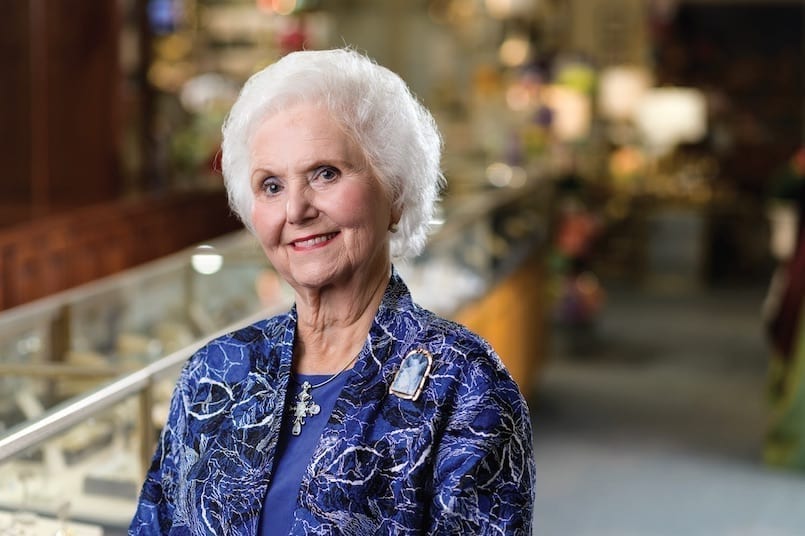 It was fun to hear Sissy relate her wonderful childhood memories of Gillet and the escapades she and her sister got into while growing up.
As she shared her interest in selling American Legion poppies as a child, it was obvious that she was destined for success in business. Of course, that required a vision to see beyond a dilapidated log cabin near her home and imagine the possibilities. Not a stranger to hard work from growing up on the family farm, Sissy and her crew of friends put in a lot of hard work to transform the bug-infested building into a store. What grit and determination!
Life hasn't been without its challenges for Sissy, who battled breast cancer. As in her business, Sissy looked to family and friends for support as well as her faith to see her through. Sissy said all of the businesses have been built on Proverbs 20:24 — "With the Lord directing my ways, why should I worry," she said. "We committed it to the Lord. God owns the business and we work for Him. I stand by that."
Her keys to success are simple – put God first and "pray about everything you do."
Great advice from a great lady.
Here's to "Loving LIFE" in the 501 and beyond.