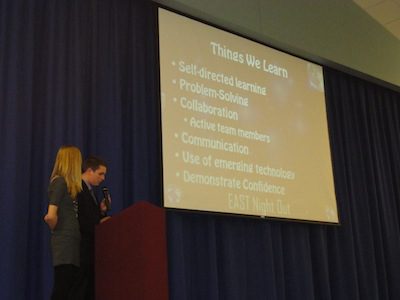 08 Nov 2011

EAST Night Out at Greenbrier

Posted at 7:06 PMh

in

News

by Sam Harris


Greenbrier students – as well as their counterparts across the country – recently participated in the nationwide EAST Night Out.


The event celebrated the accomplishments of Environmental and Spatial Technology (EAST) students.

Junior and senior high students teamed up to host the event at the Greenbrier Junior High Cafetorium. For weeks, students spent many hours creating presentations and displays.


Tim Stephenson, founder of the EAST Initiative, attended the event. In 1996, Stephenson started the EAST Program while working for Greenbrier Public Schools. What started in an outdoor classroom has now expanded into eight different states, taking the interest of more than 150,000 students.


EAST participants apply student-driven education and community service to solve problems that they identify.


"The EAST classroom consists of 50 percent technology and 50 percent community service," said Kim Austin, EAST facilitator at Greenbrier High School.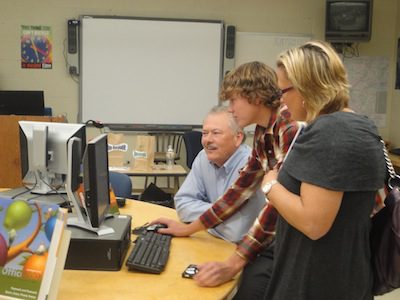 EAST is an important part of every students educational career. Being involved with the EAST Program, students develop leadership skills that prepare them for the future business world.

Individuals interested in getting involved with the Greenbrier EAST Program should contact Misty Burgess, GJHS facilitator, at 501.679.3433, Ext. 254, or Kim Austin, GHS Facilitator, at 501.679.1017.

Sam Harris is an EAST student at Greenbrier Junior High School.