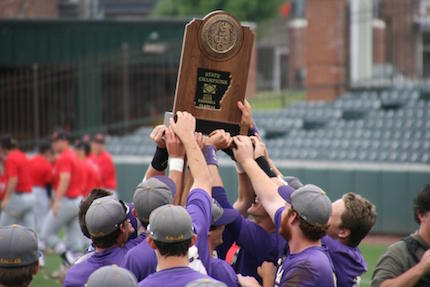 27 May 2015

Eagles win first baseball title since '96

by Levi Gilbert


The Mayflower Eagles completed a dominant run through the 3A state baseball playoffs with a 6-1 championship win over Fordyce last Saturday at Baum Stadium in Fayetteville. The win was indeed special for the Eagle players and Coach Joe Allbritton, and it paid off several years' worth of effort.

"We lost nine seniors from our 2014 squad, but we felt like we had a chance to win [a championship] based on the quality of the seniors we had coming back," Allbritton said. "Only three of them had been position starters from the previous year — Drew Duncan, Tyler Herrin and Tyler Godwin — and Austin Grundy had only pitched varsity games for us. We knew the road would be tough, but we scheduled in non-conference accordingly. I think our kids have felt like they've had a legitimate shot the last four years. You just have to realize there are a lot of factors involved, especially luck."


The Eagles may have cashed in off of some luck on the way to the state tournament, but once they got there, no luck was required. It was all pure baseball skill — hitting, pitching and defense. Mayflower scored 37 runs in the state playoffs, and maybe even more impressively, only gave up four runs the whole tournament.


"We put an emphasis on timing the fastball and attacking the ball early in the count," Allbritton said. "We had total team buy-in. We hit the ball hard [all through the lineup]. We did not hit a home run all season, but we hit two in the regionals and four at Genoa [in the state tournament]. We just stressed driving the ball hard back up the middle. Additionally, we just stressed our daily approach — hustle, focus and execution. In our approach to the game, we took a 'don't get overwhelmed by the forest, let's focus on the individual trees, one tree at a time!' They got it!"


Duncan went 2-for-4 and scored a run. Herrin drove in two runs for the Eagles, and Godwin also drove in a run. Godwin contributed on the mound, too, allowing just four hits and striking out 10 batters in a complete game. The performance earned him MVP honors.

"The MVP to me is a great honor and a great way to end a season where I wanted to prove myself," Godwin said. "It's such a honor. I want to thank Coach Allbritton, all the coaches and my teammates for having faith in me this year. They never gave up on me. As a team we had some ups and downs this season, but we never quit believing that we could get to Baum. We had set that goal after last year's loss to Fordyce. We wanted to win this for Coach Allbritton. No coach works harder than him.

"I think the Championship is great for this community. Mayflower is a small town, and they support all their athletes. When we left for Fayetteville it seemed like the whole town came out to see us off, and that's a memory I will never forget. It's great for this town to be noticed for something positive instead of terrible things like tornados and oil spills."

"Our pitching staff really came together," Allbritton said. "We had a feeling that they would, but we were uncertain who our main three would be. Godwin really blossomed this year. He was our stud. Duncan overcame a rough start against Harding in the Regional to come back and shut out West Fork in the first round. Brady Wilcox, a freshman, had a big win against Harmony Grove. We threw four complete games in the state tournament!


"This year was a total team effort. It was maybe not our most talented team overall, but our strongest players are some of the most talented I've ever coached."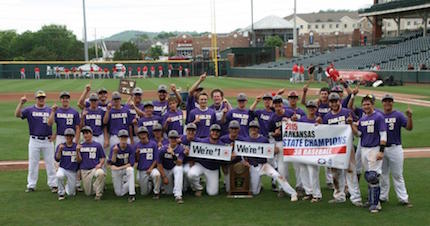 The Eagles finished the regular season just two games above .500 (12-10), but according to Allbritton, the tough regular season was all by design — and it paid off in a big way.

"I try to schedule 10 losses a year," Allbritton said. "I feel like it helps us prepare for the tougher 3A teams. We try to schedule all state tournament teams in non-conference. In the past several years, we have won many of these games, but this year we lost nine of them. A lot of the losses were just learning experiences — really just games we should not win. We played Harding Academy and Smackover at UALR in the middle of the season, and we won 3-0 and 3-1. We felt like these were two of the top teams in the state. It gave our boys some confidence.

"We lost to Genoa Central 15-5 the next week, but we lost to Arkadelphia, the defending 4A champs, in 12 innings, and beat two conference foes, Glen Rose and Benton Harmony Grove, the same week. That typified our season — win a few big ones, then get beat bad for a variety of reasons. The key was that we kept getting better defensively, at the plate, on the bump. We had kids pushing each other for their spots. The coaching staff made some decisions to get some players' attention — it worked magically."

The Eagles lost in the district championship, 1-0, to Harmony Grove. Allbritton points to that loss as one of the defining moments of the season, ultimately leading to the state championship run.

"Kaplinger, Harmony Grove's pitcher, took a perfect game against us into the seventh," Allbritton said. "It ruined our chances at a third-straight district championship. Even though we lost, I feel like this is when we started playing our best baseball. We beat Bald Knob, one of the best teams we faced all year, 3-2 in the first round of regionals. Then we lost 9-8 to Harding Academy. We won the third place game against Bismarck, 3-1. Then we practiced very well in preparation for the state tournament, where we played our best ball of the year."

The Eagles used only 13 players on a regular basis during the year, and many of these Eagles will be remembered for years to come in Mayflower for their accomplishments.
"Grundy was a key component in our winning the last four years," Allbritton sa
id. "He played first base and pitched. He has battled through injuries, always being the positive leader needed by a successful team. He is a winner at life. He is going to UALR on an academic scholarship. Duncan, our starting shortstop and No. 2 pitcher, is an all-state football, basketball and baseball player. He is going to play baseball at University of Arkansas-Fort Smith. He had an amazing year offensively and defensively. Herrin started in centerfield for us and hit third. Another very good athlete, he is a superior defensive player and a four-year starter like Duncan. He set the tone for our team. He is going to Central Baptist College.

"Godwin was an absolute stud on the mound and not a bad hand at the plate. He is going to play at Crowder Community College. He is an all-state player and one of the most focused kids I've ever coached — a true gamer with a game face to match. Justin Case got the absolute most out of his ability. He was a force to be reckoned with at the plate and steadily improved into an above average catcher. Dakota Brown worked his tail off. He is the consummate team player. I am so proud of his perseverance and his team first mentality. Adam Dycus is a winner and a competitor. He brought this mentality of hustle to our team from his football experiences. His style was infectious."

This state championship win marked Mayflower's first since 1996.

"That title was won under the coaching of Jimmy Wayne Brown," Allbritton said. "We had a lot of support from members of that team as they continue to follow the Eagles. There is a great sense of pride in the community. Our basketball team played in the championship game this year, and our football team went to the state quarterfinals. The Eagles are soaring!"
The Vilonia Eagles won the 3A state softball championship, 5-2, over Paragould.
Several other 501 teams competed in baseball and softball state championship games: Conway fell to Bentonville in the 7A baseball final, 6-5; Benton fell to Sheridan in the 6A baseball final, 10-9; Magnet Cove fell to Ouachita in the 2A baseball final, 4-1; North Little Rock defeated Cabot in the 7A softball final, 10-3; Bauxite fell to Mena in the 4A softball final, 7-3; and Bald Knob defeated Harding Academy in the 3A softball final, 5-0.
---
Originally from Johnson County, Levi Gilbert now calls Conway home. A 2010 graduate of the University of Central Arkansas, Levi became involved with 501 LIFE in its early days and now serves as the magazine's associate editor. He and his wife, Brittany, have two sons. Follow Levi on Twitter for more local 501 stories. Send him story ideas at [email protected].