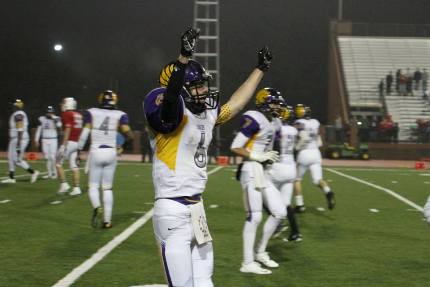 25 Nov 2014

Eagles hosting Episcopal in 3A quarterfinals

by Levi Gilbert


The Mayflower Eagles have soared into the 3A quarterfinals, and the win that propelled them there was a sweet one for Eagles fans.

Mayflower beat conference rival Harding Academy — who finished just ahead of the Eagles as the 2-3A champs — in Searcy in the second round, 39-33.


"It meant a lot," said Todd Langrell, Mayflower's head coach. "It has been a long time since any team from our conference has beaten those guys. They are well coached and have some great players.


"We have put great effort in not worrying about who we are playing but just about getting better every game. [We focus on] winning each play, teaching technique and knowing where to be and how to get there.


"There sure were some awesome smiles after the game."


"It meant a whole lot to our team, especially to the seniors because Harding is the team we have always wanted to beat," said Riley Norman, Mayflower's 501 Football Team honoree for 2014. "As a team we conquered being the underdog and prevailed with a victory."


While both teams put up 30-plus points and some big offensive numbers, Langrell said the turning point in the game was keyed by the defense.

"One of the biggest [plays] was when Drew Duncan had an interception return for a touchdown," Langrell said. "He made a great defensive play."


The Eagles hosted a playoff game in the first round after earning the second seed out of the 2-3A. Mayflower had to hit the road at Harding Academy, but with a win over the 2-3A champions, the Eagles will be back at home this week in the quarterfinals.


"With this being our second home playoff game, our players and coaching staff are excited," Langrell said. "We are expecting a large, enthusiastic crowd. We have a sense of pride here in Mayflower, and we want to do things the right way and make our community proud. We look forward to this Friday night."


Norman has been injured the majority of the season and has served as an extra coach from the sidelines. Although he hasn't been able to directly contribute on the field, it has not made this run any less exciting for Norman.


"It means a whole lot to Mayflower because we have not had too many home playoff games in general," Norman said. "So it brings the community in more to cheer on our football team."


The Eagles will host Episcopal Collegiate this week. The Eagles are familiar with Episcopal — the Wildcats were in the 2-3A before moving to the 5-3A in 2014.


"Episcopal has many explosive players, and we will our hands full trying to slow them down," Langrell said. "Our plan is to study them hard and try to be at the right place at the right time. Some of the same offensive players play defense, which makes them very athletic. With it being Week 13, we are not going to change a lot. We are just going to try to be better in what we do with a few wrinkles."


While the Eagles have one of the most prolific quarterbacks in Arkansas high school football in Adam Dycus, a plethora of explosive wide receivers like Josh Woodham and a talented running back like Justin Bailey, Langrell is looking to his big boys up front to carry Mayflower into the semi-finals.
"Anytime you get into the playoffs, I feel like the offensive and defensive lines have to play well in order for us to have success," Langrell said. "This is where most games are won. We have 17 senior leaders on this team. If we could win this match up, it would be the farthest a Mayflower football team has ever been."