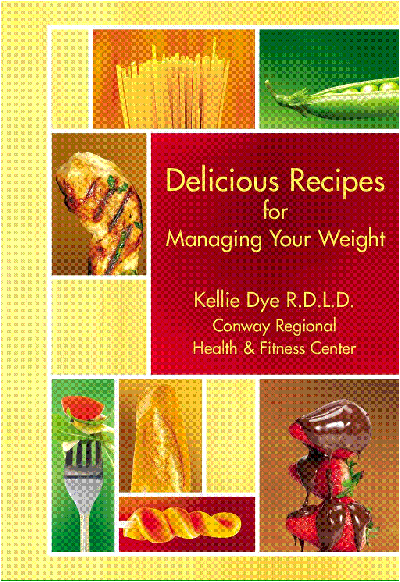 16 Jan

Dye produces cookbook with 150 healthy recipes

Conway Regional Health & Fitness Center is excited to announce the arrival of "Delicious Recipes for Managing Your Weight," a cookbook by Kellie Dye, R.D.L.D.

"This cookbook has been 15 years in the making" said Dye. "As a registered dietitian for over 20 years, I never grow tired of the subject of food. I love to cook just as much as I love to eat."


Dye is a graduate of the University of Arkansas and completed her dietetic internship from the University for Medical Sciences, Little Rock. She worked six years as a clinical nutritionist specializing in renal dialysis/kidney transplant, geriatrics and later gastric bypass surgery nutrition specialist.


Dye has been employed at Conway Regional Health & Fitness Center for 17 years. During this time, she has written regularly featured newspaper and local magazine articles, presented at numerous public speaking engagements in the community and Little Rock, and has made regular TV appearances on AETN (PBS) Fighting Fat show, Good Morning Arkansas and Conway's Living Local show.


A regular contributor for 501 LIFE, her monthly column is titled "Ask the dietitian."


"I want to pass along the joy of food to others" said Dye. "Eating healthy doesn't mean eating bland, fat free, boring food." The cookbook includes items as creative at Baba Ghanoush (eggplant dip) and Salmon Florentine to the basic Potato Skins and Mexican Cornbread. Dye has a passion for helping people achieve a desire to eat healthy, and teaching people the skills to eat healthy in the real world. Her mission is to encourage others to feel positive about food.

"Delicious Recipes for Managing Your Weight" cookbooks are $15 and available at Conway Regional Health & Fitness Center, located at 700 Salem Road.


"Many things through the years have inspired this cookbook" said Dye. "My nutrition clients, and our very successful Weight Management Support Group have provided inspirations and even some of their own recipes."


The Weight Management Support Group offers participants a chance at a healthier lifestyle — just ask DeAnna Smith, a weekly participant, as she has lost 145lbs! "This is doing it in the REAL WORLD. I don't have to eat special things, take a magic pill, eat only this and not that," said Smith. "I can learn to lose weight and still do everything a normal person does each and every day."


The support group is led by Dye who teaches participants to lose weight in the real world. The support group is open to both members and non-members who need accountability, support and have nutrition and diet related questions. The joining fee is $40 and each additional week is only $5. Participants are welcome to join at anytime. The group meetings are held at 5:15 p.m. Wednesdays or 12:15 p.m. Thursdays at the fitness center, 700 Salem Road.

A recipe from the cookbook:

Raspberry Chicken
1 tsp. canola or olive oil
½ cup chopped or sliced red onion
½ tsp. dried thyme
4 – 4 oz. boned skinless chicken breast halves
1/3 cup raspberry preserves (seedless)
2 Tbsp. balsamic vinegar
¼ tsp pepper
1 tsp. salt divided

Heat oil, add onion and sauté about 5 minutes. Sprinkle thyme and salt over chicken. Add chicken to skillet and sauté approx. 6 minutes on each side or until done. Remove chicken from skillet. Reduce skillet heat to med-low. Add ¼ tsp salt, raspberry preserves, vinegar and pepper. Stir until blended well into a sauce. Spoon sauce over chicken.
Serves 4. Calories: 223, 3 grams of fat, 359 mg sodium.